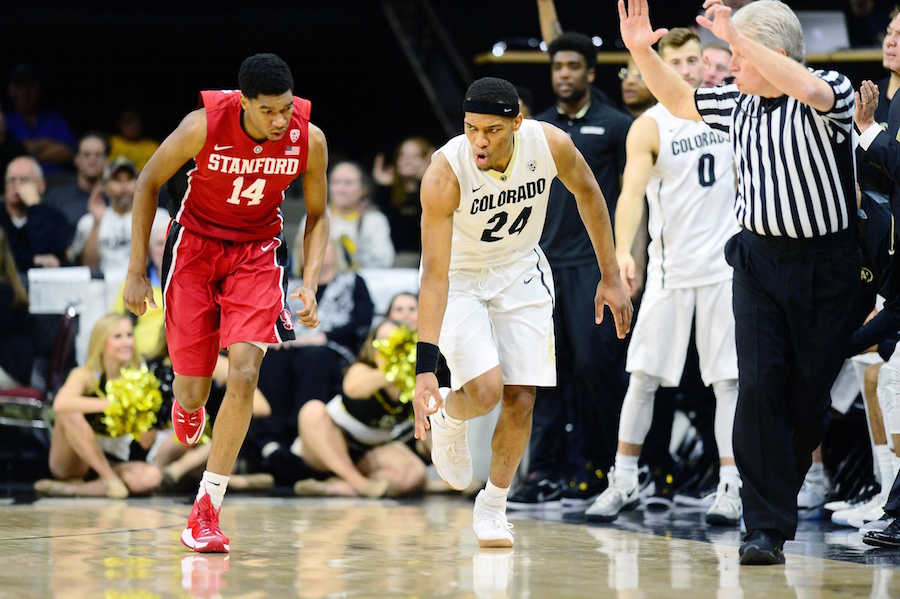 Six different Buffaloes scored in double-figures on Thursday night and the team set a new season high in assists as Colorado defeated Stanford 91-72 at Coors Event Center. The win keeps Colorado's hopes for a No. 7 seed in the Pac-12 Tournament alive heading into the final regular-season contest of the year.
Xavier Johnson, George King and Lucas Siewert each had 15 points for Colorado to tie for the game-high, fitting that those three would share that honor on a night when sharing was the key to victory. Colorado dished out 25 team assists in the win, including eight from senior Derrick White. Colorado's leading scorer was held to just nine points on the night, but White didn't need to carry the load with so many Buffs contributing on the offensive side. The Buffs were exceptionally strong from 3-point range in the win, shooting 47.8 percent on the night. Siewert led the way going 4-of-5 from distance.
Defensively, Colorado clamped down on deep opportunities by the Cardinal. Stanford shot just 7-for-23 from 3-point range and 27-for-60 overall from the floor.
The win keeps Colorado in lock-step with Arizona Sate for the No. 7 seed in the Pac-12 Tournament. Both teams are 7-10 in Pac-12 play heading into the final game of conference play. Colorado hosts Cal at noon while Arizona hosts No. 7 Arizona at 2 p.m., both on Saturday. The Buffs lost their only meeting with the Sun Devils this year, so they'll need an upset over the 10-7 Bruins to snag the better seed heading into the conference championship tournament.