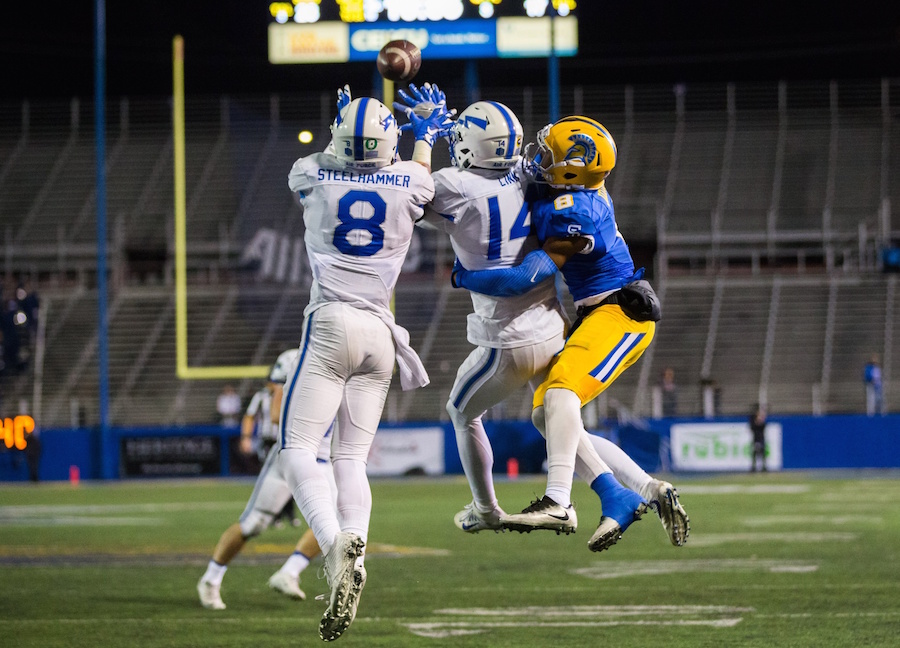 Air Force stormed back to beat San Jose State Saturday night thanks to a pair of incredible catches on both sides of the ball. Jalen Robinette caught the go-ahead touchdown pass in the back of the end zone with :32 left in the game, then safety Weston Steelhammer came out of nowhere to intercept a deflected pass from Kenny Potter.
The Falcons won 41-38 and improved to 8-3 on the year, 4-3 in the Mountain West.
While it was Robinette's catch that sealed the win, the Falcons did very little else in the air. Arion Worthman was just 3-of-6 passing on the night for 33 yards. Worthman did the lion's share of the work for the win, however, rushing 28 times for 215 yards and two touchdowns in the win.
Steelhammer's game-sealing interception was his second of the game and sixth this year. He had two in Air Force's win over Navy, as well.
At 4-3, the Falcons are out of the running for the Mountain West-Mountain Division crown, but they can play spoiler next week against No. 20 Boise State.