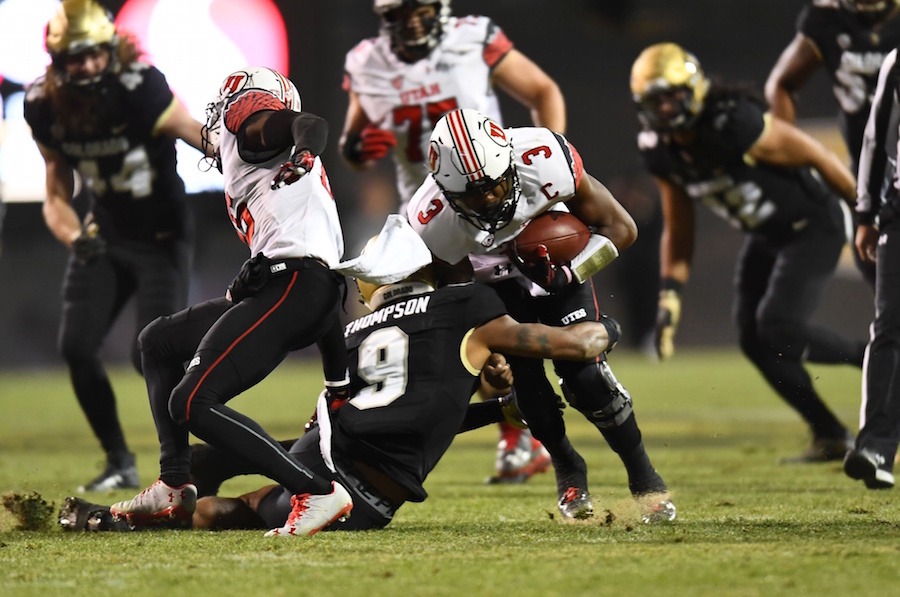 It's only fitting that the CU defense scored Colorado's the final touchdown in a 27-22 win over Utah to clinch the Pac-12 South. After all, it was the Buffs' defense that made play after play on the night to help deliver one of the greatest turnarounds in recent college football memory. With the win, No. 9 Colorado went from worst to first, clinching an outright Pac-12 South title and earning the right to face No. 5 Washington in the Pac-12 Championship.
The Colorado defense forced four turnovers in the game, including the game-winning fumble recovery for a touchdown by Kenneth Olugbode. Rick Gamboa forced the fumble from Utah's Joe Williams, his second of the game. CU safety Tedric Thompson had two interceptions on the night. His second came on the fourth-quarter drive immediately following Olugbode's touchdown, which put CU up 27-16 at the time.
Special teams and the offense put the defense in tough spots twice in the second half, but Jim Leavitt's unit did not buckle. CU forced a pair of field goals after a fumble and a long kickoff return that had the Utes knocking on the end zone door twice. Colorado allowed a touchdown on the Utes' final drive, but stopped a two-point conversion for their final defensive stand.
Sefo Liufau fumbled twice and the Colorado offense struggled to ice the game in the final quarter, but they dug deep and converted a first down on their final drive to seal the win. Liufau rushed for a touchdown and threw for another
Colorado held Utah quarterback Troy Williams to 13 of 40 passing for 160 yards. At one point in the game Utah had more yards on three kick returns than they had passing yards on 30 attempts. Thompson and Ahkello Witherspoon led the Buffs with four passes defended each.
With the win, Colorado will face Washington in the Pac-12 Championship on Friday in Santa Clara, Calif. The Huskies defeated Washington State (whom CU beat 38-24 last week) in dominating fashion, 45-17.