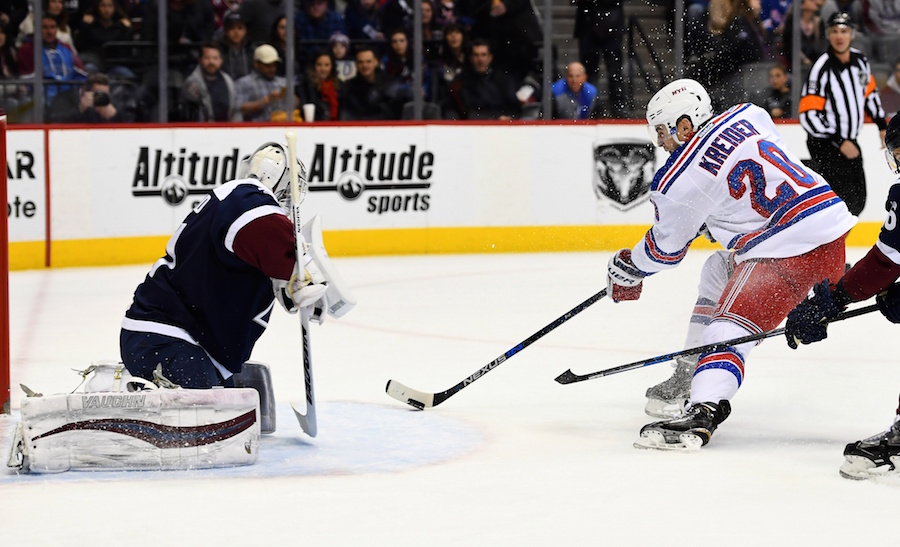 Twenty-seventeen couldn't get here soon enough for Colorado Avalanche fans. In the "2016" portion of the 2016-17 season, the Avalanche lost 23 games – falling on New Year's Eve at home to the Rangers, 6-2, to cap an ugly calendar year. Last season the Avs came into 2016 one game above the .500 mark. They'd end last year's campaign all square, 39-39-4. Now, less than halfway into to the season, they're almost two-thirds of the way to last year's loss total.
Saturday night's campaign was another example of the opposition making the gritty plays the Avalanche just haven't been able to make for themselves this season. New York's Chris Kreider scored a hat trick, with all the goals coming off tip-in chances down around the goal. Henrik Lundqvist returned after missing two games with illness and stopped 25 shots for his 390th career win. He passed Dominik Hasek for most NHL wins by a European-born goalie and is now 12th on the overall career list.
Colorado coach Jared Bednar said postgame he's excited to flip the calendar. "Obviously, we are a work in progress," Bednar said. "We have a lot to work on and to keep working on."
Colorado is now winless in 10 straight home games. They travel to Vancouver on Monday hoping to snap a three-game overall losing streak in which they have allowed 16 goals.