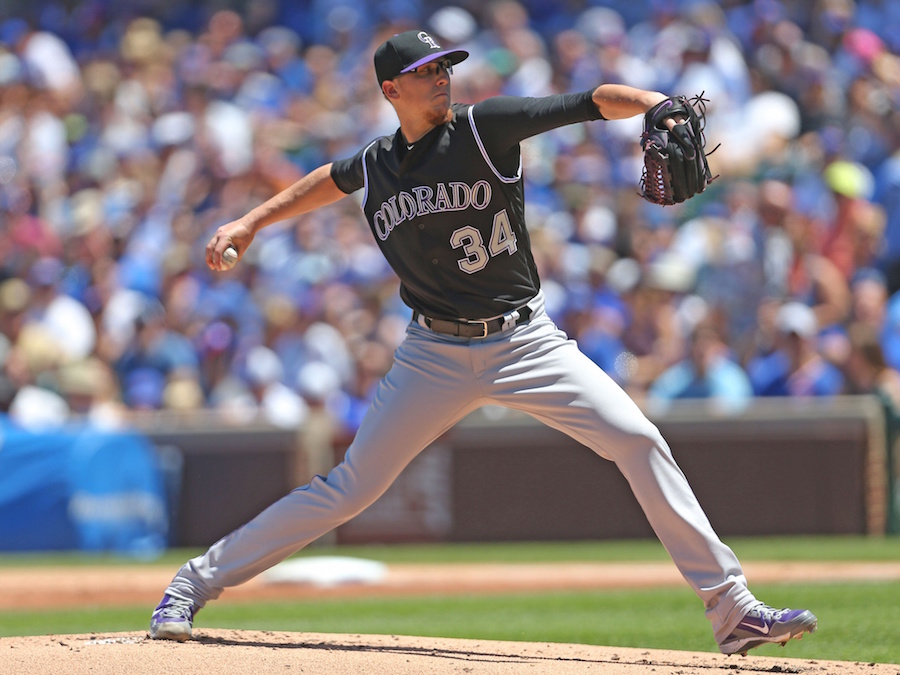 Mark Reynolds and Charlie Blackmon each hit baseballs out of Wrigley Field on Saturday afternoon. The entire Chicago Cubs lineup could barely hit them inside Wrigley Field against Jeff Hoffman. Save for three consecutive singles Hoffman allowed in the seventh inning, the Cubs had virtually no answer for the Rockies rookie right-hander. Colorado stretched its season-high winning streak to seven games, 9-1, to remain the best team in the National League.
Hoffman (4-0, 2.33 ERA) struck out eight and walked only one (in the first inning) over 6.1 innings. He had allowed just one base hit (a bloop single) in the first six innings before surrendering three consecutive singles to chase him in the seventh. Chad Qualls induced a ground ball on the only pitch he threw, but Alexi Amarista, playing shortstop, could get just one out. It allowed Hoffman's one and only run of the day. Mike Dunn got Jon Jay to line out to Amarista to end the threat in the seventh. Jake McGee allowed a single, but no damage in the eighth. Jordan Lyles pitched a clean ninth.
Reynolds and Blackmon each left the ballpark with monster home runs. Reynolds deposited a ball onto Waveland Avenue off former Rockie Eddie Butler to lead off the fourth inning. It was his second of four hits on the day; he had two RBIs. Blackmon's came with two outs in the seventh off Brian Duenseng. The moon shot cleared the right field bleachers and landed on Sheffield Avenue to give the Rockies a four-run lead at the time. Colorado scored two in the first inning thanks to a DJ LeMahieu double that scored Blackmon and a Reynolds double to bring in LeMahieu. Blackmon and Reynolds ended the game tied for second in the NL with 53 RBIs apiece. Reynolds was tied atop the NL with 17 home runs. Nolan Arenado had a two-out, bases-clearing triple in the ninth inning to break things open; he scored on a wild pitch later in the inning.
The win is Colorado's NL-leading 41st of the year. It guaranteed a series win, Colorado's 11th series on the road without a loss to start the season. The Rockies are now 7-1 this season against the participants in last year's World Series. They will go for the sweep in this four-game series trying to get Antonio Senzatela (8-2, 3.56) what would be a league-leading ninth win. He faces a formidable opponent in Jake Arrieta (6-4, 4.46). Colorado handed Arrieta his worst outing of 2017 back on May 9; they scored nine runs (five earned) on nine hits and three walks over 3.2 innings. First pitch Sunday is 12:20 p.m. MDT.