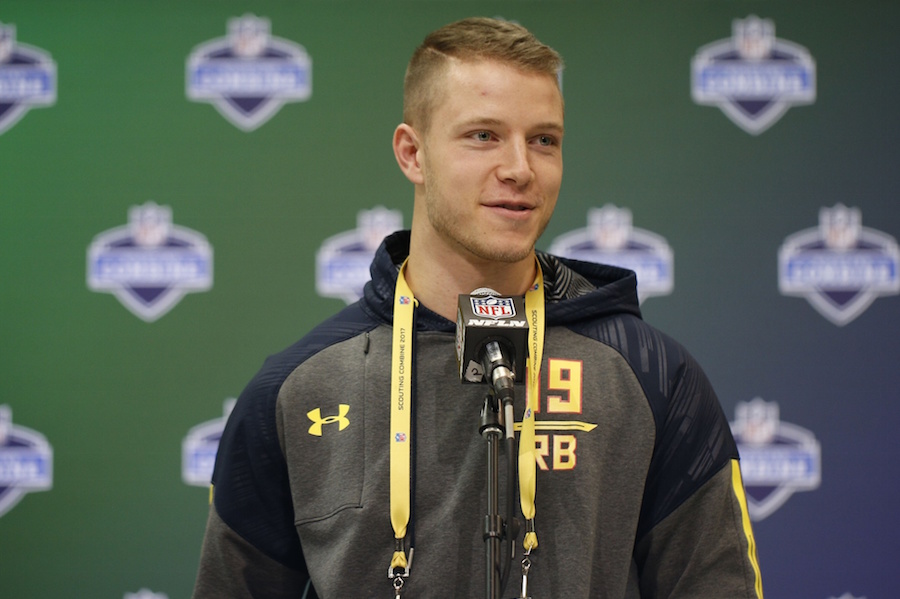 Valor Christian and Stanford University standout running back Christian McCaffrey will be visiting the Broncos on Thursday. Many residents of Broncos Country feel that McCaffrey should be a top priority in order to bolster Denver's lackluster offense. But would adding the 2015 Heisman Trophy runner-up be best for Christian? Would the hometown Broncos be the best place for McCaffrey to land? Would he be welcomed, or would the son of a Broncos legend be held to a higher standard due to legacy and expectations?
Hometown hurler Kyle Freeland, of Thomas Jefferson High School fame, received a standing ovation after his six-inning, six-strikeout performance as the starting pitcher in the Rockies' home opener. Freeland was magnificent in front of a packed Coors Field, giving up only one earned run on four hits. Wednesday, however, was a bit different.
Freeland on Wednesday only made it to the fourth inning in what was a very rocky outing. Against the less than mighty Padres, Freeland gave up six runs and only struck out two batters while walking twice as many (one intentional). He earned no raucous ovation, but he wasn't booed or met with lanterns and pitchforks, either. Like a sibling, or perhaps one of our own children, Freeland was met with compassion and understanding as he took the long walk from the mound to the clubhouse. He was not crushed for his performance; if anything, the 23-year-old was pitied.
If another pitcher, say one not from Denver, had an outing as poor as Freeland had against the Padres, he would be held to the fire for sure. Sports talk would be calling for the kid to be sent down to Albuquerque to better hone his craft, fans and scribes would write in to vote Freeland out of the lineup. Haste and overreaction are replaced by temperance and patience. "You're not ready for the big leagues" is supplanted with "You will get 'em next time kid". Being a son of Denver does have its benefits.
If McCaffrey were to be drafted by the Denver Broncos, it could take some of the edge off the expectations, and might even calm the worst of our mile-high tempers. NFL cities and their respective fans, Denver included, tend to not be rational. Cooler heads don't always prevail with face-painted fans, and patience isn't a virtue for media trying to hit deadlines and get higher ratings. Local legends however, can sometimes get a pass, where others would get the not so silent treatment.
Take former CU Buff and Cherry Creek's own Tyler Polumbus for example. Tyler Polumbus, in his final year as an NFL offensive tackle, capped his career off by winning a Super Bowl. What a way to end his career; a parade in the very same town he grew up in. (Truly one of my favorite Broncos stories of 2015.) But Tyler was by no means perfect in his final year as a Bronco. Tyler, like a lot of the O-Line in 2015, had his occasional struggles.
If Tyler missed a block, or was caught with some jersey in his paws, did he catch heat? If Tyler had a rough game, did he have social media threads blaming him for all things wrong with the offense? Did fans, writers, or radio talking heads call for Tyler's job? Of course not. They didn't do anything like that to Tyler, because they were too busy doing it to Michael Schofield.
Michael Schofield, still a swing tackle and guard for the Broncos, was crushed for every missed block and sack he surrendered. He could do no right, even when everyone was doing it wrong. Justified or not, the fans and media gave Schofield the preverbal business while Tyler, a local legend and Creek kid was given some leniency. I guess when Michigan Wolverines are being hunted down by fans and media, it pays to be a Bruin.
Christian Mccaffrey will no doubt be a great pro. There is no reason not to think he won't be electric, but he will have his stumbles and his mishaps. A fumble here, or a missed block in pass protection. A wrong route leading to a pick six, or maybe a false start at an inopportune time. The NFL is fast, mentally and physically, and all rookies have their struggles, including highly touted first-round draft picks.
If and when Christian makes his rookie mistakes, Denver would no doubt treat him with the most reserve and give the most leniency. Denver would have a rare patience for Christian during his NFL development, knowing him as the good Valor kid he is – one of Denver's very own.
If Christian were to be drafted to New York, Pittsburgh, Cleveland, or Philly, they would not be so kind. After all, those cities, don't know Christian the way we do.
In Denver we like our local products and we often give them more patience than we might someone else. And there is absolutely nothing wrong with that! In a world full of knee-jerk overreactions, maybe we should think of more athletes like our own kids, rather than rented bodies collecting a check.
Christian McCaffrey will make mistakes, and there will be moments where Christian wishes he was somewhere else, but for now, Broncos fans wish only the best for Christian – especially if he's donning the orange and blue.