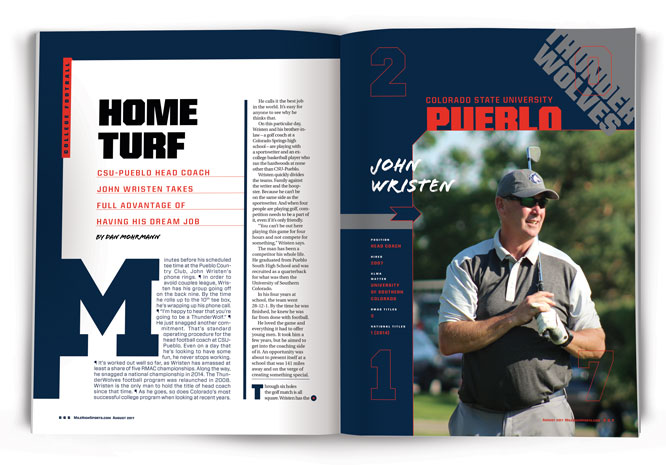 This story originally appeared in Mile High Sports Magazine. Read the full digital edition.
Minutes before his scheduled tee time at the Pueblo Country Club, John Wristen's phone rings.
In order to avoid couples league, Wristen has his group going off on the back nine. By the time he rolls up to the 10th tee box, he's wrapping up his phone call.
"I'm happy to hear that you're going to be a ThunderWolf."
He just snagged another commitment. That's standard operating procedure for the head football coach at CSU-Pueblo. Even on a day that he's looking to have some fun, he never stops working.
It's worked out well so far, as Wristen has amassed at least a share of five RMAC championships. Along the way, he snagged a national championship in 2014. The ThunderWolves football program was relaunched in 2008. Wristen is the only man to hold the title of head coach since that time.
As he goes, so does Colorado's most successful college program when looking at recent years.
He calls it the best job in the world. It's easy for anyone to see why he thinks that.
On this particular day, Wristen and his brother-in-law – a golf coach at a Colorado Springs high school – are playing with a sportswriter and an ex-college basketball player who ran the hardwoods at none other than CSU-Pueblo.
Wristen quickly divides the teams. Family against the writer and the hoopster. Because he can't be on the same side as the sportswriter. And when four people are playing golf, competition needs to be a part of it, even if it's only friendly.
"You can't be out here playing this game for four hours and not compete for something," Wristen says.
The man has been a competitor his whole life. He graduated from Pueblo South High School and was recruited as a quarterback for what was then the University of Southern Colorado.
In his four years at school, the team went 28-12-1. By the time he was finished, he knew he was far from done with football.
He loved the game and everything it had to offer young men. It took him a few years, but he aimed to get into the coaching side of it. An opportunity was about to present itself at a school that was 141 miles away and on the verge of creating something special.
***
Through six holes the golf match is all square. Wristen has the news about his new commitment come and go and is now focused on winning at his present task.
To do it, he has no problem leaning on his family. On No. 16, a 362-yard par 4, Wristen's brother-in-law bombs a drive to cut through the dogleg right. It carries the two right-side bunkers and he sits no more than a lob wedge away from the green.
The sportswriter's approach shot from the fairway lands left of the green and the former ThurderWolves basketball player's drive went well right into the trees. His second shot catches a tree. Each makes bogey while the brother in-law sinks par to give Wristen's cart a one-hole lead.
They head to the 18th tee box with Wristen still up one. He begins to recall the time that the program at CSU-Pueblo was on the verge of relaunching.
"When you were offered the job, how long did it take you to decide to accept?" the sportswriter asks.
Wristen simply snaps his fingers.
***
His coaching career started as a graduate assistant at the University of Colorado. The job came at just the right time. The Buffs had just come off a loss to Notre Dame in the Orange Bowl.
The next season would turn out to be CU's magical run to the national title under Bill McCartney.
And Wristen was there.
"I thought my getting Gary Barnett his coffee and picking up McCartney's dry cleaning played a big role in that national title run," he jokes.
He fondly recalls the showdown with Nebraska that year. The weather was awful and the Buffs so very badly wanted to come away with that win to keep their championship hopes alive.
The Buffs found themselves down 12-0, but rallied to grab a 27-12 win to claim the Big Eight title and a trip to the Orange Bowl.
"It's funny after all this time, that you can look back at something like and realize, 'Wow, I was part of something really special,'" Wristen said.
In 1991, he took a job as the running backs coach at Northwestern. A year later, a familiar face joined him in Evanston. Barnett became the head coach of the Wildcats and remained there through 1998.
After that, the Buffs called on Barnett to take over as head coach. He brought Wristen with him. The two would ride out Barnett's tenure together.
When then-CU athletic director Mike Bohn fired Barnett, Wristen was promised that he and the other assistants would get a look from incoming coach Dan Hawkins. It turned out that his services were no longer needed.
So, Wristen was Hollywood-bound, taking a job as the tight ends coach at UCLA. That lasted two years.
He wanted to come home. He was a Colorado guy and missed his family. There could not have been a better fit for him than Pueblo. There was not an issue with leaving the spotlight of the Pac-12 for a head-coaching job in the very city he grew up in.
Wristen had his dream job and he was headed home.
***
Making the turn, Wristen's cart still leads by one. The hoopster and the sportswriter stop at the pro shop to regroup and get their minds right.
The tide starts turning on No. 1. The hoopster makes par while everyone else settles for bogey. It's tied. The hoopster grabs another par on No. 2. Wristen is down one.
On No. 3, a 210-yard par 3, Wristen and his brother-in-law each make bogey. The sportswriter has a hard-breaking putt for birdie.
"Get legs," says the basketball player as if talking to a free throw that's about to hit front iron.
No need. The ball drops center-cup. Wristen is two down.
They head into No. 6 with the sportswriter and basketball player holding a two-hole lead. Wristen has a look at birdie, but doesn't hit his putt hard enough.
"Aw, you stupid, filthy sportswriter!" he yells.
"What does that mean?" the sportswriter asks.
"Short and no good."
***
The sportswriter wasn't so bad when he covered the 2014 semifinal game at the ThunderBowl. He even recalls the play that got the ThunderWolves the game-winning touchdown.
It was a double-reverse pass.
"Chris Bonner to Zach Boyd," Wristen says without hesitation.
The excitement of that moment was the culmination of Wristen's time as the coach of the ThunderWolves. It was only the seventh season of play for the team, but they were on the cusp of claiming a Division II national title.
Perhaps the most impressive part in Wristen's mind is that he had to create and mold what ThunderWolves football was all about. In his nine years, his only losing season was his first as head coach. In 2008, CSU-Pueblo went 4-6. The record didn't matter nearly as much as the tone that was being set.
"I think the first year, we did our best job of coaching," he said. "I think when you start something from scratch, it's easy to build the culture. You don't have to change anything. You only have one guy to blame for everything and that's me, the guy in the mirror. We were able to get a bunch of great kids, a great staff and develop that culture. We didn't have to change it, we had to establish it."
The tone has been established, but in 2016 Wristen encountered a problem he hadn't faced in his first eight years.
His team went 8-3. They grabbed a share of the RMAC title. Yet, they missed out on the playoffs.
"It's a little bit of a problem when you realize at one point that you went 8-3 and it wasn't good enough," Wristen said.
That is now part of the culture that he has created in Pueblo. The school and the community have experienced the thrill of having a national championship football team. Now, fair or not, it's part of the expectations going into every season.
While Wristen is certainly not a win-at-all-costs kind of a coach (as evidenced by the ThunderWolves willingly forfeiting their 2015 RMAC title after discovering they used an ineligible player) he is and always will be a competitor. So, winning is certainly something he enjoys striving for.
***
Heading into the last hole of the day, Wristen's cart has pulled even. With 405 yards to go, the two groups are right back to where they started.
On the tee box, the sportswriter hits his drive off the heel of his club. It somehow gets around the big tree straight ahead and into the fairway, but a 200-yard uphill shot remains.
The hoopster's ball sits on the right side of the fairway and he openly admits that he's in between clubs. Wristen has pushed his ball into the rough on the right and needs his second shot to get back to the fairway.
He's playing for par. His brother-in-law is in the fairway though, and his approach shot lands above the hole about 12 feet out. Birdie is in play for Wristen's cart.
The sportswriter has no choice but to pull out a fairway wood. He puts a solid swing on it, but it grazes tree leaves. From the looks of it, the ball hits in front of a green-side bunker and rolls in.
The hoopster hits his approach a tad fat. He's on the green but 25 feet below the hole.
"Where are you, Danny boy?" Wristen shouts.
"Bunker."
Or so the sportswriter thought.
Upon driving up to the bunker, there is no ball. There are three, not two, balls on the green and Wristen has yet to shoot.
He makes his approach and lands left of the hole. As he drives up, he looks at the sportswriter who has yet to take a shot from the bunker.
"I lied," the sportswriter says with a shrug.
His ball is pin-high and seven feet out.
Wristen's brother-in-law makes par so at worst the match ends in a tie, but the sportswriter is putting for birdie.
The second the ball is struck, his arm goes up in the air and he walks the ball into the cup.
"Nice putt," Wristen says graciously.
He realizes he just lost to the sportswriter.
"That putt was anything but short and no good, Coach."
***
It's hard not to wonder what the future can hold for a man in Wristen's position. When observing him in his home town, it's tough to imagine any scenario that can pull him out.
Back in the clubhouse, every patron walks in a says hello. Wristen knows exactly who they are. He'll get the attention of their kids.
"How's baseball going?"
They'll tell him with the excitement that can only be seen in an 8-year-old.
Wristen is revered in Southern Colorado. A spot like the country club gives him a slight escape from the rigors of being the championship football coach in Pueblo.
"I think when you're at the country club, you try to be one of the guys and not be the guy," Wristen says. "At work, sometimes you have to be the guy and all the decisions come through you. [Here], I just want to be the guy who can relate to people, have fun, enjoy playing some golf for a couple of months. I enjoy being the guy too, the one who has to make those decisions."
Even when he's trying to enjoy his time off, his phone lights up with text messages from players, past and present.
He gets peppered with questions on life and coaching:
Would you want to be the athletic director at CSU-Pueblo? 
If a certain college football coaching job opened and you were offered, would you take it? 
What do you look for in your athletes?
And so on.
He takes it in stride. He's the only one who knows what path he may want to take if he decides to close the door on coaching.
For now, that's not an option. His primary focus is making 2017 a successful year for the ThunderWolves. His secondary focus is making sure that the years that follow meet his expectations.
The only question from the sportswriter that he really pondered was if his success came as a result of being wholly invested in the community in which he coaches.
"I don't know if it's easier or not," Wristen said. "It makes it more enjoyable. Winning is hard. I don't care what community you're in. I think winning in this community is special. It makes it very rewarding because I'm invested in the community and I think the community is invested in our program. It's win-win. So the reality is that it's hard to win, but what we've done here has been very special.
"Because of being here in Pueblo, Colorado, and I've enjoyed every moment."