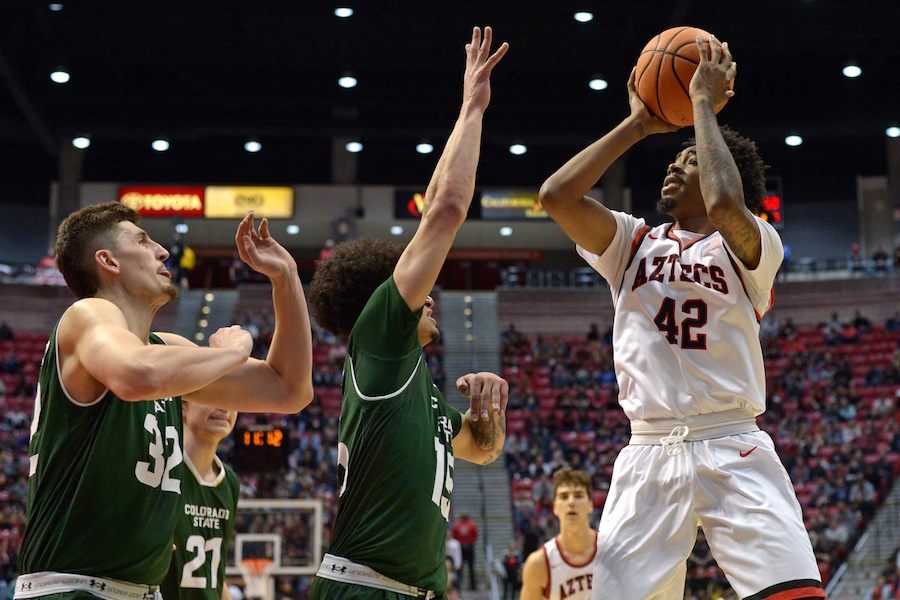 Read this story at CSURams.com
Colorado State could not find an answer for a hot shooting San Diego State squad and suffered a 97-78 road defeat, Jan. 24. With the loss, the Rams fell to 10-12 on the year and 3-6 in Mountain West play, while the Aztecs improved to 12-7 and 4-4 in the league.
The Rams did not lead in the opening 20 minutes and had two ties at seven and 14. A triple from Max Montana put the Aztecs up for good on a three pointer to kick a 12-2 run for the hosts over the next three-and-a-half minutes for a 26-16 lead. The Rams got it down to a five-point margin at 36-31, but CSU was held to just one basket the last 3:15 of the half as San Diego State closed on a 11-2 run to take a 47-33 lead into the halftime break, a period in which the host squad shot better than 62 percent from the field.
CSU had it down to 12 on two separate occasions in the second half. However, a 19-4 run by San Diego State put the game out of reach in the final half with the largest lead of the contest at 27. The Rams were unable to get any closer than 20 the remainder of the game until the final margin.
Colorado State shot a respectable 48.3 percent (29-of-60) from the field and 44.0 percent (11-of-25) from behind the arc, but San Diego State was better, hitting on 55.6 percent (35-of-63) of its field goal attempts and 43.3 percent (13-of-3) from the three point line. The Aztecs went 14-of-21 at the free throw line, while the Rams went just 11 times, hitting nine of them. CSU held a slim advantage on the boards 31-28, but gave up 16 turnovers to the Aztecs' nine.
CSU was led by redshirt-sophomore Anthony Bonner with a career-high 22 points on 7-of-10 field goals, including 4-of-6 on three pointers. Freshman Logan Ryan chipped in a season-high 13 points, while redshirt-sophomore Nico Carvacho posted his fifth double-double of the year with 14 points and 12 rebounds. San Diego State had six players in double figures, led by Max Montana's 20 points off the bench and Trey Kell's 17.
Next up, Colorado State will head to The Pit to take on New Mexico, Sat., Jan. 27 at 7 p.m. MT (time change from 8 pm). The contest between the Rams and Lobos will be televised on ESPN3 with Trey Bender and Richie Schueler on the call. The game will air across the Colorado State Sports Network (along with online at CSURams.com), with Brian Roth and Adam Nigon on the call.