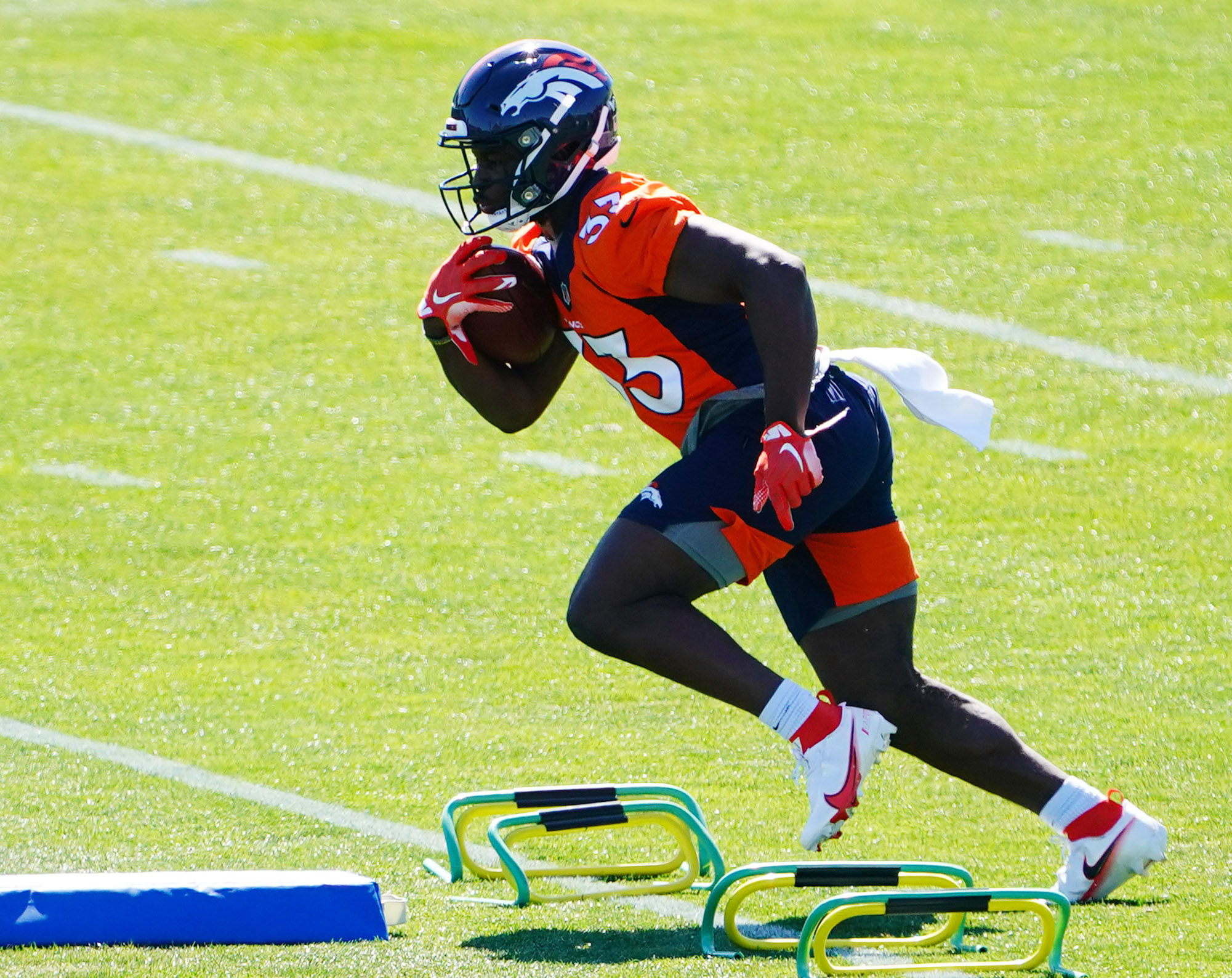 The Denver Broncos moved up to get running back Javonte Williams in the second round of the 2021 draft. Williams is a phenomenal running back prospect with loads of talent.
And it's important to note the drafting of Williams was not a move for a depth piece. The former North Carolina standout arrives in Denver expected to contribute right away.
In Williams, the team has uncovered a new weapon for this offense.
The 20-year-old was a favorite of running back coach Curtis Modkins. George Paton made him a target for the Broncos on draft night.
George Paton said Javonte Williams "blows you away as a player on tape."

"If he was in striking distance, we're going to try and go get him."

RB coach Curtis Modkins said he was the best RB in the draft.

(Via Behind the @Broncos)

— Zac Stevens (@ZacStevensDNVR) May 26, 2021
The Broncos have current starter Melvin Gordon under contract for one more season. However, that does not mean the rookie will sit and wait.
After setting the North Carolina touchdown single-season touchdown record last season, Williams comes to the league ready to impact Denver's offense.
Williams has the type of pro-ready skill set to be effective right away. His ability to run with authority and catch the ball will work well in tandem with Gordon in 2021.
Why Williams can be effective early
The duo of Phillip Lindsay and Gordon offered a differing skill set. Unlike Lindsay, Williams' style is much more comparable to Gordon's.
Their likeness should allow the Broncos to keep the playbook the same regardless of who's in the backfield.
"A tough, physical inside runner, [Javonte] Williams can be a dangerous threat in tandem with versatile running back Melvin Gordon III."

— Denver Broncos (@Broncos) June 1, 2021
This helps significantly in gameplan efforts. The result should be a more complete and effective set of play calls. Defenses will no longer be tipped off to the play call as either Williams and Gordon are stout inside runners, adequate pass catchers, and can hold up in pass protection.
Normally I'd say scout at least 3-4 games of every prospect before grading them, but with Javonte Williams I really only needed one play pic.twitter.com/BGmheg7thg

— Jon Ledyard (@LedyardNFLDraft) February 27, 2021
Williams also had experience being a member of a dynamic tandem. In 2020, Williams teamed up with fellow 2021 NFL draftee Michael Carter to demolish teams all season long.
Additionally, Williams plays through contact. This allows the team to use him in a variety of situations included 3rd-short or red zone opportunities.
Showing good contact balance and experience splitting reps led many to believe he's ready to roll entering the league this season.
Javonte Williams rushed for a first down or touchdown on 45.9% of his carries (Highest in CFB) pic.twitter.com/VDuAqLYpoE

— PFF College (@PFF_College) May 22, 2021
The addition of Williams is important as the Broncos look to emphasize the run game more in 2021.
The Broncos are confident in their depth and starters up front.
A healthy Graham Glasgow and Dalton Risner along with continued progression from Lloyd Cushenberry III provide the Broncos with a solid interior group. Elite left tackle Garett Bolles and presumed starter Bobby Massie provide the group with 5 athletic players upfront.
Their mobility allows the Broncos to run a variety of power and zone concepts.
Concepts the Broncos can use to get Williams rolling in 2021
Both Williams and Gordon are capable of pounding the ball inside for big gains. They are also adept at getting the edge when it's there.
The Broncos can utilize few run concepts to maximize Williams's impact.
First, the Broncos use the pin-and-pull concept to get to the edge. This play design was very effective for Gordon last season, and Williams should be able to see similar success.
The action works by pining the outside defender and uses the play side guard or tackle to pull around an alley outside of the tackle box. With five offensive linemen who are adept to pull, Williams should be able to gash defenses as he did in college.
These pin-and-pull concepts will help Williams break contain. Once he's outside, this playmaker has the one-on-one opportunities to make defenders miss in space.
Williams has shown he can break big plays off, and this concept should help him do just that.
In this clip, Williams follows a pulling lineman outside of a pin-down block, similar to what he will be asked to do in Denver's offense this season.
Javonte Williams 😤@KyleBrandt that's an ANGRY run

— CBS Sports HQ (@CBSSportsHQ) December 12, 2020
Here is a great look at him utilizing this concept from the sideline angle. You can see Williams set up his blocker then take advantage of his opportunity to punish defenders.
Javonte Williams from the sideline. #NFLDraft2021 #NFL pic.twitter.com/kGRD80N3SE

— BlitzburghVideos ✨ (@BlitzVideos) March 10, 2021
Utilizing inside-zone concepts to get Williams on the field early in 2021
Additionally, Williams can be successful in zone concepts. Williams shows a nice ability to stick his foot in the ground and make a cut.
With inside zone gaps, the team looks to take advantage of the offensive linemen's mobility to create natural run lanes inside.
Each covered lineman flow to an area to engage the nearest defender. Any lineman who is uncovered to start the play doubles down before heading to the second level. The lineman is assisted in this scheme by the back setting up the defender before making their cut.
The rookie does this phenomenally.
Conclusion
These two concepts align with what offensive coordinator Pat Shurmur likes to do. As a result, Shurmur does not have to make any significant changes to his scheme to accommodate Williams. Thus, his learning curve should be significantly less steep than many rookie running backs.
Finally, Wiliams is just a tough player to bring down. Like Gordon, Williams brings toughness to the backfield. This will allow the team to use both backs at any point in the game.
Look for Williams to break ground early. He should begin to take significant snaps as the season moves along.