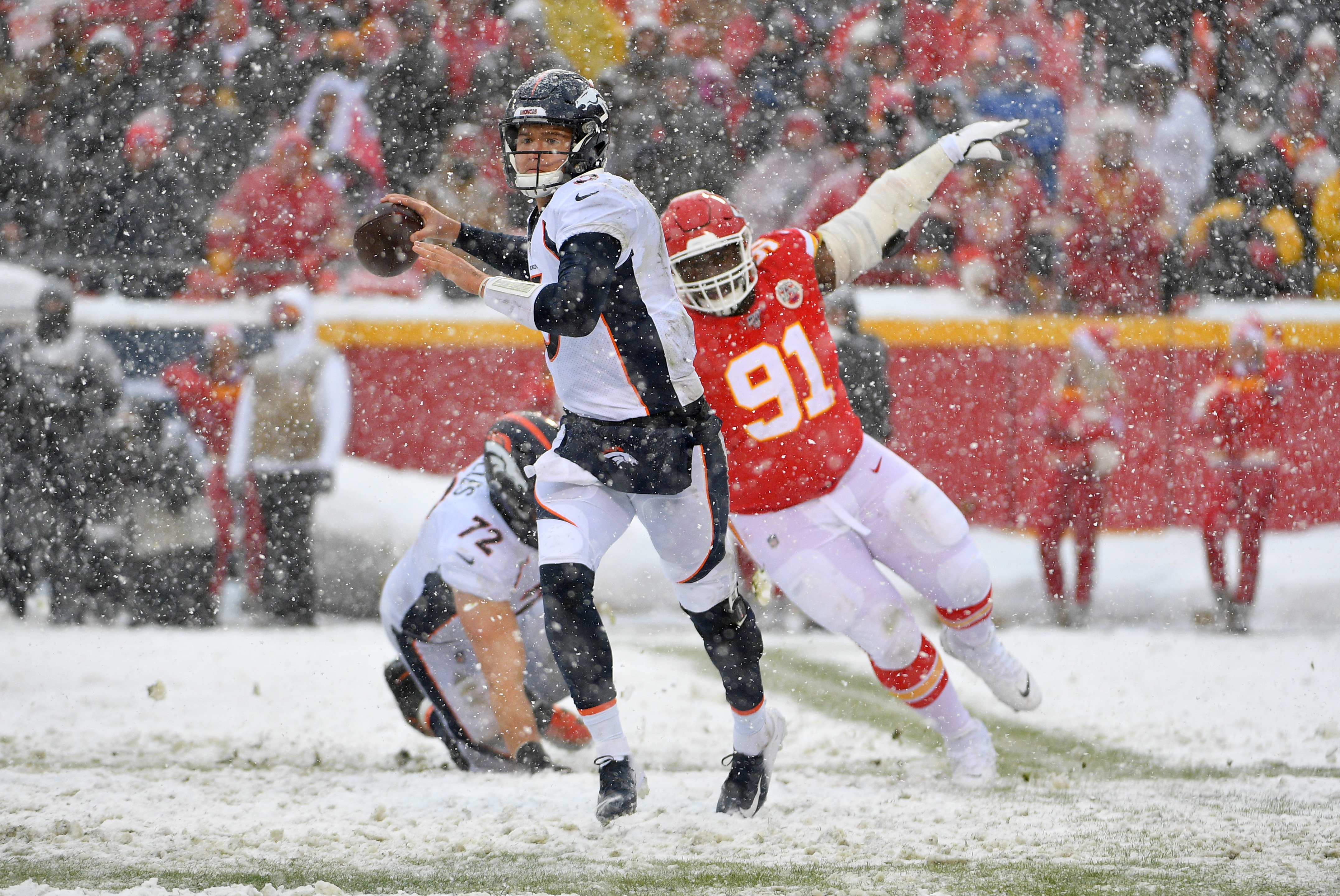 If the Broncos can beat the Chiefs this week, they'll be just one game out of the race for the AFC West crown, making this a pivotal matchup.
With that in mind, we asked our Broncos experts to sit down and help us preview Week 7's Broncos-Chiefs bout, as well as analyze Denver's rookie class through five games.
Based on the early returns from his 2020 rookie class, what grade would you give Elway for his most recent draft?
Rich Kurtzman(@RichKurtzman): So far, I'd give John Elway a solid B-. Jerry Jeudy has been good, but not quite as good as advertised. Hamler has been nonexistent. But, Michael Ojemudia has shined while Lloyd Cushenberry looks in over his head. Simply, they're rookies and only five games in. I'd like to see growth from all of them this year but Jeudy and Ojemudia entered the league ready to be full-time starters, which is solid.
Zach Segars(@Zach_Segars): Right now, it's probably a B or B- because some rookies are lacking quality opportunities, but as the season wears on and they get those opportunities it could be in the A range. For example, Jeudy has been good, not great, but he's only played with Drew Lock for two games, and those games were against the undefeated Titans, and a stingy Patriots secondary in Foxboro. As they play teams like the Falcons and Panthers, and their chemistry grows, Jeudy could start being great, and I think similar situations can be found with most of the Broncos' rookies.
Ronnie Kohrt(@RonnieKRadio): B+. The offensive weapons he took look every bit as good as we thought when we do see them (injuries the issue) but third-round pick Michael Ojemudia, who also happens to be the widely criticized pick by most narratives, actually is becoming the pleasant surprise of the year.
Doug Ottewill(@Dottewill): B-. While I still like Jeudy, the numbers don't suggest he's made a significant difference. I'm still bullish for sure, but you'd like to see more production from your first-rounder. I didn't like the Hamler pick then – not where he was taken anyway – and I don't like it any more now. Hamler looks like another too small wideout that won't be a difference-maker. I hope I'm wrong, but has anyone really noticed KJ Hamler so far this season? The best pick by far was Ojemudia. He showed great toughness when he bounced back from some rough early goings and has become a very capable corner in a short amount of time. Albert O looks like a nice find as well.
How would you go about trying to stop Patrick Mahomes if you were in charge of the defensive game plan?
Rich Kurtzman: This is the million-dollar question, eh? I'll keep it simple: You don't stop Mahomes, you only hope to contain him. Denver should pressure relentlessly like they did against Cam last week with success.
Zach Segars: Creating pressure in the interior is the answer for most NFL quarterbacks, but that just isn't the case with Patrick Mahomes, pressure up the middle just pushes him out of the pocket, where he's at his most dangerous and most comfortable. The key to defeating Patrick Mahomes is containing the edges while creating consistent pressure with as many people back in coverage as possible (ideally rushing four and dropping seven). That what LA, LV, and NE did to slow down Mahomes, and it worked.
Ronnie Kohrt: Pressure up the middle. It's what makes the quarterback the most uncomfortable. That, a great secondary playing out of their mind and some luck that Mahomes makes a bad decision.
Doug Ottewill: If I knew that I wouldn't be in this roundtable. But I assume the Broncos will try to take away 1-2 weapons and try to make Mahomes and whoever is left beat you. Pressure up the middle is always key, but that's easier said than done. I think a better question is how can the Broncos score 30 points; that's the only way you've got a chance anyway.
What is the biggest key to a Broncos victory this week?
Rich Kurtzman: Forcing turnovers will result in a much closer contest. Failure to force turnovers will mean a blowout by Kansas City.
Zach Segars: Red-zone efficiency. I think both these offenses will be able to drive the ball with at least a moderate level of consistency in this game. That means whichever team converts more of those scoring opportunities with touchdowns rather than settling for field goals is likely to win. Denver has the much better redzone defense, while KC has the much better redzone offense.
Ronnie Kohrt: The Broncos offense running with Mahomes and pounding the run game. The weather report is expected to be in the 20s with snow in the forecast. If this becomes a slow, slog it out game, the run game could be everything for Denver to pull off the upset.
Doug Ottewill: Scoring. More specifically, scoring touchdowns. No matter how good a defense has looked, no matter what kind of a defensive guru Vic Fangio might be, nobody has completely shut down Kansas City's offense. You've got to run with the big dogs if you're ever going to beat the big dog.
Who will be Denver's player of the game?
Rich Kurtzman: If they win, I'll say Shelby Harris. He'll have a sack and multiple batted balls, with one being an interception again.
Zach Segars: Phillip Lindsay and Melvin Gordon share the honors. You can run all over this Chiefs team, and they're easily the worst run defense the Broncos have faced this season. The Broncos will also finally have Lindsay and Gordon on the field together again, which should make it even easier to lean on the ground game.
Ronnie Kohrt: Drew Lock. This seems to me like a Drew Lock coming out game. Big plays. Deep passes. Points on the board. I anticipate a shootout on Sunday.
Doug Ottewill: If it's Brandon McManus (again), Broncos lose. If it's Drew Lock, they might pull this one out.
What's your score prediction?
Rich Kurtzman: 38-13 Chiefs win.
Zach Segars: 27-24 Broncos win.
Ronnie Kohrt: 30-26 Chiefs win
Doug Ottewill: 36-17 Chiefs win. As much as I know the Broncos must score, I'm not so sure they can. They'll have to show me before I put a big number down on my predictions