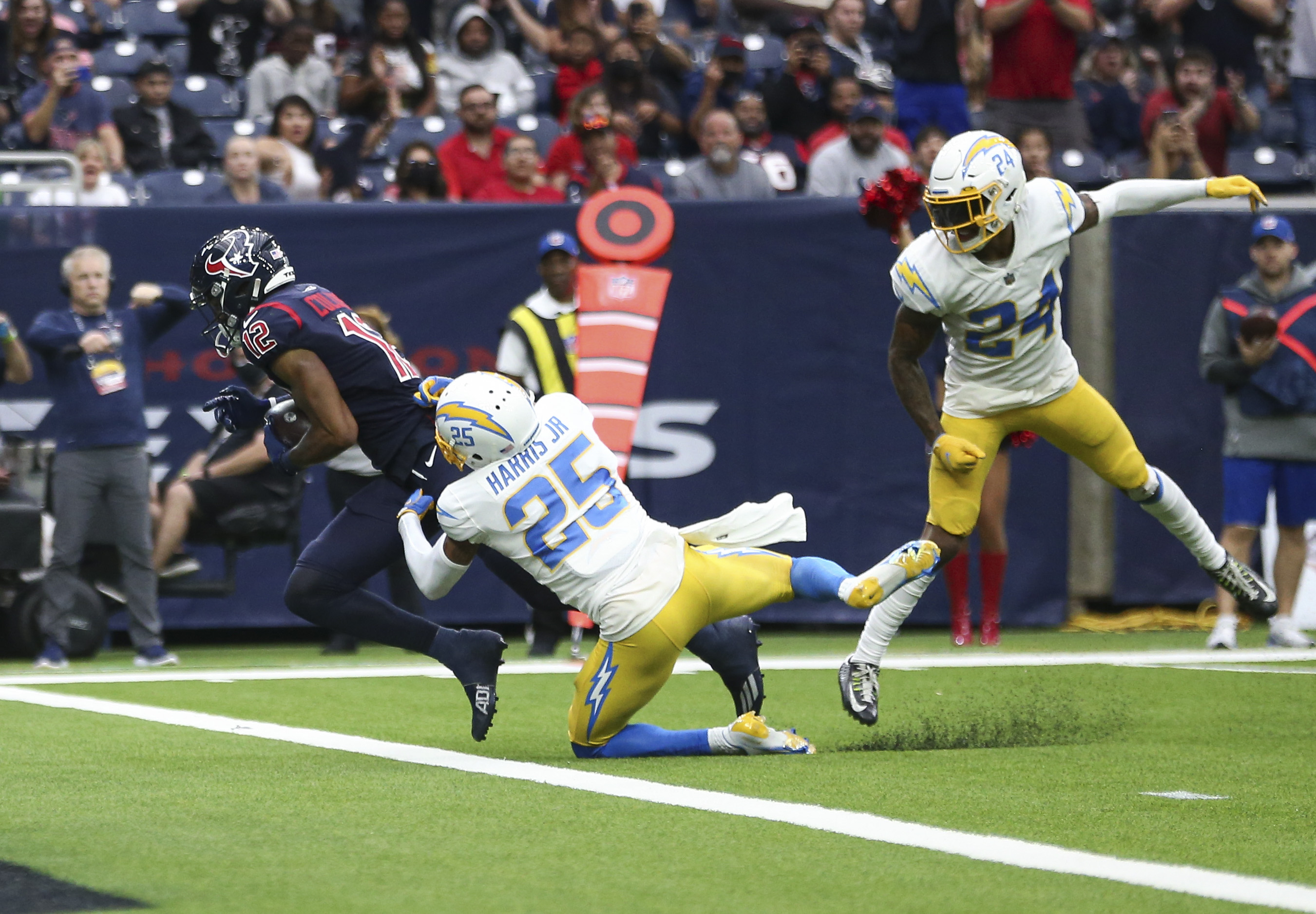 As we finally shift our focus away from the never-ending quarterback discussion and towards other positions of need — thanks to the addition of Russell Wilson — one need isn't getting discussed nearly enough.
The Denver Broncos are in desperate need for a slot cornerback. All of the players who filled that role in 2021 are set to free agency.
Kyle Fuller, Bryce Callahan and Nate Hairston took 96.6% of the team's cornerback snaps in the slot this past season, and the remaining 3.4% were taken by Patrick Surtain II and Michael Ojemudia, both of whom are more natural fits outside.
With that in mind, how can the Broncos fill such a gaping hole? Let's look.
On-roster options
Bryce Callahan
One of the most underrated members of the Denver Broncos is likely Bryce Callahan.
When on the field, he's been the Broncos' best cornerback in each of the last two seasons — despite how remarkable Patrick Surtain was this year — and could maybe even make a convincing case to have been their best defensive back.
The major concern with Callahan will be the ability to get on the field. He has missed games in every season of his NFL career.
With that said, the Broncos currently don't have a cornerback who should operate primarily from the slot on their roster, and need one bad. Ejiro Evero was hired to be the defensive coordinator from the L.A. Rams, who used more dime personnel — a defensive personnel grouping in which the defense has six defensive backs, two of which are slot-corners — than any other team in the league last year.
As a result, they're going to need a lot of corners who can operate out of the slot, and they presently have none. With that in mind, it feels foolish to get hung up on the excellent slot-corner who will only give you 12 games, when he's going to solve one of your roster's biggest holes at a very high level for three-quarters of the season.
Don't get stuck on the quarter of the season where he isn't playing for you. Focus on the 12 games he's gonna give you where he's locking down Keenan Allen and Hunter Renfrow in the slot.
Nate Hairston
If Callahan's asking price ends up being too much, the Broncos decide they want to go in a younger direction, or even with Callahan in tow, if they choose to ensure their depth at the position, Nate Hairston is an excellent option.
Hairston isn't the flashiest option, but he played very well last year in a limited role, and likely wouldn't be too costly to bring back.
Last year Hairston saw a lot of his reps come in dime personnel, where he would operate as the team's second slot-corner option. While he didn't perform quite to the same degree as Callahan, he still played well enough to make one feel confident about him stepping into a larger role in 2022. Perhaps he could even step into the role formerly occupied by Callahan.
However, still, like all of these other on-roster options, Hairston definitely shouldn't be Denver's sole attempt at solving this need.
Essang Bassey
The only true nickel cornerback that the Broncos currently have rostered for the 2022 season is Essang Bassey, who after a fine rookie campaign, missed all of his sophomore season rehabbing from an ACL injury.
While Bassey had some promising flashes, the Broncos would be deeply foolish to entrust Bassey with being their sole — or primary — solution at the position.
Nickel is the new base defense, making your nickel cornerback a valuable starter in the secondary, and that's too much responsibility to place on Bassey at this point in time.
Patrick Surtain II
Patrick Surtain II is the reason why Bassey was referred to as 'the only true nickel,' as Surtain could certainly take on that role if the Broncos viewed it to be a necessity.
With that said, that isn't the best way to utilize Surtain's talents. Surtain looks the part of an elite boundary cornerback and a perennial All-Pro, and while he has the ability to be a very good nickel corner as well, you're probably limiting how effective a defensive weapon he can be.
We could see Surtain take on a role more similar to the one Jalen Ramsey offers the Rams' defense — where new defensive coordinator Evero was hired from — in which his responsibilities and utilization differ from game to game, and as a result, he plays some nickel. That might actually be the ideal way to use Surtain. However, the problem in the slot persists with that solution, as Surtain wouldn't be a full-time nickel.
The Broncos will have to bring someone back or find an option on the open market.
Off-roster options
J.C. Jackson
Broncos Twitter has already started fantasizing about one the class's top free agents and very best slot cornerback signing with Denver, but it feels very unlikely.
First, Jackson is expected to be prohibitively expensive, as the Broncos have plenty of other holes to fill.
Second, on top of being insanely expensive, Denver would be unlikely to get the most bang for their buck with Jackson, as he doesn't exactly fit the Broncos' scheme. Now, Jackson is such a talented player he could probably still be successful in it. However, he probably wouldn't still be the best slot-corner in the league by a sizable margin anymore, and you're going to have to pay him like he still is.
Darious Williams
The idea of landing Jackson feels fairly far-fetched, but Darious Williams is a premier option on the market that feels very realistic.
That's largely due to the connection he has with Ejiro Evero and Denver's massive need at the position. He could be a plug-in-play starter that would immediately fill that hole at a high level and maintain the Broncos' secondary as one of the league's best.
Williams did see his play slip a little in 2021, as he was truly an elite nickel in 2020, but he still played at a very high level and was one of the better players in the league at his position.
Chris Harris Jr. 
This is a name we've seen listed frequently in connection to the Broncos' need at the position, primarily from 850KOA's Broncos insider, Benjamin Allbright.
KOA SPORTS ZOO | Von Miller? Our KOA #Broncos/#NFL Insider @AllbrightNFL says to watch out for the possibility of another former Bronco returning to Denver… Chris Harris Jr. 👀 | Live from Tom's Watch Bar near Coors Field

Check out the KOA TikTok ➡️ https://t.co/dBgU6meww0 pic.twitter.com/KpHDeT11ot

— KOA 850 AM & 94.1 FM (@KOAColorado) March 10, 2022
Now, don't get it twisted. Chris Harris Jr. is a Broncos legend who should be enshrined in the Ring of Fame and loved by fans even despite their fairly messy divorce. However, the Broncos made the right evaluation when they let him walk.
Harris Jr. is no longer his former All-Pro self. He could probably do great work as the team's secondary slot-corner, but is it worth paying him what he's going to get to be your second option at the position? Probably not.
Re-signing Callahan and/or Hairston and then drafting a player you can develop into being the long-term starter at the position feels much more appealing.