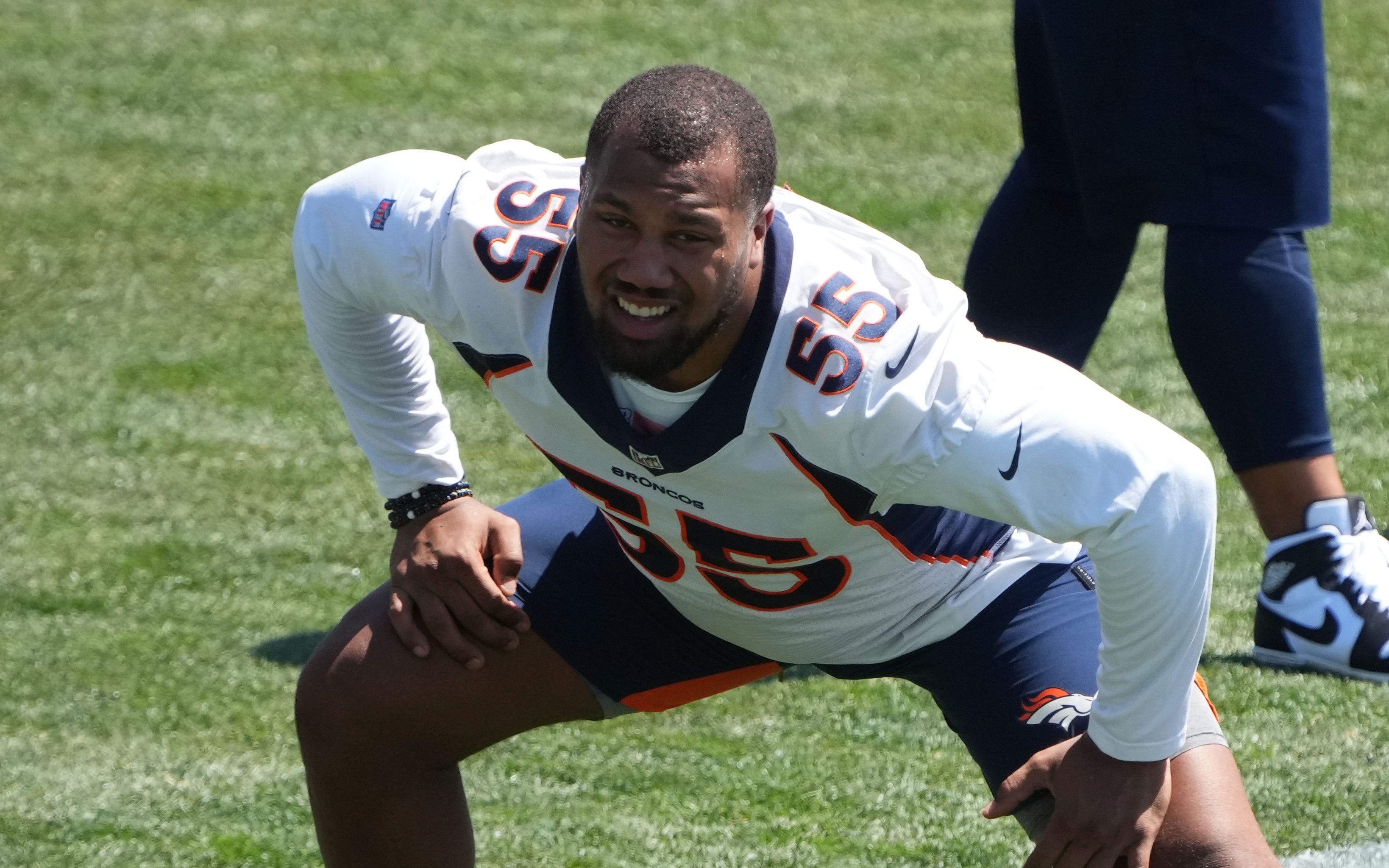 For Denver Broncos fans, the 2020 season was a nightmare plagued with injuries.  
At one point, the team had a total of $53.4 million of cap space — or 26.9% of the salary cap — on the injured reserve list. With the new season less than a week away, there's been a sense of relief knowing that everyone on the team is healthy and injury-free. Any questions surrounding Von Miller and Courtland Sutton's durability have been squashed. Both look 100 percent and stronger than ever. 
However, that confidence started to slip last week when Badley Chubb and Noah Fant were kept off the practice field with an ankle and a leg injury. Both guys are considered centerpieces of the team and will play a vital role in the team's hopeful success.
Although head coach Vic Fangio has downplayed both injuries, how concerned should Broncos fans be?    
Bradley Chubb
Chubb, who was recently selected as the 40th best player in the NFL by his peers, was one of the team's few 2021 highlights. 
Fans were surprised to see that Chubb wasn't practicing at the end of last week.  
Initially assumed to be a Veteran Day, Vic Fangio confirmed that his absence was injury-related. Before last Thursday's practice, he said that Chubb "tweaked his ankle last week in practice . . . Still bothering him a little bit, so we're going to give him this week to get it right." 
Although worrisome, the good news is that Chubb was able to play in the team's final preseason game against the Los Angeles Rams despite the injury. He logged 21 defensive snaps and two special teams snaps during the game.
The other good news is that it's not the same ankle that Chubb had surgery on earlier this offseason. It is not expected to keep him out of any games. Fangio said he believes Chubb will still be ready for the Broncos' season opener vs. the Giants on September 12th.  
All signs point to Chubb being sidelined as an act of caution and not a necessity. It appears that the ankle injury won't cause any setbacks.
Noah Fant
Fant is entering his third season in the NFL. He is currently listed as the Broncos' No. 1 tight end on their depth chart. Last year, he ended the 2020 season with 673 yards, 62 receptions, and three touchdowns.
Fant has not practiced since August 19th because of a lower leg injury. He didn't play in the team's preseason finale against the Rams. Fangio has continued to minimize the injury saying, "I don't think he'll miss any time in the regular season." 
Since his NFL debut, Fant has been mainly resistant to injuries. Last season, Fant had a brief ankle issue that sidelined him for one game, though it did appear to hamper him for quite some time.
If Fant cannot play against the Giants in Week 1, Albert Okwuegbunam, who is poised to serve as the team's No. 2 tight end this season, will get the start.  
Okwuegbunam is still recovering from the ACL injury that prematurely ended his 2020 season. However, he has shown no signs of it being an issue. He returned to the field for the first time against the Rams and had three receptions for 23 yards. After making a catch, he even attempted to hurdle one of their defenders, proving that he is good to go this season.
Regardless of who starts, the Broncos shouldn't be worried about the tight end position.