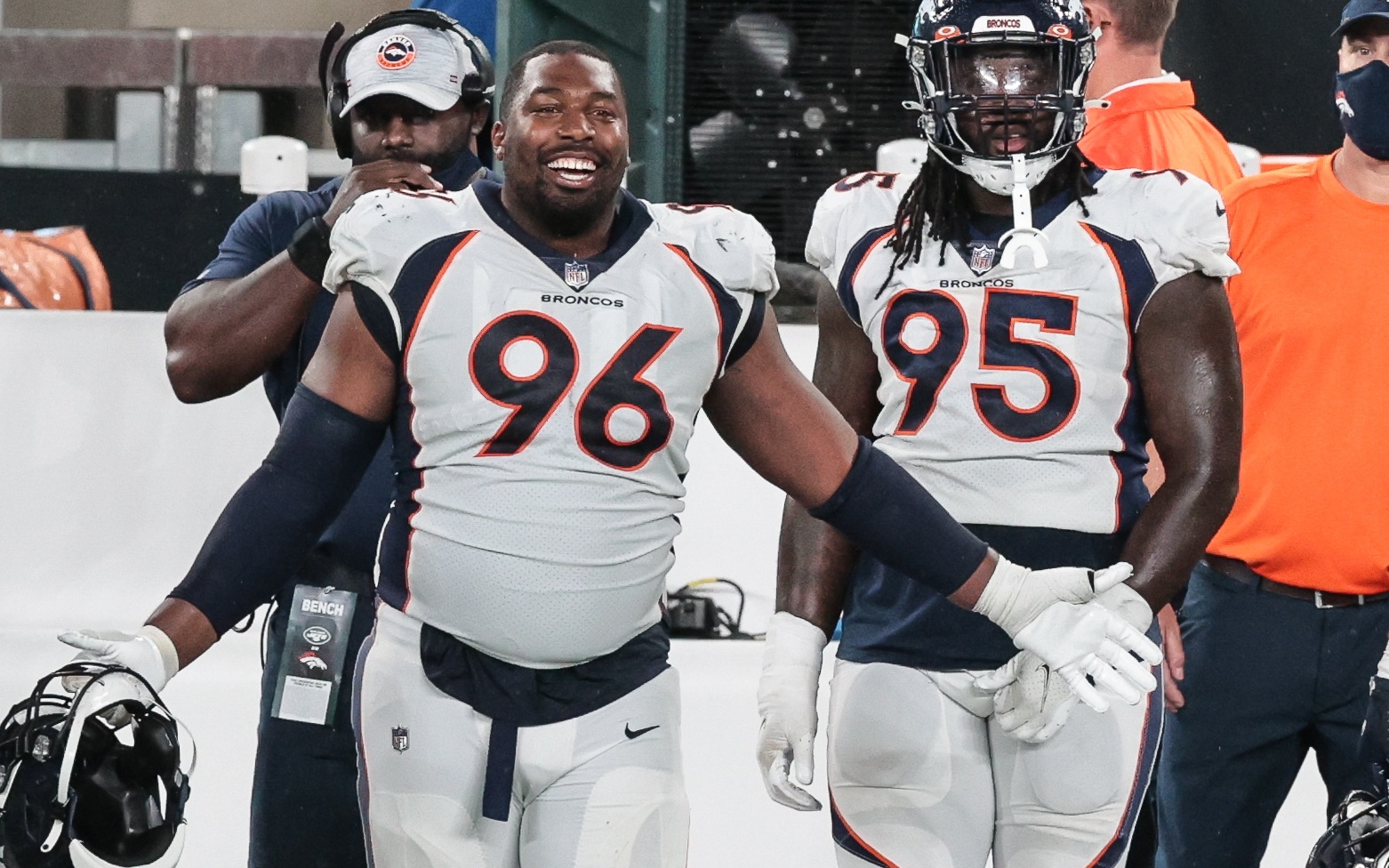 The Denver Broncos defensive line has a ton of talent, though we were robbed of seeing much of that talent due to injuries. Now the Broncos are faced with a different emergency on their defensive line as several of the key players are either due for new contracts or are unlikely to return to the team.
In this article we'll take a look at how every member of the defensive line performed in 2020 and what the off-season should have in store for them.
Starters
Shelby Harris
The most valuable member of the Broncos that doesn't get national recognition has to be Shelby Harris.
He's one of the defense's better run-stuffers, as exemplified by his run-stuff rate of 8.5%, which is the best on the entire defensive line. However, Harris' value primarily comes from his impact on the opponent's passing game. His 16 pass deflections over the past two seasons lead all defensive linemen and 27 pressures and three sacks as a pass rusher.
It was a miracle when the Broncos managed to bring Harris back for the 2020 season, as he was out of their budget all last off-season, until a cold market led him to return to Denver on a one-year deal.
One would think Paton would make an effort to re-sign Harris, but with the decreased cap this season and a ton of promising, cheap talent behind him on the depth chart, it could make sense to let Harris walk. However, with Jurrell Casey already serving as a likely cut candidate, the Broncos might not want to lose another high-end starter on that defensive line.
Mike Purcell
It's unfortunately easy to overlook Mike Purcell's value to this defense. As a hole-clogging, block swallowing mammoth in the center of Denver's defensive line, Purcell doesn't perform a glamorous job, but he is the team's first line of the defense against the ground game.
And he's one heck of a frontline run-defender at that. With Mike Purcell in the lineup the Broncos ranked among the top 10 defenses in run defense DVOA. However, the Broncos finished the season ranked 25th in run defense, following Purcell's injury.
Fortunately for Broncos Country,  that run-stuffing hogmollie will certainly be returning in 2021 after signing an extension worth $14.8 million over three years during the 2020 season.
Jurrell Casey
It's hard to imagine Jurrell Casey and his cap hit of nearly $12 million making it onto the roster for the 2021 season, especially considering the contract has no dead money on it. You could very easily cut Jurrell Casey and use your cap savings to re-sign Shelby Harris or get most of the way towards re-signing Justin Simmons.
In his limited time, Casey was a solid member of the defensive line, but he was outperformed by Harris and arguably Dre'Mont Jones as well, making him fairly obsolete and far too expensive.
Depth
Dre'Mont Jones
It's easy to focus on the first three picks of Denver's 2019 draft class, with Drew Lock, Dalton Risner and Noah Fant, but Dre'Mont Jones has performed the best of any member of the class so far.
Despite entering the season as a backup, Jones was more productive than any other member of the defensive line as a pass-rusher, generating seven sacks and 30 pressures. He also was a more-than-adequate replacement for Casey as a run defender.
That talent level is the reason the Broncos shouldn't sweat a single droplet on the futures of Shelby Harris and Jurrell Casey as they have four high-end-starter-level players on a defensive line that requires three. Even if both leave, you should feel ok about DeMarcus Walker, DeShawn Williams, or McTelvin Agim filling in alongside Purcell and Jones.
DeMarcus Walker
DeMarcus Walker continues to slowly blossom into the player the Broncos hoped they were selecting in the second round of the 2017 NFL Draft. However, he still hasn't lived up to that draft investment and is set to become an unrestricted free agent this off-season.
The Broncos could likely bring him back for pretty cheap, as teams likely won't be interested in him outside of using him as a depth piece and rotational pass-rusher.
Even if Denver were to lose him, it wouldn't be time to panic as he should be fairly easy to replace. He could even be replaced by a current piece on the roster like McTelvin Agim, who's raw but has some exciting upside.
DeShawn Williams
DeShawn Williams was one of the most pleasant surprises for the Denver Broncos in 2020.
Williams, a journeyman street free agent, got his opportunity following injuries to Jurrell Casey and Mike Purcell and he made the most of it. While he wasn't able to offer the same level of run stuffing that Purcell could, he was a more effective pass rusher than Purcell.
Considering how inexpensive Williams is and Denver's need for a backup nose tackle behind Purcell, the Broncos should definitely attempt to bring him back.
McTelvin Agim
The Broncos didn't get quite what they were hoping out of McTelvin Agim's rookie campaign, but Agim flashed some of the upside that made him a late riser in the draft and a coveted day-two selection.
However with so much talent ahead of him on the depth chart, which in turn led to severely limited playing time, it's hard to criticize Agim too much for the slow start to his career.