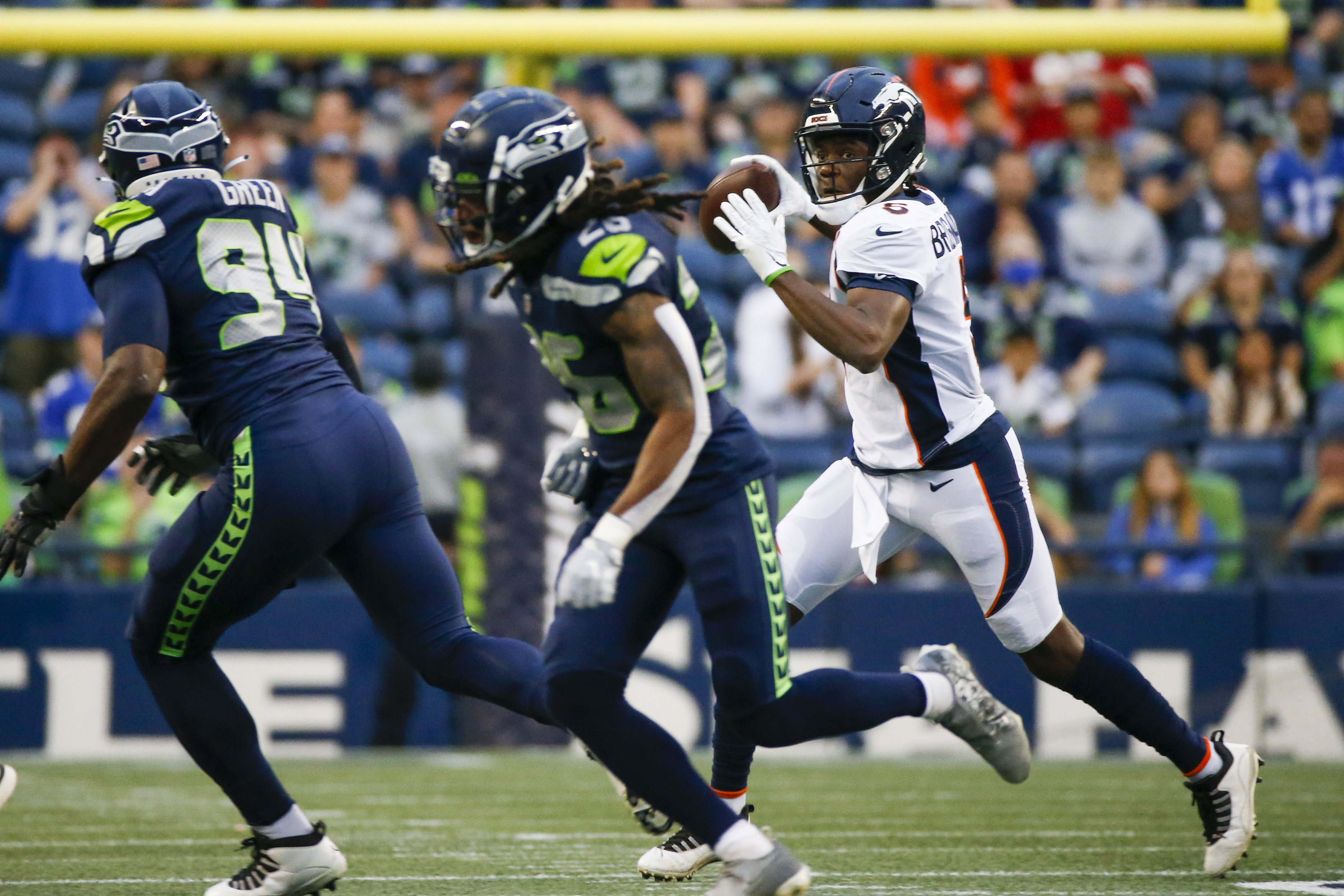 After a long, drawn-out process, the Broncos have finally landed on a starting quarterback for the 2021 NFL season, Teddy Bridgewater.
Unsurprisingly, given the divisiveness of the quarterback debate in Broncos Country, there was quite a bit of frustration that the job was not instead given to Drew Lock.
So how did Bridgewater win the job?
Given the limited sample size many of the fans got as their only exposure to the competition — 21 snaps from Lock and 19 from Bridgewater across the two preseason games — and how close the competition was, it's an understandable question.
"There wasn't a lot of separation," Vic Fangio said after the announcement was made Tuesday. "Both guys had good camps. They both played well. They both had their down moments, and they both had their good moments. I thought it was good, overall, for both of them. We made this decision [because] we think it's the best for the team moving forward."
As for why this is the best move for the team, it appears to have come down to Bridgewater's intelligence and more reliable nature, which might not have been the case through two preseason games, but was the case throughout most of the rest of the summer program.
"He has a calmness to him, and I think he has a confidence to him that can radiate to the rest of the offense and the team, provided he's playing good," Fangio said. "I think he has a very good knowledge of the game and a feel for the quarterback position and the entire offense, how all 11 [guys] work and not just his position. Overall, he's an intelligent quarterback."
Garett Bolles then expressed his excitement for the Bridgewater-era, while making it clear the team still has love for Lock, a theme that was also present throughout Fangio's presser.
"I love Teddy," Bolles said. "Teddy has worked his butt off. He's been through a lot of quarterback competitions. He's been through the ringer, but that kid is so collected and calm in the pocket. [He] just is a leader. He's always meeting with the o-line, always talking to us. I have a great relationship with him so I'm looking forward to him, but I love [QB] Drew [Lock] dearly, too. I think we have two great quarterbacks that can win us a lot of games. It's Teddy right now and we're going to roll with him. I know, whatever happens, Drew's going to be right there to back him up, but I love Teddy and I'm grateful he's here."
Even Lock, who was understandably upset with the decision, had incredible things to say about the veteran quarterback addition.
"There's a lot of great things about Teddy [Bridgewater] that I've realized since I've been here," Lock said. "I think from day one, I realized that some of the people that I've learned from in this position compared to what Teddy does at this position, there's a lot of different ways to go about it. I really like the way he goes about it as far as how he talks to the teammates, how he coaches on the field, stuff we do after practice, the little things he likes to focus on."
And it seems Lock will be able to continue to learn a lot from Bridgewater in the regular season, despite the nature of their professional relationship.
"I know that right as you bring in a quarterback and it becomes a quarterback competition, it's whose chest is puffed out bigger and who can throw it better, who can come out here and practice, but secretly, I was sitting back and learning everything I could from Teddy," Lock said. "One of the special things he does that I've taken and I'm going to keep adding into my game is the way he communicates, the way he talks, how he operates after practice, trying to get the receivers on the same page as him. It's just something that I really [have] not necessarily been exposed to or seen. It's kind of crazy to think that it's been this long and I thought I was doing it the right way and doing it the best way I possibly could, and then when you see a new aspect, a new outlook on it, it's like, 'Wow, I can really take some of that and bring it into kind of what I'm doing and kind of merge the two.'"
Finally, Bridgewater expressed his high expectations for the team, upon being named the starter.
"This entire team is hungry," Bridgewater said. "We know the talent that we have here, and we know what's in store for us. We can't sit here and talk about it. We've got to continue to put the work in every day and eventually our hard work will pay off. So, we've got to take it one day at a time. We understand that it's going to be a process, and throughout the course of the season, things happen. Right now, in training camp, you see we have things that come up and it tests you. Throughout the course of the season, things come up that'll test you as well and test your foundation. Hopefully, we're putting together a solid foundation in training camp so when the season comes around, we can just get rolling."
Roll Teddy, roll.