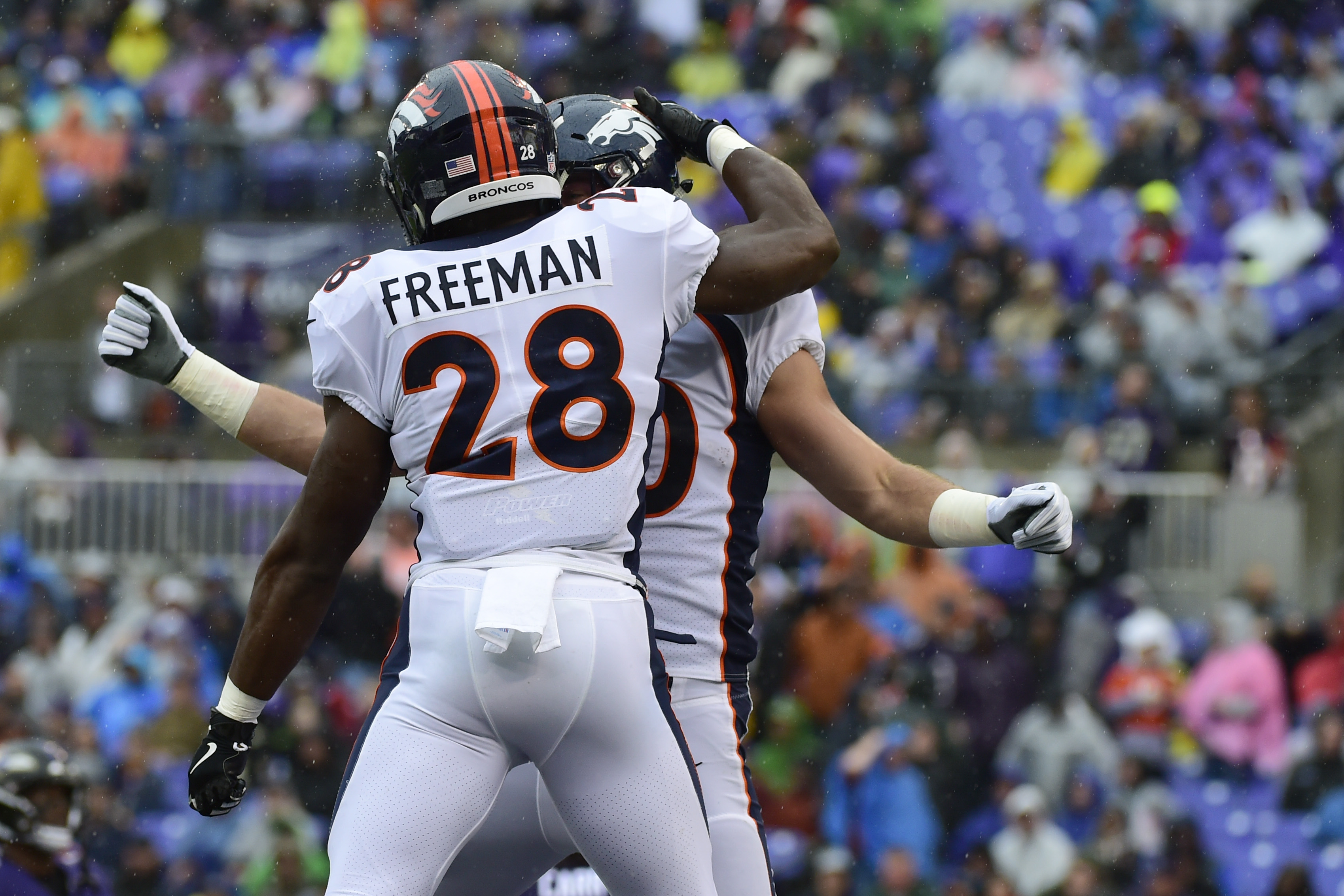 Things were looking bleak for Denver Broncos running back Royce Freeman, at the start of camp, but his fortunes might be turning.
At the beginning of the 2021 off-season, Broncos' general manager, George Paton, signed former Minnesota Vikings' running back, Mike Boone, to a two-year deal. Despite being relatively unknown, Boone surprised everyone with a hot start in his first training camp with his new team. Most were predicting that if not traded beforehand, then Freeman would get cut before the Broncos' 53 man roster was finalized.
However, Boone suffered a left leg injury during a non-contact drill on Thursday, and was later carted off the field, during a joint practice with his former team.
What is the outlook like for Mike Boone?
Currently, at the top of the Broncos' running back depth charts are Melvin Gordon and rookie Javonte Williams. Those jobs are locked in.
The Broncos released their first depth chart of the season which had Boone listed third and Freeman fourth, which where the potential for movement on the depth chart begins.  
Right before the injury, Paton praised Boone to the media.
"Mike [Boone] is an explosive runner, and he's different from what we have — a little bit more of a change of pace." Paton said. "He can take it to the house. He has the most speed of any of our backs. I think he'll help us in the pass game. I mentioned before, he's a four-phase teamer, which is vital for your backup running backs."
Fears of a severe injury were extinguished when Mike Klis reported that following an MRI, it was determined that Boone would only be out for 4-6 weeks with a quad injury.
If Boone only misses four weeks, he will be available to return for the opening week of the regular season against the New York Giants. If he misses six weeks, that will put him at a Week 3 return against the New York Jets.
Pre-Season Win Against The Vikings
In Saturday's preseason game against the Vikings, Freeman had five carries for 33 yards, averaging 6.6 YPC. However, without an-18 yard run, he only averaged 3.75 YPC. He also had two receptions for 14 yards total.
It was a fine game, but nothing to change his overall standing on the depth chart if Boone is able to return sooner rather than later.
It should also be noted that Levante Bellamy, the Broncos other running back that played in the game, had four carries for a total of only two yards.
It's safe to say that without Boone, Freeman is definitely the third-best option left.  
Covid-19's Impact
In each of the past three seasons, when John Elway was the general manager, the Broncos kept three running backs on the Week 1 roster. However, because of COVID-19's continued presence, it's possible Paton might decide to handle the situation differently than in previous seasons.
Another impact COVID-19 on the roster are some of the special practice squad and injured reserve rules that were enacted last season, and that will return in 2021.
The rules include:
Expansion of practice squads to 16 players, including up to six who have more than two accrued seasons.

The ability to protect up to four practice squad players per week from being signed by other teams.

Players placed on injured reserve can return after three weeks rather than six as in normal seasons.

Removal of the limit for how many players can be activated from injured reserve.
All of which might help provide the Broncos with a creative avenue to keep both Freeman and Boone on the final roster.
Freeman needs to make the most of this opportunity
Boone's absence provides Freeman an opportunity to get more reps in and put on some great performances.
He has the added benefit of being a three-season veteran who knows the playbooks and who the coaches are familiar with.
Plus the Broncos are likely going to want to play Gordon and Williams as little as possible to keep them fresh for the regular season. Of all the rookies to suit up against Minnesota, none played fewer snaps than than North Carolina back (10). That opens the door for a lot of carries for Freeman.
Even if the Broncos decide to move on from Freeman upon Boone's return, his trade stock may soar if his preseason performance is stellar.