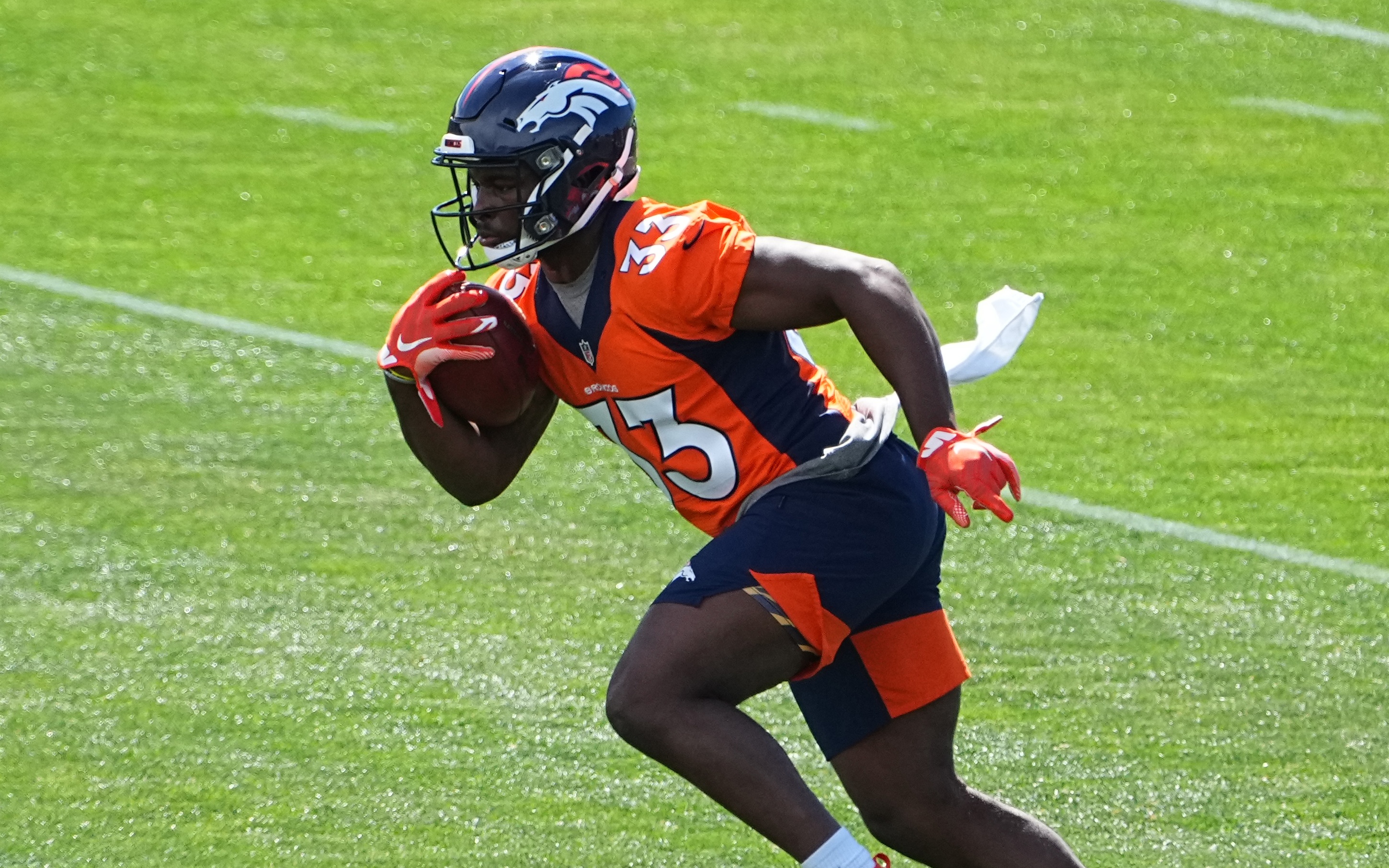 As the Broncos played their last preseason game, tough decisions are now ahead.
For the most part, general manager George Paton has made it through training camp and preseason without any obvious disappointments in his rookie draft class. While there is a long way to go until any definitive statement can be made on these players, this has been an encouraging beginning. Furthermore, the Broncos rookie class is generally unscathed, with not many major injuries to speak of.
Now, the Broncos will be in charge of evaluating which rookies have made the final 53-man roster, which ones have earned playing time in the regular season, and which ones they want to develop long term.
As we look at their preseason as a whole, the fog and mystique around these rookies start to clear, giving fans an inside look at the future outlook on a lot of these young men.
Patrick Surtain II, Cornerback, Round 1
Surtain has looked every bit of the player he was hyped up to be in his short time in the NFL.
Long and lengthy, his size is staggering. On more than one occasion this preseason, fans saw just how much of a weapon his length is. In particular, being physical, ultimately disrupting the timing between the receiver and quarterback, and giving him more versatility, allowing him to guard multiple positions or body types.
PATRICK SURTAIN PUT THE LEAGUE ON NOTICE

🔒🔒🔒

— PFF College (@PFF_College) August 14, 2021
With just how pro-ready Surtain looks, it would be a shock to not see him make a major contribution in Year One, specifically in a tight end heavy AFC West.
Grade: A
Javonte Williams, Running Back, Round 2
Paton traded up in the second round to draft Williams and if you trade up that early for a running back, they better not disappoint. So far, Williams has not.
He looks to have appeased Paton's need for a workhorse-style running back for the foreseeable future displaying the ability to be a three-down back. He has shown us a little of everything up until this point with the ability to maximize yards gained with the ball, stonewall defenders blocking, and catch the ball out of the backfield.
Javonte Williams is not playing around when it comes to blocking 😤 @Broncos

(h/t @mikegolicjr) pic.twitter.com/B3dCoShWhA

— The Checkdown (@thecheckdown) August 25, 2021
The most impressive and exciting part of his game has been his contact balance. In most cases, Williams will not be brought down by one defender. Teams will need to play disciplined, gang tackling Williams at every opportunity.
Williams will be a big part of the Broncos' offense this season and will be the leading tailback past this season.
Grade: B+
Quinn Meinerz, Interior Offensive Line, Round 3
Going into this preseason, Meinerz was always going to be somewhat of a project. Coming out of a Division 3 football program, Meinerz is not a starting level guard just yet but he did look promising.
He never looked outmatched by his opponent and actually showed some very encouraging flashes regularly.
While Meinerz may not play this season, the future is bright. His athletic profile is phenomenal and he looks to be further along than one would expect for a player making such a substantial leap in competition level. Matching this potential with one of the league's best offensive line coaches in Mike Munchak could pay massive dividends in the future.
Grade: B
Baron Browning, Linebacker, Round 3
After the draft, Browning instantly became a fan favorite for Broncos Country as many have been searching for a linebacker with the athletic profile he offers for years.
Unfortunately due to injury, Browning missed a massive portion of training camp was very much behind in the mental aspect of adjusting to the NFL and specifically, knowing the playbook thoroughly.
While this offseason was less than ideal for Browning, the future is still bright. There are not many linebackers in the league that share the same level of athleticism or upside as Browning. This season, Browning will more than likely be a key special teams player as well as possibly see time in specific rotations, if he shows improvement through the season.
Grade: C-
Caden Sterns, Safety, Round 5
Looked at as a project coming out of the University of Texas, Sterns has impressed.
His instant contribution in the preseason was a pleasant surprise to the majority of Broncos fans as his athleticism and willingness to play physical was on full display. Specifically, in the first preseason game against the Vikings, it felt like Sterns was everywhere. He was flying around and making plays at every turn giving fans excitement for what could come in the near future.
Caden Sterns prevents a touchdown pic.twitter.com/Pphy1XQT0s

— Joe Rowles (@JoRo_NFL) August 14, 2021
In Fangio's defensive scheme, tackling from the safety position is very important. He typically puts fewer defenders in the box than your typical NFL defense, making the importance of having a safety that can fly down the field and fill running lanes that much more important. This is an area Sterns thrived in.
Behind Justin Simmons and Kareem Jackson, his chances of seeing the field as a rookie are slim. Sterns' best shot at making an impact in his rookie year is through special teams where he profiles well.
Grade: B+
Jamar Johnson, Safety, Round 3
Johnson is an intriguing player as the trait he is best at is a rare one to find.
Johnson's ability to cover in the backend of the defense is fantastic and a quality that seems tough to find in today's NFL. Unfortunately, much like Browning, he missed a large portion of training camp, putting him behind on the NFL learning curve.
He flashed in the last preseason against the Rams but outside of that was largely quiet in his games played.
With such a loaded safety room, his chances of making the roster are still very much in the air. For Johnson to one day get consistent playing time in Fangio's defense he will have to improve his tackling and overall physicality.
Either way, Johnson offers a unique skill set to the Broncos safety room with his ability to be more of a rangy deep safety. The potential with Johnson is something that they could live to regret if they do cut him.
Grade: C+
Seth Williams, Wide Receiver, Round 6
Coming out of Auburn, Williams is a player with a ton of natural ability. Specifically, his size at the position gives him an advantage over defensive backs that are always going to be lacking in length when matched up against him.
In the preseason, Williams has flashed here and there but not nearly enough to definitively say he has earned a roster spot. The emergence of fellow receiver Trinity Benson has made this that much more difficult as he has become somewhat of a lock to make the Broncos' roster.
At the moment, his biggest area of weakness seems to be creating enough separation to be a reliable target. Williams will have to work on being a more nuanced player to ensure a spot on an NFL roster.
Grade: C
Kary Vincent Jr., Cornerback, Round 7
Specializing as a nickel corner, Vincent was drafted by the Broncos and was immediately thrust into the most competitive position group on the team. The Broncos are absolutely loaded at cornerback and the odds of a seventh-round prospect ever making the team at this position were always low.
Overall, Vincent has looked alright in the preseason causing multiple pass breakups while offering good athletic upside.
If Vincent doesn't make the roster, having him on the practice squad would be ideal.
Grade: B
Jonathon Cooper, Edge, Round 7
Cooper has been nothing short of spectacular in his NFL debut.
Coming out of the University of Ohio State, Cooper fell in the draft due to a heart defect but overcame those challenges to eventually have two outstanding preseason performances.
Cooper's motor never stops running and his relentlessness in both the run and pass are evident play-in and play-out. He's had a multitude of splash plays including a strip-sack against the Seahawks and tremendous run defense where he went under a pulling guard to tackle the running back against the Rams.
Huge for the brand! #Broncos DE Jonathon Cooper with the huge strip sack, counting to flash in this preseason. Love to see him make plays and he has such a bright future. #DENvsSEA

— Devin Jackson (@RealD_Jackson) August 22, 2021
His chances of making the Broncos' final 53-man roster are all but certain and may have also earned himself rotation minutes in the regular season, backing up Bradley Chubb.
Grade: A