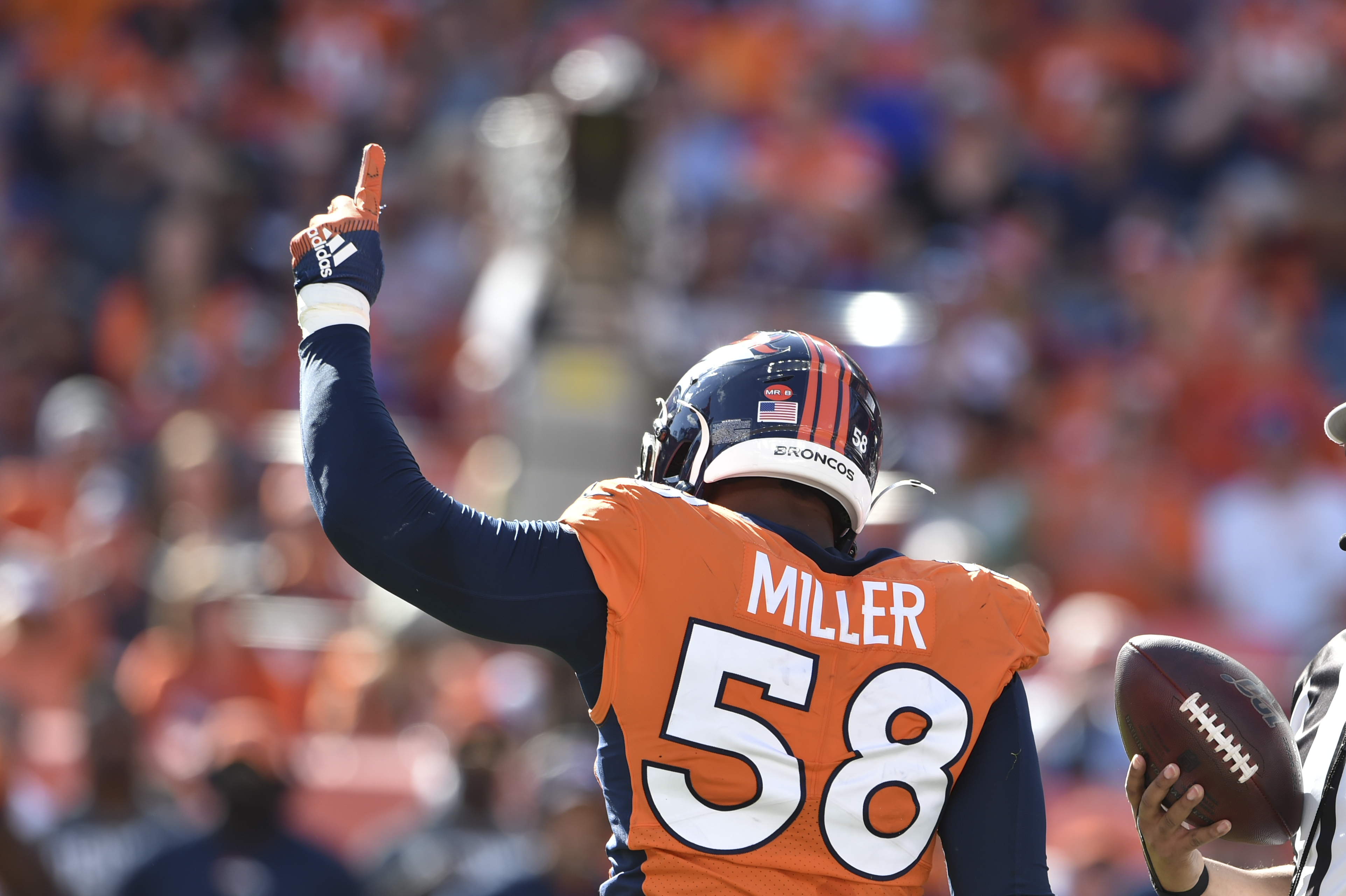 The 2021 season is now finally upon us, and it is time for the Mile High Sports Broncos staff to give you their predictions for how they see this season going.
Fortunately, it appears there's much more optimism surrounding this year than the past several, but let's take a look and how exactly our analysts have that optimism presenting itself.
What will we be saying about the Broncos' QB situation in two months?
Nicholas Manning (@Dr_NManning): Opportunity lost. Teddy Bridgewater will play well enough for the Broncos to be an above .500 team. However, regardless of how well Bridgewater plays, we will never know Lock's potential and will regret not taking Fields or Jones when they had the chance.
Zach Segars (@Zach_Segars): "What will it take for you to move on from that boy who didn't treat you well?"
I hate to say it Denver, but Drew Lock isn't a very good quarterback. He never was. Performances like the one he had against Houston gave us hope and that hope has been so difficult to let go of, but it's time to move on. He's our first post-Manning love. That's special and he'll always have a place in our hearts, but lets move past the three glimers of hope at some point. I know we all wanted to see Lock in the regular season this year, but guess what? Losing quarterback competition to Bridgewater speaks volumes, and tells us much more than a de-facto Week 1 starting nod would about where Lock is at this point in his career.
Lindsay Bebout (@LindsayBebout): We will be saying that they are playing at the level we thought they would be. Teddy Bridgewater will be playing well enough that the coaching staff will leave him in, but fans will be frustrated by the thought of What If? in regards to Drew Lock.
JT Matthews (@JTMatthews01): In two months the Broncos have a good chance to be as competitive as they have been in the last few years. A lot will still be on Teddy Bridgewater as a starter but if he gets this team off to a good start — even if they regress to the mean — optimism can still reign.
Bridgewater has shown himself to be successful when surrounded by talent and he will share the field with numerous high-level players and athletes. Drew Lock will have his believers still pounding the table for him, but winning covers a multitude of sins.
Rich Kurtzman (@RichKurtzman): "Thank goodness Steady Teddy is at QB."
The Broncos will start this season hot for multiple reasons, and one will be Bridgewater's consistency and (hopefully) lack of turnovers. Denver could relatively easily start 3-0 and keep it rolling from there.
Joey Richards (@JRDrafts): While Teddy Bridgewater will be good enough to win with and even over-achieve because of the Broncos' surrounding talent, fans will be looking into the future, trying to find the guy of the future or quarterback to put the team in championship contention.
Who will the team's offensive MVP be?
Nicholas Manning (@Dr_NManning): I think Jerry Jeudy will get a large share of the targets and be the biggest weapon. Melvin Gordon will lose enough carries to Javonte Williams to dim some of his production, leaving Jeudy to run away with the honors.
Zach Segars (@Zach_Segars): Give me Noah Fant, as he emerges as one of the league's most deadly tight ends. He also is the weapon that should be impacted the least by the rotation at starting quarterback, as both passers love their tight ends. If injuries don't get in the way, Fant could even get an All-Pro nod.
Lindsay Bebout (@LindsayBebout): The team's offensive MVP will be Jerry Jeudy. I believe that he is going to have a breakout year and be the core of the offense. I think he will be the most relevant fantasy football player on the team.
JT Matthews (@JTMatthews01): This offense has one definitive leader that has shown the potential to perform at a Pro-Bowl level and that is Garett Bolles. This team's identity should feature a much stronger running attack and has the potential to be dominant in the trenches with Bolles as the linchpin.
Offense largely begins and ends with line play and one more year of great sustained play could buoy this team and put the league on notice.
Rich Kurtzman (@RichKurtzman): This is an intriguing question because so many guys could win it. But I'll go with Jerry Jeudy. He and Bridgewater seem to have a special connection and Jeudy's consummate route running allow him to separate from any CB. Others who could win it are Sutton, Gordon OR Javonte Williams, depending on who the starter is.
Joey Richards (@JRDrafts): Entering year two, Jerry Jeudy will come into his own. With improved quarterback play and a dangerous supporting cast, Jeudy will be looked at as an emerging star league wide and true number one receiver.
Who will the team's defensive MVP be?
Nicholas Manning (@Dr_NManning): Von Miller will remind the NFL that he is who we remember him to be. With numerous playmakers in the secondary, he will have just a half-second longer to get to opposing quarterbacks… often. Look for Miller to challenge for the DPOY honors.
Zach Segars (@Zach_Segars): Bradley Chubb. He's been great so far, but this is the year he finally emerges as an All-Pro force. Can create a massive impact in the run and pass game.
Lindsay Bebout (@LindsayBebout): The team's defensive MVP will be Von Miller. I don't think he will ever reach the peak of greatness that he has already hit again, but I think his presence alone will be impactful. He will return as an elite LB, and it will be apparent that his leadership is helping push the other players on defense. He should be considered the heavy favorite to win Comeback Player of the Year.
JT Matthews (@JTMatthews01): It may be an obvious choice but the best player on the Denver defense is Justin Simmons and he is primed to be the defensive MVP of this team. Simmons was on fire throughout training camp and the preseason, constantly around the ball and making plays. I would wager that he may have the most takeaways of his entire career in 2021 and take his leadership to the next level.
Rich Kurtzman (@RichKurtzman): I'll go Von Miller. Ok it's a nostalgia pick but if he's on fire, the defense could be the best in the league. He needs to have that competitive fire and dynamic ability to not only get after the QB but to stop the run as well. And he will.
Joey Richards (@JRDrafts): Justin Simmons, yet again, will be the Broncos' best defensive player. With a massive improvement in the Broncos cornerback group and defensive line, Simmons will feast on offensive errors caused by his teammates, making him even more productive then in years past.
Who will the team's most improved player be?
Nicholas Manning (@Dr_NManning): Center Lloyd Cushenberry III will be a much better version of himself than we saw last year. He has already shown improved strength and awareness in the preseason. Look for him to solidify the pivot position this season and into next.
Zach Segars (@Zach_Segars): I'm doubling down on my Noah Fant love. He's always been a great tight end, but this is the season he emerges as a truly elite game-breaking weapon on par with the George Kittle's, Travis Kelce's and Darren Waller's of the world.
Lindsay Bebout (@LindsayBebout): I think the Broncos' most improved player will be Jerry Jeudy. He finished last season with decent numbers, but all people remember or talk about is his 14 drops. He has shown no signs that drops will be an issue this year and looked phenomenal in the preseason. Jeudy will be thought of as an elite WR next season.
JT Matthews (@JTMatthews01): Dre'Mont Jones was very good last season, but the team has been abuzz with excitement around his continued growth and upside. He has looked equally impressive leading up to the regular season. Jones is one player that could turn this front-seven into one of the most feared in the NFL. He possesses the strength and athleticism to singlehandedly change the outcome of any game and we may just see him do that this year.
Rich Kurtzman (@RichKurtzman): Most improved will be KJ Hamler. We've seen some markers of growth already this preseason and his maturity and confidence should only improve over the course of the season.
Joey Richards (@JRDrafts): Dre'Mont Jones has flashed brilliance ever since he was drafted. Entering year three, he will put it all together giving the Broncos a monster pass rush up the middle, adding to an already good pass rush with Von Miller and Bradley Chubb.
What is your final record prediction, and will this team make the playoffs?
Nicholas Manning (@Dr_NManning): This team has a chance to be similar to the Tennessee Titans or Cleveland Browns' team from yesteryear. With a solid running game and efficient passing attack on offense and a stingy defense, the Broncos will win surprise the league this season. With a win against the Kansas City Chiefs late in the season, the Broncos will finish 10-7 and secure a Wild-Card AFC Playoff birth and their first trip to the postseason since Super Bowl 50.
Zach Segars (@Zach_Segars): While I agree with my colleagues that this Broncos roster is worthy of 10 wins generally, the AFC is loaded this year, and I have that resulting in one extra loss for Denver, dropping them to 9-8. Denver's defense and supporting talent on offense are top-5 in the league, but it all comes down to quarterback and head coach, where massive questions linger.
Lindsay Bebout (@LindsayBebout): My final record prediction is 10-7. If you put a gun to my head…I say they make it to the playoffs in a Wild Card spot. However, I believe that they will lose that game.
JT Matthews (@JTMatthews01): This is a really difficult prediction to make. It isn't very often that a five-win team makes the playoffs the following year. Last season Denver was completely decimated by injuries and COVID-19 absolutely impacted the growth of so many of the Broncos' young players.
This year, having remained relatively healthy and having an uninterrupted off-season, Denver's roster is too talented not to make a significant jump. I predict that the Broncos will have a 10-win season and will just squeak by into the wildcard round of the playoffs.
Rich Kurtzman (@RichKurtzman): 10-7 and yes they will make the playoffs as a wildcard team. And it will help them in the long run because it will be valuable experience for a ton of their young players.
Joey Richards (@JRDrafts): Playing a tough and rugged style of football lead by a really good defense, the Broncos will be competitive in almost every game. At the end of the day, they will be a very competitive football team but a lack of elite quarterback will keep them from being true Super Bowl contenders. They will go 10-7, just sneaking into the playoffs.