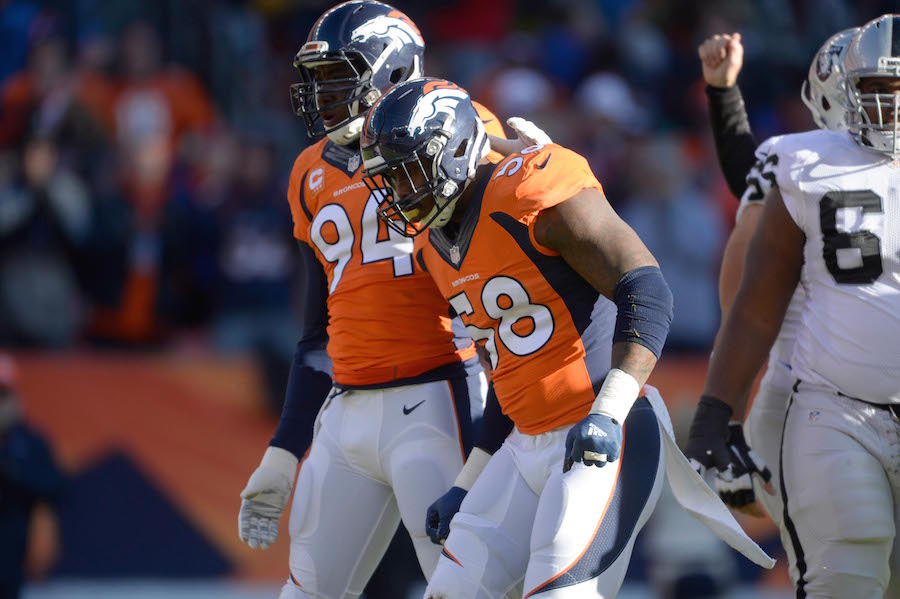 After beating the Carolina Panthers in Super Bowl 50, the 2015 Denver Broncos were widely regarded as one of the best defenses of all time.
Historic units like this usually have multiple Hall of Fame level players, but Denver might not have such luck. Many in Broncos Country already believe that their players often forget about by the voters, and the same could happen to the 2015 unit.
With Broncos legend Steve Atwater finally being enshrined, the team now has a total of 14 total Hall of Famers, six of which are defensive players.
Champ Bailey, being one of the more notable, is the only other defensive player in the Hall that played the majority of their career with the Broncos.
Outside of that, the four others are Willie Brown, Ty Law, Brian Dawkins, and John Lynch, who all built their legacy on other teams.
The 2015 defense, on the other hand, had more of a mix of both homegrown talent and talent attained from other teams, but who and how many of them were Hall of Fame level players?
Demarcus Ware
Ware should be considered a lock for the Hall of Fame.
Playing the majority of his career as a Cowboy, Ware totaled 138.5 sacks in his 13-year career. This number would rank him 13th in all-time sack totals, which is astonishing when compared to how many years multiple players ahead of him played.
As a four-time first-team All-Pro player, he would also lead the league in sacks in both 2008 and 2010. Ware's resume is remarkable and will certainly speak for itself when voters are presented with the decision on if he is a Hall of Famer.
As a Broncos player, Ware would only play three seasons but exceeded almost everybody's expectations in his short tenure.
Heading into the 2014 season, Ware was a free agent and the popular narrative at the time was that he was no longer the player he used to be as he was coming off the worst season of his career, only finishing with six sacks.
Once with the Broncos, his game reps would be limited in hopes to maintain his health but when he was on the field, he would be a monster. Relentlessly causing havoc on the quarterback, Ware would be one of the driving forces to what was one of the best pass rushes the NFL has ever seen. Ultimately, Ware would come up huge in the playoffs, at times even outplaying a prime-Von Miller for spurts, to win his only Super Bowl.
Chris Harris Jr
As homegrown as they come, Chris Harris Jr. would go undrafted out of the University of Kansas before being picked up by the Broncos.
Quickly showing he was a difference-maker, Harris made the team and even started in four games as a rookie. This stretch of great play would go on for the next nine seasons before just recently leaving to join the Chargers.
In his tenure as a Broncos player, Harris would become the best nickel cornerback in the NFL and maintain that level of play for a long period of time.
Although stats do not show the brilliance of Harris in his totality, he recorded 20 career interceptions as a Bronco, and was named a First-Team All-Pro in 2016.
In the 2015 season, Harris played a vital role and was arguably the best player in Denver's legendary "No Fly Zone" secondary. Manning the nickel cornerback position, Harris would shut down opposing receivers on a consistent basis, making the pass rusher's job that much easier.
Harris has an argument of being the best nickel cornerback of all time but we have yet to see a cornerback that has played primarily nickel make it in the Hall of Fame. As offenses have become more pass-centric, the value of the nickel cornerback has skyrocketed.
Hopefully by the time voters are tasked to cast their ballots, this is realized.
Von Miller
Highly touted coming out of Texas A&M, Von Miller has not disappointed, to say the least. If anything, he's outperformed expectations, which is lofty praise for a former second-overall pick.
Probably the best defensive player to ever play for the Broncos, Miller could retire tomorrow and be a Hall of Famer as he has one of the more extensive resumes of any current NFL player, especially his modern defensive peers.
Miller has 106 sacks, three First-Team All-Pros, and eight Pro Bowls under his belt, and is still going.
His supreme athleticism and technique have been seen on countless occasions throughout his NFL career but at no more of an important stage than Super Bowl 50.
Miller not only helped Denver win but got the Super Bowl MVP trophy, finishing with 2.5 sacks 6 tackles, and the two forced fumbles which were the most impactful plays of the past two decades of Broncos football.
His impact, not only on that season but for every year of his career, has been substantial to the Broncos' success. He should most definitely be a first-ballot Hall of Famer when that time comes.
Aqib Talib 
Much like Terrell Owens, Aqib Talib's play on the football field may be overshadowed by his larger-than-life personality and issues away from football but people who followed the situation closely know just how much he meant to the lockerroom.
Talib had absolutely no filter and while opposing fans hated him, Broncos fans loved him. His energetic, no-nonsense style rubbed off on the entire defense and gave them somebody to rally behind.
His on-the-field play was great as well as he had 35 interceptions, 10 of which he took back for touchdowns. He was a long and physical ball hawk that was not afraid of any competition, lining up against the league's best wide receivers week in and week out.
While his Hall of Fame chances may be slim, he should definitely be considered. He was a turnover machine and his prime years well lasted the average for players at his position.
There is no true way to put his impact into numerical form but the Broncos do not win the Super Bowl in 2015 without Talib and the energy he brought to Denver.