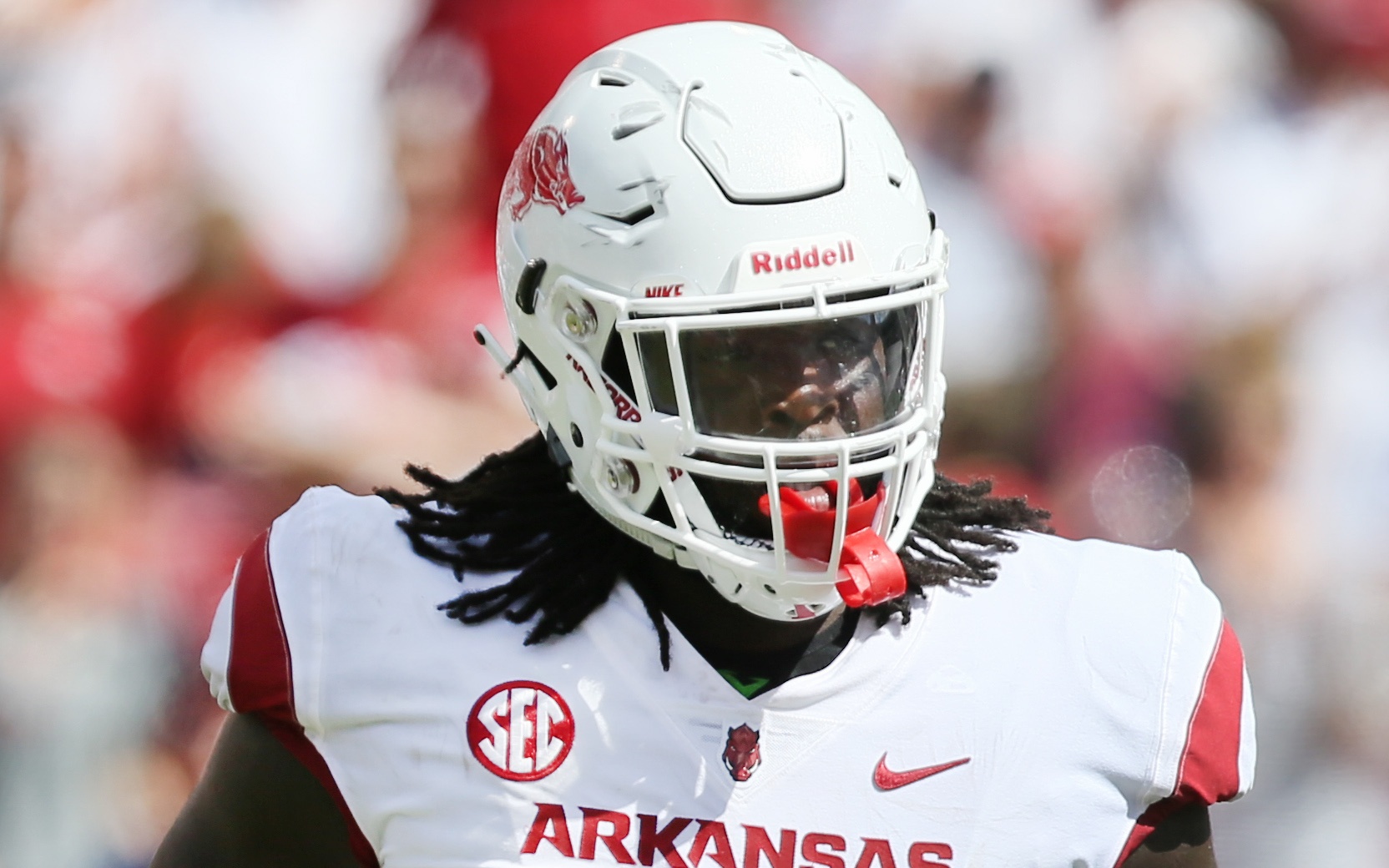 While most focus solely on the starting front of the defensive line, it is vital to also have impactful backups, establishing a rotation of fresh pass rushers.
A common theme between all great defensive units is the ability to get consistent pressure on the quarterback while not having to blitz extra bodies. The ability to get home only bringing the front four defensive linemen is a massive luxury in the NFL, giving defensive coordinators the ability to drop the rest of the players in coverage.
Although difficult to construct, a unit with depth can keep fresh legs on the field, maximizing the effect the players have on the game and limiting player's game reps in hopes of increasing the likelihood of maintained health.
McTelvin Agim, entering his sophomore year as a third-round pick, has the tools needed to potentially add this unique but important dynamic to the Broncos' defense this season.
As a player at the University of Arkansas, Agim was an edge before making the switch to interior defensive line his senior year. This switch resulted in both positives and negatives. The upside was easy to see as his length and quickness off the line scrimmage was evident but his technique and play strength was lacking.
Despite the deficiencies, the Broncos bet on Agim's upside, taking him earlier in the draft than most everyone expected.
As we saw last season, this bet on upside was never going to substantiate so early in his career. Many of the struggles he had in college were seen carried over into the NFL. Although his game reps were limited, Agim really had to work on his play strength as it had a negative impact on the Broncos' run defense.
Entering this season, Agim has had the entire offseason to improve on where he last left off and while it is still very early in training camp, his impact has been felt. He's flashed multiple times, batting passes, generating pressure, and playing with better technique. For a player entering his second season, this is encouraging to see.
Head coach Vic Fangio seemed to agree, stating, "He's a lot better player right now than he was on this date a year ago, which he should be."
Pairing an improved Agim with the likes of Von Miller, Bradley Chubb, Malik Reed, Shelby Harris, and Dre'Mont Jones could be devastating to opposing offenses.
This growth in Agim's game would not only benefit the Broncos this year, but for the foreseeable future as well.
Still on his rookie deal for the next three seasons, having good players on cheap contracts is beneficial for obvious reasons but is also helpful when other player's contracts are expired, giving them inexpensive replacement options.
Jones, who is very promising in his own right, has a contract set to expire after the 2022 season.
If Agim looks ready to start by then, the Broncos could decide that it is in their best interest to save their money and let Jones test the market in free agency. At worst, the Broncos would have great leverage in negotiations concerning a Jones contract extension.
While Agim has looked like an improved player up until this point, there is still plenty to be skeptical about.
The Broncos are still so early into training camp and fully padded practice just recently started. It will be tough to get a full evaluation on Agim, or any player in the trenches until he has shown it in full contact situations.
As was reported by 850 KOA's Benjamin Allbright, the Broncos are easing into full-contact practices this year so even though the Broncos have had a couple of days in full pads, Agim has not yet been seen in true game-like experiences to this point.
.@AllbrightNFL dropped an interesting piece of info on the show yesterday that may have gone unnoticed. Here's what he said on the perception that the #Broncos first padded practice was "lifeless" or lacked intensity. @KOAColorado

Full show available at: https://t.co/hdryFY2bet pic.twitter.com/6XRTPAWfnJ

— Ryan Edwards (@redwardsradio) August 5, 2021
Either way, there were not many in Broncos Country expecting Agim to have a substantial impact on this season so any indication of this is music to the ears.
If Agim has improved on his deficiencies and developed to be a rotational-level defensive lineman, the Broncos' defense could look even scarier than initially advertised. His skill set translates well to being a solid interior pass rusher, giving the Broncos the depth needed to consistently wreak havoc on opposing quarterbacks.