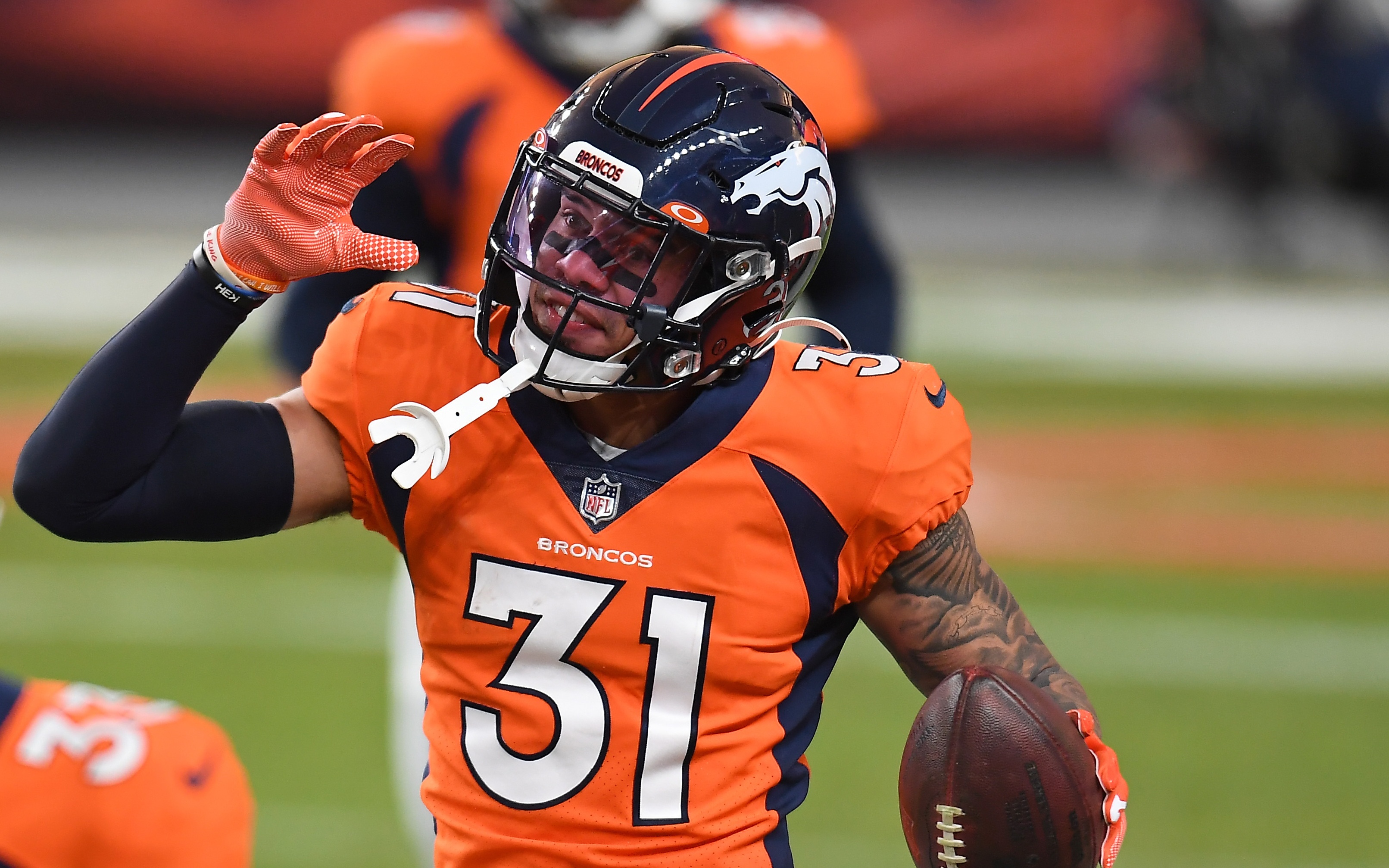 George Paton has his work cut out for him as the Denver Broncos' new general manager, with the quarterback position as a looming question and several key players due for new contracts.
Chief among those players is Justin Simmons, easily the best-performing member of the Broncos through the Vic Fangio era. Simmons has been terrific for Denver, earning second-team All-Pro honors a season ago and was named to the Pro Bowl this year.
He's arguably the best all-around safety in football, but how much value does he truly hold?
It's no secret that the positional value of a safety is dwarfed by that of an edge-rusher, left tackle, quarterback — and in today's pass-happy league potentially even wide receiver and cornerback.
That positional value is demonstrated in the average annual salary cap hits you see from the best players at each position.
Focusing on defense, the three highest-paid edge-rushers have a mean average salary of $25 million per season and the three highest-paid cornerbacks have an average salary of nearly $19 million per season. Meanwhile the highest-paid safeties have an average salary of $14.48 million per season, and no safety has ever eclipsed $15 million dollars annually.
That's great news for the Broncos, as unless they completely blow the previous record for a safety contract out of the water ($59 million over four years, average annual value of $14.75 million, Justin Simmons should be able to live up to it.
In a recent article from Pro Football Focus, analyst Kevin Cole looked at historical comparisons to project career trajectories for each of the top free agent safeties, what contracts we should expect those safeties to get, and whether or not they will end up being worth it.
Using those historical trends, Cole formulated a high-end or 'ceiling' projection, an expected projection, and low-end or 'floor' projection.
Cole's projections have both positive and negative implications for Simmons' future, but overall it appears like he should be able to live up to a high-value extension.
"We see Simmons securing a contract this offseason at around $16 million per year, which comes in below his ceiling projection and far below his value produced the past two years," Cole wrote.
If Simmons plays up to expectations, a deal worth $16 million annually might end up being a little over-priced but it shouldn't be ugly (expected value of $12.5 million annually). The only real risk the Broncos run with signing Simmons is if his production all of a sudden nose dives like we saw with Jairus Byrd.
The only negative for Broncos fans to come away from this article with, is that it's very likely Simmons has already peaked given his age and the nature of the position, according to Cole's projections. He can still play at an exceptionally high level, but based on WAR (wins above replacement) projections, he would be a rare outlier if he maintained the level of play we saw in 2019 and 2020.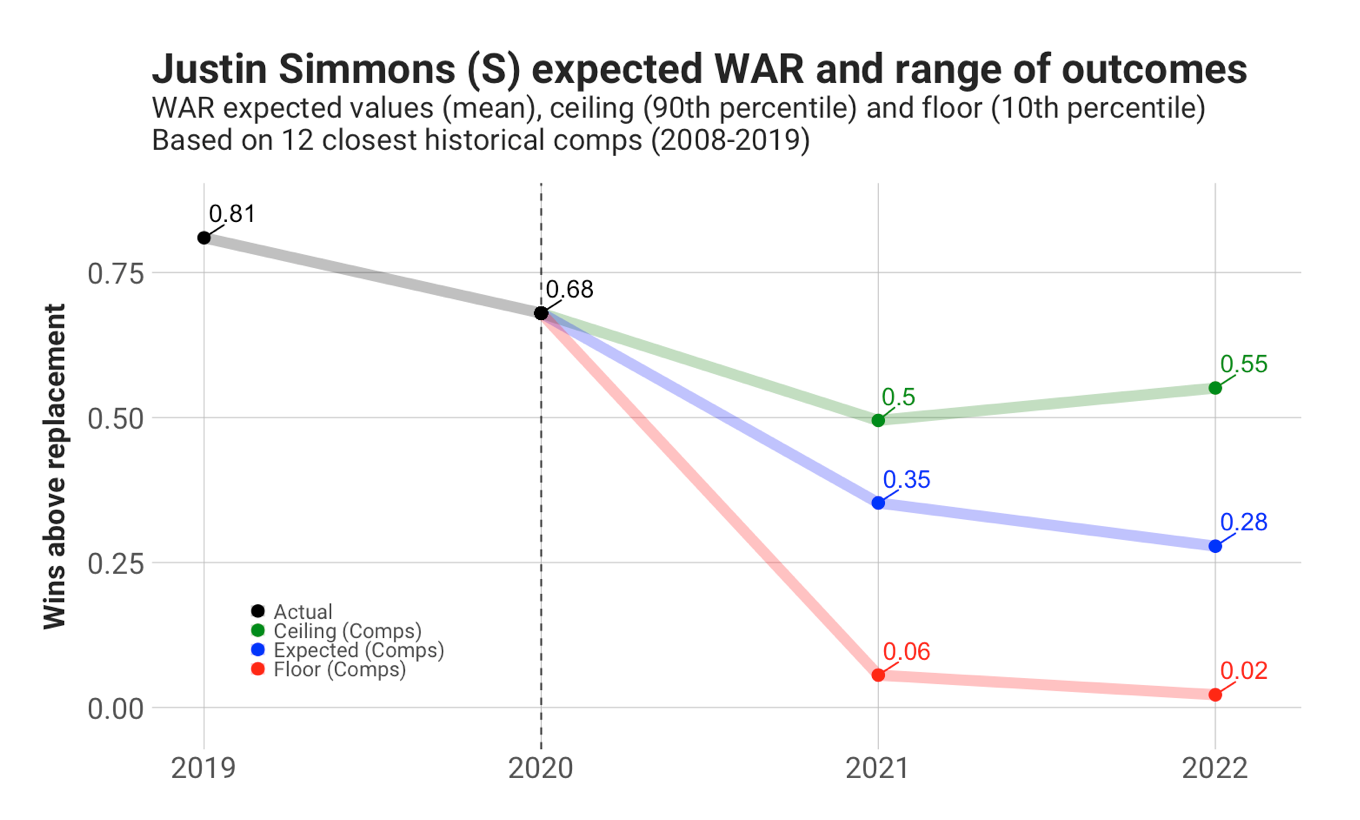 "We see a ceiling projection roughly in line with his backward-looking performance, with a decent chance he disappoints going forward entering his late 20s and the potential he changes teams and schemes," Cole wrote to explain the decline.
But outside of a potential scheme or team change, why should we expect a drop-off from Simmons?
According to Cole, "the reason for the decline relates to the difficulty maintaining such high-end production for players who derive most of their value in coverage."
Also, it should be noted that even if the Broncos do manage to bring Simmons back for the long-term, he could still very easily undergo a schematic change in the near future. Fangio's job will be far from safe if Denver disappoints in 2021, and Simmons has reached this peak under Fangio for a reason.
A new head coach getting this level of production out of Simmons would be surprising, especially as Simmons enters his age 29 season in 2022.