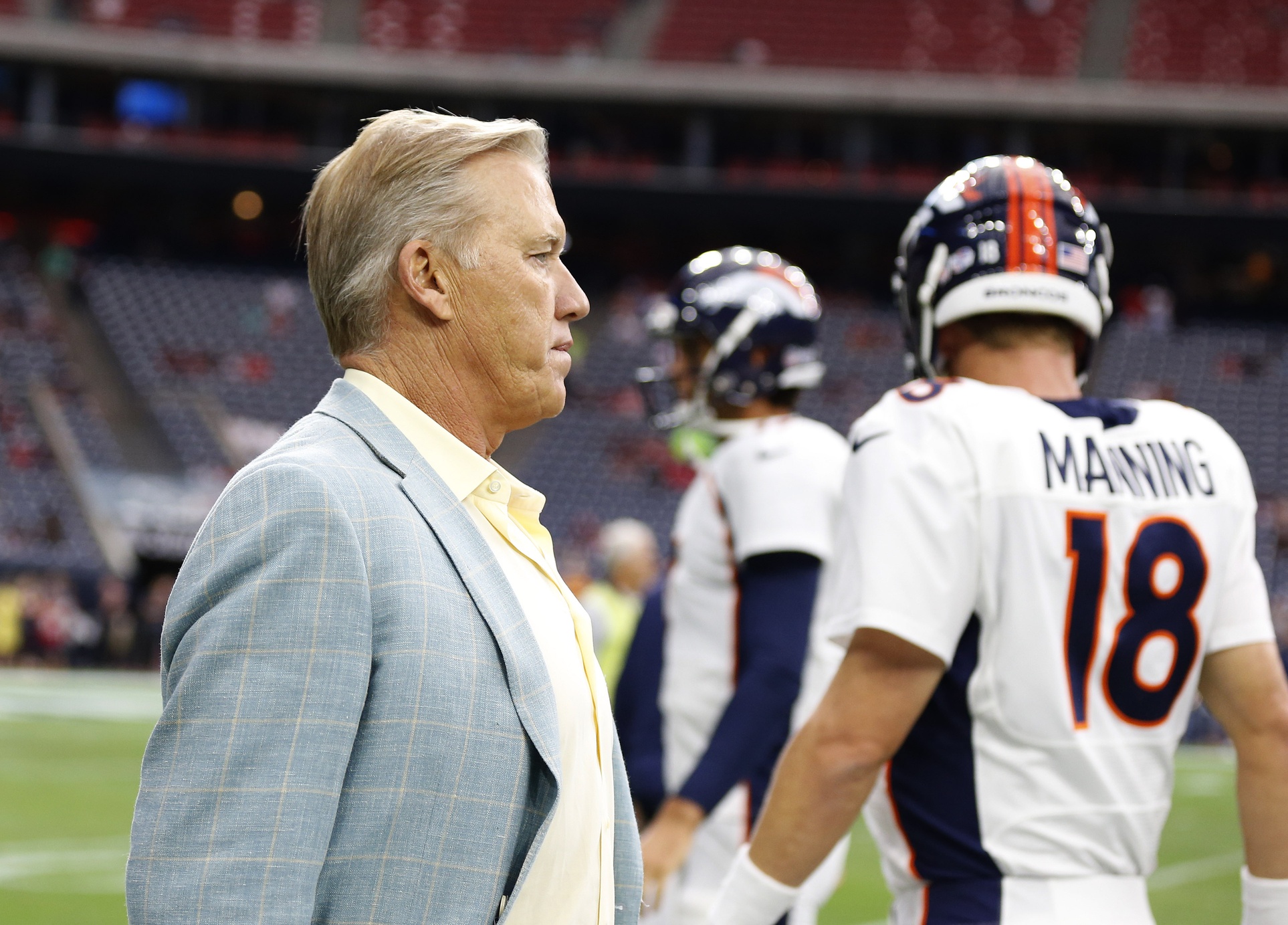 After a week of free agency, here's the biggest question I have: How much of a free pass does John Elway deserve?
The answer, before we go any further, is a lot, but it's more complicated than that. After what he's accomplished since he returned to the Broncos as the head of football operations, Elway could blow up Mile High Stadium and his job would be safe.
But is he safe from criticism? Is he safe from questioning? No, absolutely not.
I'm as big of a fan of Elway as anyone. I wrote earlier this season (way back in November) that Elway was quickly entering the discussion of Hall of Fame general manager, not just quarterback, and I meant it. He's proven over and over again that he's not just a figurehead; he's one of the toughest, smartest and decisive executives this league has seen in a long time.
In the span of three seasons, Elway crafted the greatest offense in the history of football and the most-important defense any Super Bowl champion has ever run out onto the field; that doesn't just happen. Heck, there are very few general managers who would have had the wherewithal to build the greatest offense in NFL history and then say, "Nope, let's go defense." And even then, not many, if any, could have actually gone out and accomplished what he did in such a short amount of time.
We hear again and again that you can't win through free agency, yet, apparently, John Elway can.
But with all that said, there's one important caveat: Peyton Manning.
Essentially everything Elway and the Denver Broncos have accomplished has been with Manning in the building, giving No. 7 the ultimate trump card in free agency negotiations. Without him, there is no DeMarcus Ware, Wes Welker, Emmanuel Sanders, T.J. Ward, Aqib Talib, etc., etc. Maybe Elway gets one or two of those guys, but the reason they came to Denver was to win a Super Bowl with Peyton F'n Manning.
With him gone, we'll begin to see if Elway's success is a product of his all-knowing management or simply the allure of playing with Manning.
So far, it's not looking so good …
Elway has completely bungled the start of free agency. If you think that he never wanted Osweiler back, then you're just wrong. In no scenario did Elway enter the offseason with the expectation that Mark Sanchez would be a legitimate option at quarterback Week 1 — at least I sincerely hope not.
And C.J. Anderson? A debacle! Listen, I love C.J. as much as anyone, but Elway could not have played this any worse. All he had to do was slap the second-round tender on Anderson, and they would have had him at $2.5 million. Instead, they let him test his value on the market, and now they're stuck paying him $6 million next season.
Maybe it's just me, but I would rather have had C.J. locked up at $2.5 million and use that extra $3.5 million to keep Osweiler, Malik Jackson or Danny Trevathan in town.
And it all stems from the one thing that makes Elway so great: His supreme self confidence.
There's a reason why Elway has let numerous free agents walk out of Denver without so much as a phone call; he believes he understands the market and the players in this league better than anyone else in the NFL. He believes that he can do no wrong.
With his resume, I would too!
Still, Elway is walking a very fine line, and I'm afraid he's starting to veer a little too close to the edge.
We are now through the first major wave of free agency, and we don't have a quarterback, our running back is making over twice as much as he should be, and only one of the Broncos' five starting linemen from the Super Bowl is currently under contract (and it's Michael Schofield!!).
You can say that Manning's wait to retire was a major factor in the Broncos' slow start to the offseason, but that's not a valid excuse. There's no reason why Elway had to wait to start negotiations with Osweiler or anyone else. Give Manning all the time he needs, but when it comes down to it, make sure you're ready to hit the ground running; Elway didn't do that.
And yes, we just won the Super Bowl. And yes, the majority of our defense will be coming back next season. And yes, this team has proven they can win with questionable play at quarterback.
But Broncos Country is not patient. Broncos Country will not accept defeat just because we have a Lombardi Trophy in pocket.
Elway absolutely deserves the benefit of the doubt, but if Osweiler goes on to star in Houston and Jackson shines in Jacksonville and Anderson busts out in Denver, there will be questions. There will be criticisms. And they will be deserved.