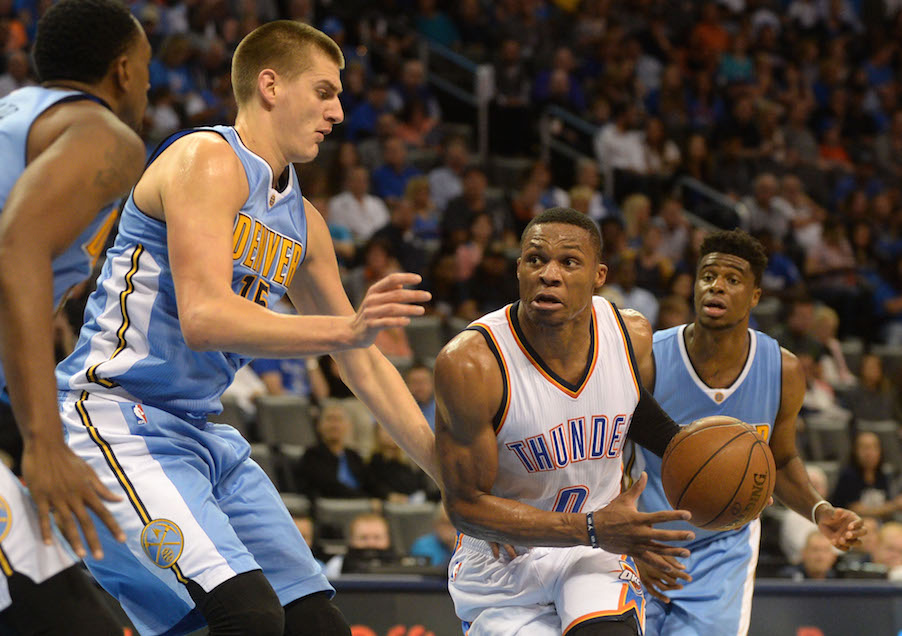 Russell Westbrook has agreed to a new three-year extension with the Oklahoma City Thunder worth $85.7 million. The first two seasons are guaranteed and Westbrook will have a player option after 2017-2018. The new deal comes as a surprise and will have an effect on the Denver Nuggets.
Since Kevin Durant bolted for the Golden State Warriors earlier this summer, the Thunder seemed like the team in the Northwest Division that was headed for a decline. Most people that follow the NBA seemed to think that Westbrook would play out the final season of his contract with Oklahoma City and sign a new deal with one of the Los Angeles-based teams (since that is where Westbrook is from) or force a deal out of OKC before the season starts.
This deal, though, keeps the Thunder relevant in an up-and-coming division. The Thunder have taken a huge hit with the loss of Durant, but Oklahoma City is still very much relevant, as a potential destination for big-named free agents, because of Westbrook inking a new deal.
Oklahoma City was supposed to enter rebuild mode after the upcoming season. Unfortunately for Denver fans, that's not going to happen. What will happen now is that every game in the Northwest is going to be competitive. There isn't a weak team in the division for anyone to beat up on. The Thunder and Portland Trailblazers will remain strong, while the Nuggets, Utah Jazz and Minnesota Timberwolves continue to improve.
The Northwest is quietly going to become the best division in the NBA over the next couple of seasons, as all five teams should be in contention for the division title as soon as 2017-2018. It will be difficult for the winner of the division in a few years to be in contention for home court throughout the Western Conference Playoffs because of the competition within the division.
There is a chance Westbrook could opt out after 2017-2018. However, it wouldn't make sense financially for Westbrook to do that since he would have put in ten years of service with the Thunder at that time and would be entitled to make 35 percent of Oklahoma City's salary cap in 2018-2019.
The Nuggets will be a very good basketball team within the next two seasons. Unfortunately, their goal of reclaiming the Northwest title just became a bit more difficult.
To listen to more on the effects of Westbrook's decision on the Denver Nuggets, check out the podcast below …
Catch Weekend Drive with Sean Walsh every Saturday and Sunday from 2p-4p on Mile High Sports AM 1340 | FM 104.7 or stream live any time for the best local coverage of Colorado sports from Denver's biggest sports talk lineup.