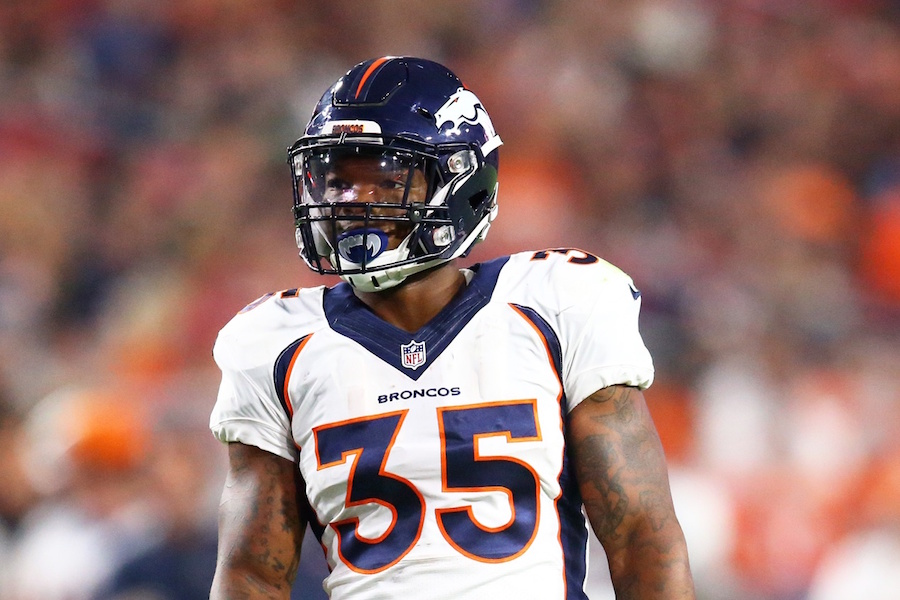 The Denver Broncos tried to fix a glaring problem.
In the process they may have done more harm than good.
When news broke Monday afternoon that the team claimed former Ravens' and Lions' running back Justin Forsett off waivers, the move was almost universally applauded.
And why not?
Forsett had by far his best year under then Baltimore offensive coordinator Gary Kubiak in 2014. The eight-year veteran had never run for more than 641 yards in a season, except for that Pro Bowl campaign under Kubes in which he nearly doubled that mark, tallying 1,266 yards on the ground and eight touchdowns. He added 44 catches and 263 yards through the air for good measure.
While his career has slowed down considerably since then due to age and a nasty broken arm suffered in a November game last season against the Rams, some believe Forsett still has something left in the tank.
Hence, the Broncos taking a chance on Forsett and claiming him off waivers after the Lions let him go on Saturday afternoon.
The good news: Forsett was awarded to the Broncos.
The bad news: The corresponding roster move the team made to make room for Forsett was incredibly puzzling.
Denver put running back Kapri Bibbs, who suffered a high ankle sprain against the Jaguars, on injured reserve, ending his season.
Step 1) Move fingers to the top of your head
Step 2) Begin scratching
9News' Mike Klis reported the sprain Bibbs suffered was severe enough that he'd miss time but only put the timetable at 2 to 4 weeks.
Based on that timeline, the best case scenario for the Broncos would be having Bibbs back on Christmas night in Kansas City. Worst case, he'd be ready to go Wild Card Weekend.
Now, he's eligible for neither.
When the Broncos put C.J. Anderson on injured reserve in late October, the team declared him as "eligible to return" later in the season. Unfortunately, only one guy per team can receive that designation in a given year. No matter how healthy Bibbs may or may not be down the stretch, league rules prohibit him from coming back.
The most curious part of this is the fact the Broncos have plenty of other areas in which they could have cleared a roster spot for Forsett.
First, they're carrying two long snappers. Two friggin' specialists at the most specialized position in the NFL. It's nearly inexcusable to waste a precious roster spot on a second guy at that spot. Look, the team can "like" the injured Casey Kreiter all they want, but if anyone should've headed for IR, it's him. His replacement Thomas Gafford has been just fine in the two games he's played. Pick one or the other; carrying both makes no sense.
Second, most NFL teams carry five or six wide receivers at any given time. Right now, the Broncos are carrying eight(!) on their active roster. With how anemic their offense has been, you'd think they could get by with four.
Between Jordan Norwood, Cody Latimer, Marlon Brown and Kalif Raymond, any of the four is more expendable than a potentially healthy Bibbs. The mismanagement of the roster at receiver is stunning.
Finally, Earth to Denver, you're extremely thin at running back. Replacing one back's roster spot with another doesn't add up at all.
Currently, the Broncos have two healthy running backs in Devontae Booker and the recently signed Forsett. Juwan Thompson is listed as the team's primary fullback, while also being listed as a running back, so we'll give them a half point credit and call it 2.5.
Sure, Bibbs couldn't have played this weekend, but what if Forsett really is out of gas? There's a reason he's been cut twice in the last two months. That would leave the Broncos with just Booker (who gets his butt kicked every week) and Thompson for the stretch run.
As mentioned, Anderson does have the possibility of a return, but no promises have been made on that front. Anderson himself even tweeted this week it's ultimately not his decision.
Imagine Weeks 16, 17 and the playoffs roll around and the Broncos can't trust Forsett, Anderson isn't ready to come back, and the rookie Booker is hanging on for dear life.
And now imagine Kapri Bibbs, high ankle sprain heeled, chomping at the bit to get out there, and he's literally not allowed to. That would be infuriating.
But at least the Broncos have two long snappers, right?
Denver better hope Forsett fixes their glaring problem at running back; if not, unnecessarily benching Bibbs for the season may have done way more harm than good.