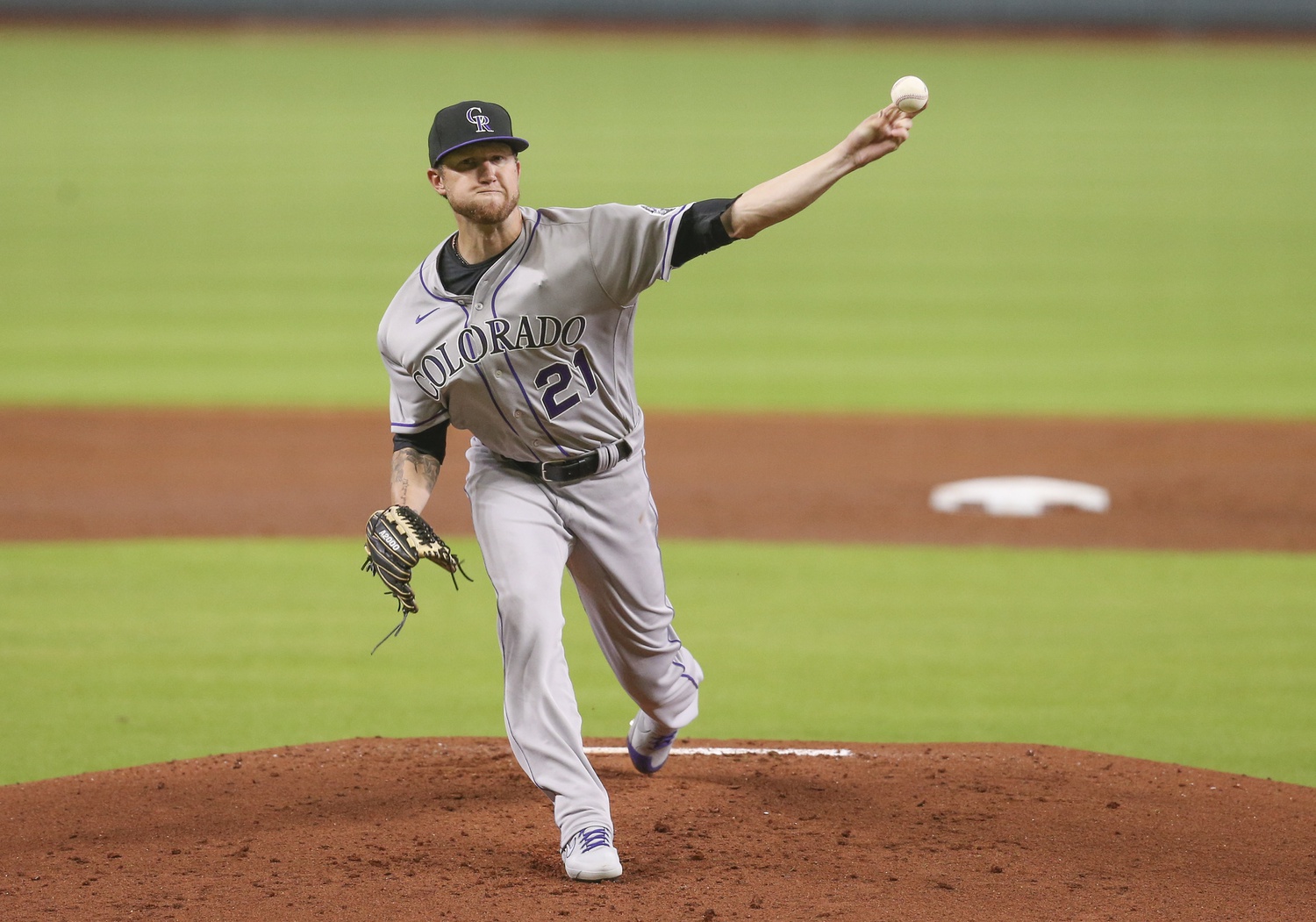 A third of the way through the shortened 2020 season, the Colorado Rockies have one of Major League Baseball's five-best rotations. 
What a statement.
It's somewhat of an incredible development, really, considering both the team's home park as well as the step backward the rotation took last year. But it's true; entering play on Monday, Rockies starters ranked fifth in MLB in fWAR (and second in rWAR, for what it's worth), second in park-adjusted ERA (ERA-), and even tied for fourth in regular old Pitcher Wins. 
How have they done it? Really, it boils down to one thing: aggression.
Not in the way of starting fights with opposing hitters or anything like that, of course, but by allowing them to put the ball in play. All of the Rockies' top four starters—Germán Márquez, Jon Gray, Kyle Freeland, and Antonio Senzatela—rank in the top 16 in baseball in batted ball events. But the average exit velocity of those batted balls is manageable, at under 90 mph for each pitcher, and Freeland in particular is back to being a soft contact wizard. 
In 2017 and 2018, the Denver native allowed opposing hitters to barrel the ball just 3.7 and 4.5 percent of the time, respectively. That jumped all the way up to 8.2 percent last season, when he followed a Cy Young-caliber campaign by posting a 6.73 ERA. This year, Freeland is sporting a 2.6 percent barrel rate, supported by a hard-hit percentage of 25.6 percent, which is more in line with—and, in fact, better than—his 2018 results. An extremely balanced usage of pitches has been the difference for Freeland. He's throwing his fastball just under 30 percent of the time, down from 52 percent in 2019, while his slider and changeup usage are way up. Freeland has also introduced a curveball that he's using with great regularity and effectiveness; it has been an above-average offering, according to Fangraphs' pitch values. As a result, hitters are back on their toes, rather than waiting for a fastball to mash, with Freeland on the hill.
The rest of the Rockies' staff has been strong at limiting barrels, as well. Only the starting rotations of Cubs and Orioles have yielded a lower percentage of barreled pitches. Márquez ranks in the top quarter of starters with at least 20 innings pitched, while Senzatela and Gray are comfortably in the top half. Contact management will always be important for Rockies pitchers given where they play, and it's amplified by the fact that they don't always have the greatest outfielders manning the expansive green area at Coors Field. In that vein, taking advantage of one of the league's better infields is key for Colorado hurlers, and they're doing exactly that; only the Astros, Cardinals, and Brewers have induced more grounders than Colorado's starting pitchers.
With those metrics in mind, it's no wonder that the Rockies' rotation also ranks in the top five—there's that number again—in baseball with a 6.2 percent walk rate. Colorado's starters are throwing strikes, and they're throwing them hard—their average fastball velocity of 94.2 mph ranks behind only the Dodgers and Reds. And, with the recent addition of Ryan Castellani, who has allowed just two hits across two starts while continuing an upward trend in strikeouts that began in the 2018 offseason, the unit looks even stronger.
Adversity will come for the Rockies' starting rotation, particularly with the likes of the Dodgers' and Padres' top-10 offenses appearing on the schedule before the end of the month. But if they weather those inevitable storms and continue to be unafraid of opposing hitters making contact, a postseason berth—and, sure, whatever asterisks may come with it—is almost assuredly in Colorado's future.