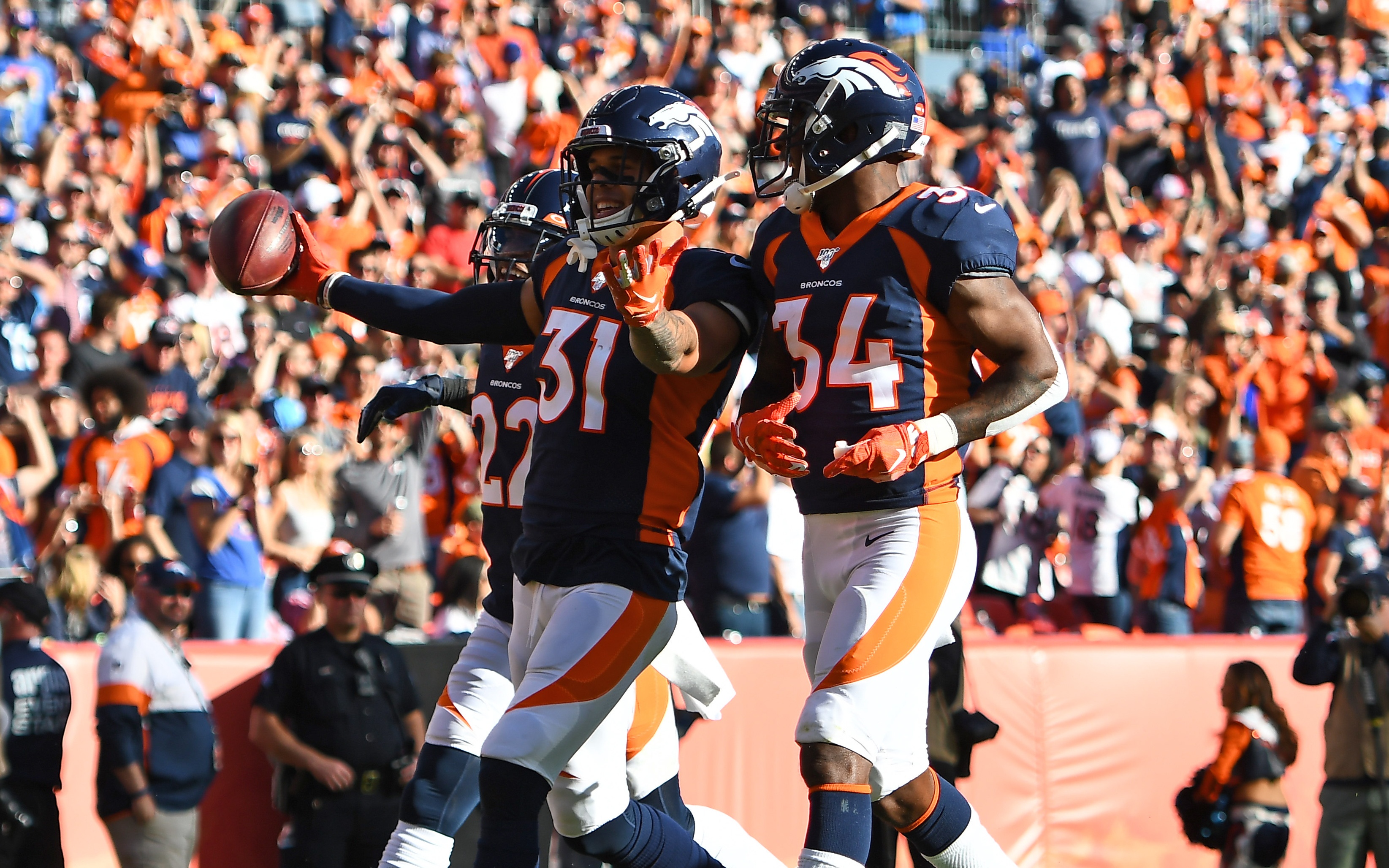 Outside of quarterback and maybe cornerback, safety will be the most discussed position group in Broncos Country this off-season. Superstar-in-the-making Justin Simmons is set to be an unrestricted free agent alongside Will Parks and Trey Marshall, while Kareem Jackson has a club option the team has to make a pivotal decision on.
Let's take a look at those predicaments and how we should expect each to be resolved this off-season.
Justin Simmons
There isn't much you can say about Justin Simmons that hasn't been already said. He was one of the easiest players to figure out on the entire roster because there aren't any negative arguments you can make against Simmons the player or Simmons the person.
He passes both those tests with flying colors.
As a player, Simmons made his first All-Pro team (second-team) this season but was arguably even better last year when he was snubbed from an All-Pro selection.
Over the past two seasons, he's easily been the best all-around safety in the league. Maybe you prefer Minkah Fitzpatrick as a deep, single-high free safety (though even that is debatable), or Jamal Adams as a force of terror around the line of scrimmage, but both of those players have far more holes in their game than Simmons.
He has become a jack-of-all-trades and a master of some, thereby throwing a wrench into the age-old idiom.
Then off the field he has been nothing short of a saint, which has led to him being nominated as Denver's Walter Payton Man of the Year each of the past two seasons. He's also a valuable locker room presence. Following Week 17 of the 2019 season, Will Parks cried when thinking about the likelihood of this being his last game alongside Simmons and talked about how important Simmons' leadership was to his own development.
Then you have to factor in George Paton's philosophy of drafting, developing, and then re-signing in house talent. Justin Simmons is a sterling example of that philosophy, and therefore, should be re-signed.
The only argument against Simmons one could make is the safety position's lack of value. Though, based on his time with Minnesota, Paton clearly values that position.
Kareem Jackson
The case of Kareem Jackson is only marginally more complicated than Simmons' situation, if at all.
Just like Simmons, Jackson has clearly been one of the best all-around safeties over the past two seasons. He also has been an often lauded member of the locker room for his leadership skill and how he acts as a teammate. As one of the locker room's elder statesman, his importance as a leader shouldn't come as much of surprise.
There are two key differences in regard to Jackson's future with the franchise, with one making his situation more difficult than Simmons and the other making it far more simplistic.
The difficulty with Jackson is simply his age. He will be 33 years old before the NFL Draft and that is very old for a defensive back with a cap hit north of $12 million. Now, Jackson hasn't shown any clear signs of decline but that's also far from an ideal price point for such an old safety.
That simplicity comes from the fact that Denver has all the power. Jackson isn't set to become a free agent like Simmons, he just has a club option that Denver has to make a decision on. Moving on from Jackson would save you $10 million and Will Parks could likely replace most of what he does, but it seems more likely that the Broncos will hold off on replacing Jackson until 2022.
Will Parks
Seeing Will Parks back in orange and blue might've been the highlight of what was a dismal season for the Broncos. Parks entered the lineup playing nickel cornerback instead of his natural safety position due to all the injuries the corner group suffered, and he played admirably. His presence instantaneously injected Denver's defense with an energy that had the whole unit playing well abve the sum of their parts.
Whenever Parks was on the field the defense just got markedly and visably better. He is one of the many straws that stir the drink for Fangio's Broncos defense, though he might be the most underrated one.
Parks returning to Denver also seems likely, considering a report from NBC's John Clark that Will Parks turned down more money from the Vikings last off-season to play for the Eagles. At the very least, that would seem to imply that Paton had love for Parks before even joining Denver's front office.
Trey Marshall and P.J. Locke
Trey Marshall and P.J. Locke round out Denver's safety room and have murky futures in front of them.
Marshall is set to become a free agent this season and it's hard to find a reason why Denver would re-sign him when they could likely find a seventh-round or undrafted rookie who could fulfill most of Marshall's special teams responsibilities for a lesser price and with more potential upside.
Locke is the perfect example of just that. He was an undrafted free agent who came in and took over a lot of Marshall's responsibilities as a backup safety and on special teams.
In 2019, Marshall played 469 snaps. Following the addition of Locke, Marshall's snap counts plummeted to 292 in total, with just 15 of those coming on defense. Meanwhile, Locke played 370 total snaps.
Locke's contract isn't expiring this year, so while Marshall is almost definitely out, Locke could stick around for another season.