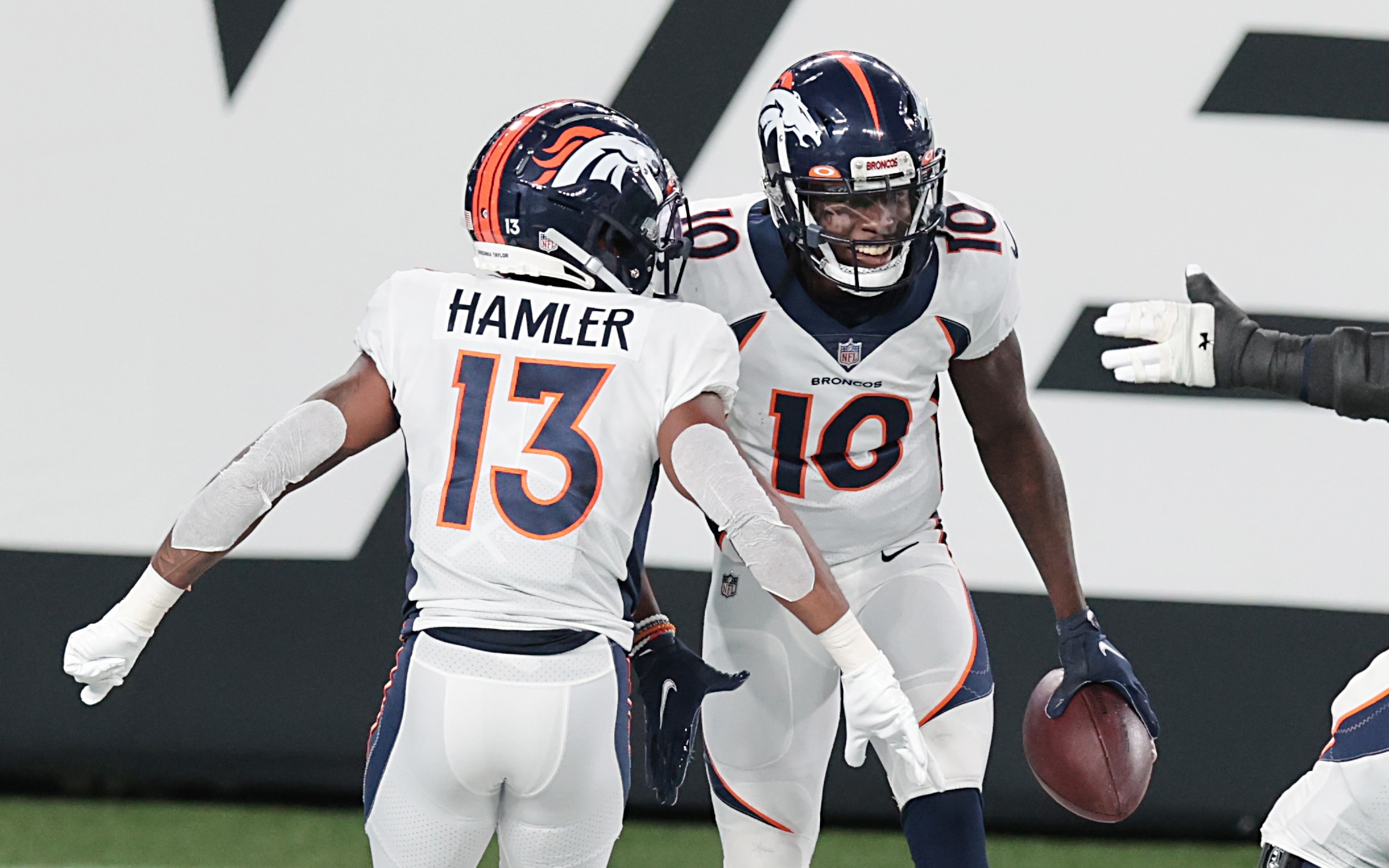 While a group of players may all be labeled at the same position, the NFL is full of unique traits and distinctive qualities in each position group, making it fairly easy to differentiate one player from the rest of the crowd.
No position quite capsulizes this like the wide receiver position where the variance in height, weight, and speed are so absurdly vast. Each player's unique set of skills allow them to win in multiple ways. Where one receiver wins with quickness off the line, another may win with size and strength.
Because of this, each wide receiver should not be tasked with the same job. The goal for any of them is obviously catching the football but how they go about doing this should be different, making scheme, quarterback play, and many other outside factors vital to how much success a wide receiver will have.
This is no different for the Broncos as they are carrying a total of 16 pass catchers. All having unique skill sets, whoever is at quarterback for the Broncos in 2021 will drastically change the quarterback to wide receiver relationship for each individual player.
There is no doubt the best football we have seen out of quarterback Drew Lock was with a healthy Courtland Sutton on the field. Standing at 6-foot-4, Sutton wins with his large frame, physicality, and unbelievable ability to fight for the ball in the air.
Courtland Sutton makes Drew Lock's first NFL TD pass one to remember 🤯

(via @NFL)pic.twitter.com/eFHwcwxOHw

— B/R Gridiron (@brgridiron) December 1, 2019
For Lock, a wide receiver like this helps substantially, mitigating multiple weaknesses in his game. Sutton's catch radius can make up for some of Lock's accuracy issues while also maximizing Lock's down-the-field, gunslinger style of play.
This may also be the reason we saw Tim Patrick become the most consistent wide receiver on the Broncos throughout the 2020 season in Sutton's absence. Winning in a similar fashion to Sutton, Patrick finished the season with a career-high in both yards and receptions.
While the tall and physical wide receivers seemed to thrive with Lock, rookies K.J. Hamler and Jerry Jeudy had more of a mixed bag of results. Both Hamler and Jeudy have distinct differences in their game but usually end up winning by creating separation, rather than fighting for the ball in the air.
This is actually an area both wide receivers struggle in. Hamler at 5'9 and 179 pounds and Jeudy at 6'1 and 185 pounds simply do not have very large frames, increasing the room for error on inaccurate throws.
For both player's talent to be maximized, they need an on-time and accurate ball, something Lock struggled to consistently give them. In fact, no receiver had a higher result of their targets result in a quarterback-fault incompletion than Jeudy in 2020.
"No receiver had a higher rate of their targets result in a quarterback-fault incompletion this season than (Jeudy)".

"(Jeudy) also racked up the most targets on which he created separation that resulted in a quarterback-fault incompletion." https://t.co/qHCNcNKA6e pic.twitter.com/U3yUUn4cq1

— Nick Kendell (@NickKendellMHH) January 29, 2021
As stated earlier, wide receivers can win in different ways. For Jeudy and Hamler to take full advantage of their ability to separate, create yards after the catch, and win at all three levels of the football field, they need a quarterback that will play into their strengths. Asking them to play like Sutton or Patrick would be unfair to the player.
For Jeudy and Hamler, they may have more success with a quarterback like Teddy Bridgewater.
Where Lock is far superior in physical gifts, Bridgewater has been in the league for a total of six seasons and from what we saw last year, is a better decision-maker and is more consistently accurate with the football. Especially underneath, where both playmakers create quick separation and can utilize their yards after catch ability in the open field.
While the drop-off may not be substantial, players like Sutton and Patrick may have a more difficult time getting down the field opportunities with a player like Bridgewater, who is more conservative and has less arm strength to push the ball down the field.
Either way, this topic shows the less-than-ideal situation the Broncos are facing at quarterback. In a perfect world, the Broncos have a quarterback capable of utilizing every weapon's skill set to the best of their ability.
Both Lock and Bridgewater have the possibility of taking substantial leaps forward this year based on the unique circumstances of the COVID-riddled 2020 NFL season. Any improvement will be welcomed by Broncos Country and their playmakers at wide receiver.