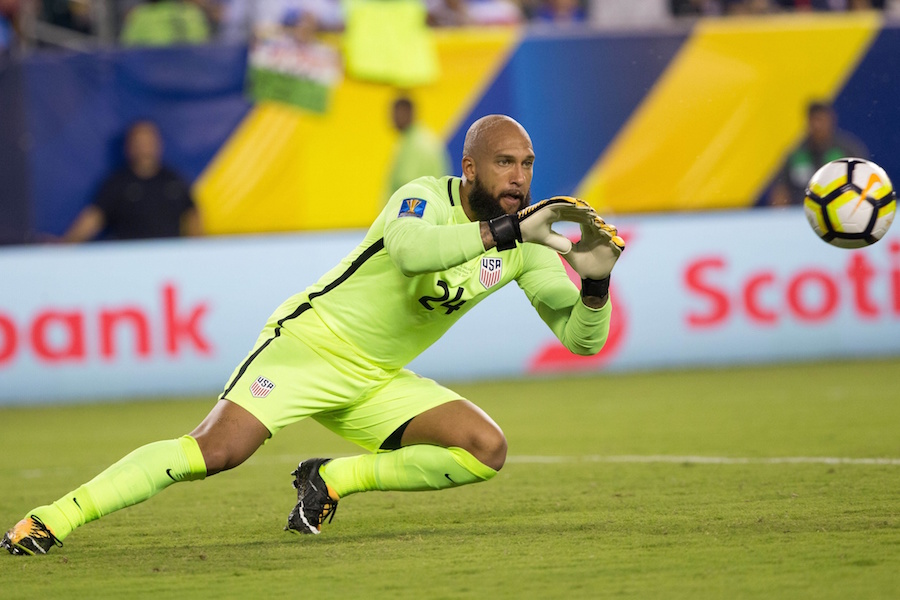 Thanks to two goals from defenders, Tim Howard and the U.S. Men's National Team beat El Salvador 2-0 in their quarterfinal Gold Cup match Wednesday.
Howard had his 40th international clean sheet, second only to Kasey Keller's 47 for the USMNT, in his first match since Independence Day and ended the night with three saves. He set the tone early in the third minute when El Salvador striker Rodolfo Zelaya had a breakaway, only to touch the ball slightly too hard and have Howard come out of the net and snatch the ball before he could get a clean shot away.
Howard faced some frantic, but ultimately harmless chances from a pressing El Salvador squad in the second half and finished with a comfortable victory.
Both goals for the U.S. came late in the first half, and came from some unexpected sources. Center back Omar Gonzalez, who plays his club ball with the Mexican side Pachuca, was the first to strike in the 41st minute. Toronto FC midfielder Michael Bradley sent in a lofting cross into the middle from a free kick, and Gonzalez just got his head under it to send it over the outstretched hand of El Salvador keeper Derby Carillo.
Right back Eric Lichaj, who plays with Nottingham Forest of the English Football League Championship, added the insurance goal in the second minute of the first half's extra time with a five-hole shot on Carillo. Clint Dempsey opened up the play for Lichaj with a space-creating pass in the left side of the area, and Lichaj turned and sent a left-footed laser through the legs of the keeper.
There was some chippy second half play, but neither team was able to capitalize on any created opportunities, and the game ended with the USMNT advancing to the quarterfinals. Their opponent will be Costa Rica, which just some 120 minutes eariler stamped their ticket to Saturday's 7:30 p.m. MDT quarterfinal match in Dallas off of an own-goal from Panama's Anibal Godoy.
With the result, Tim Howard will definitely be a no-go for the Rapids in Toronto on Saturday. Even if the USMNT had lost, Zac MacMath probably would have got the start, but now there is no doubt. It also means that Toronto FC stalwarts Michael Bradley, Jozy Altidore and Justin Morrow, all of whom started in Wednesday's victory, will be unavailable for MLS play, so it could be a great opportunity for the Rapids to grab their first road points in 2017.
Should the USMNT get past Costa Rica on Saturday, they'll play for not only the Gold Cup, but also a chance to play for the North American spot in the 2021 Confederations Cup.