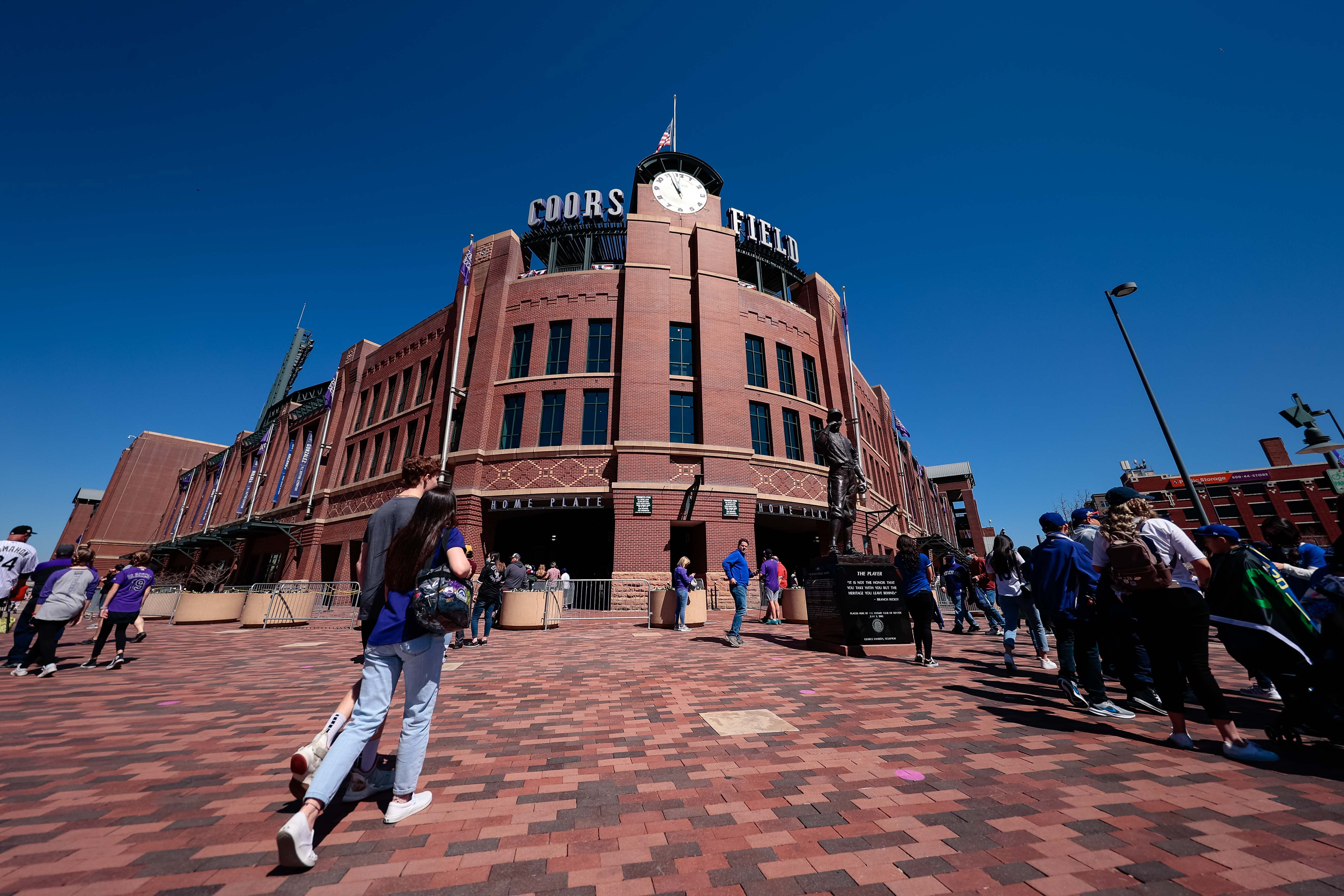 When Chrissie Hynde of the Pretenders sang "I went back to Ohio, but my city was gone" I felt that.
"My city was gone," originally released in 1982 with the bass line made famous by Rush Limbaugh, was about conservation and seeing your surroundings change, but it hits home for me in my current relationship with the Colorado Rockies.
I was out. I had made the choice to not support the Rockies this year for the simple fact that the team still employed Jeff Bridich. Forget the litany of other offenses like trading a generational superstar AND paying the Cardinals $50M for the privilege, if the team had Jeff Bridich on the payroll, I would not be watching the games or wearing any of their gear while his reign of terror continued.
And I kept to that. I boxed up every Rockies shirt I owned, put the hats away and I even stowed my prized 90's satin jacket that I wore outside on spring mornings while my dogs peed.
It was odd seeing people reacting to games I was no longer watching. I had switched back to my childhood team, the Chicago White Sox and I couldn't be bothered with what the Rockies were doing. I did feel a little left out even though the team was doing its best to be as bad as humanly possible. That's the Rockies way.
And then it happened.
Jeff Bridich, in the grand tradition of Rockies upper management, stepped down from his job as GM (instead of being fired) and the Brain Surgeon of Blake Street was no more. It was like the heavens opened up and a chorus of angels wafted down on silky clouds singing a triumphant song just for me.
I was back, baby. I got my Rockies gear out of the box, threw on a Rockies hat and wore my satin coat outside while the dogs peed. I could root for the Rockies again and it felt great.
For about a day.
I started watching the games again and even though I knew they'd be awful, it was just nothing I wanted to sit through anymore. When I divorced myself from caring about a bad team I loved, I seemingly removed that part of me that would ever come back to them. I went back to the Rockies, but my love for them was gone.
I can't say it will stay that away forever, but if the permanent GM search goes how I think it will, that may be just what happens. There's only so much abuse you can take before it's not even enjoyable anymore. Even making fun of the ATT Sports announcers on Twitter hits different now.
The Rockies are doomed to repeat this never ending cycle of suck as long as Dick Monfort is in charge. He can own the team and it's been shown he provides one of the nicest backdrops for baseball in all of MLB, but as long as he's making decisions slightly more important than where to put the newest Dippin' Dots station, the team will stay right where it is. At the bottom of the standings and at the bottom of the hearts of Denver sports fans. If Monfort doesn't make some key decisions, and make them well, very soon, there is no reason to come back because the Rockies will continue to be a bumbling mess out on the diamond.
I see people all the time who got frustrated with football for whatever reason and have checked out on the Broncos. I've been there. Two or three seasons ago when the Broncos had their best shot at beating the Chiefs and bad coaching made them fall short, I was almost out then. But the Broncos story is always compelling and you know they can get back into the mix soon. With the Rockies, there's no hope – at least for the foreseeable future – so shutting that part of you off and trying to turn it back on again is like motivating to wash your car when you know it's going to rain soon.
If you want to boycott, feel free. If you want to go to the games, that's fine too. But while the Rockies are significantly below the bottom of the barrel as they are now, don't give them too much of your precious time. It's just not worth the aggravation. And that, ultimately, is a sad state of affairs for what could be an all-time beloved team in Denver.
I will stay vaguely abreast of the day to day happenings of the Rockies and the shirts and hats will stay out of storage. But they're like an ex-girlfriend or the Colorado Rapids to me now: I hope they're doing well, but I'm just not interested. I don't know if Chrissie Hynde has been back to see the changes in Ohio lately, but I'd imagine she'd feel even more sad about it. Hopefully when I get back to the Rockies, my love for them will still be there and not paved over like a parking lot in Lodo.