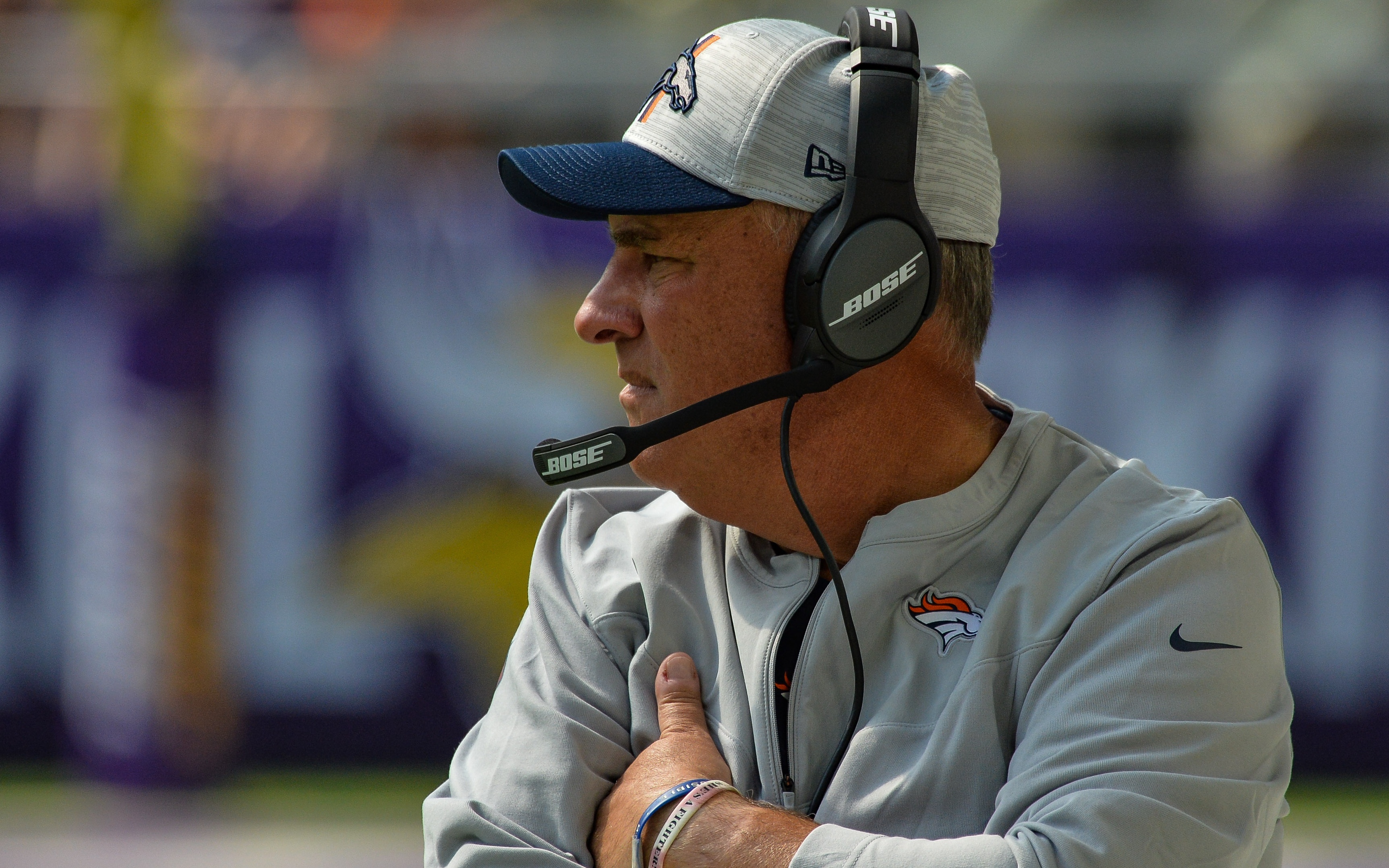 This preseason just hits different.
No, really, this preseason is the first with only three games, thanks to the 17-game regular season.
So, the recipe is a bit different. In previous years, the first game starters would play a drive, then a quarter, then maybe a half in the third game before resting them in the final preseason contest.
And because there are only three games, teams aren't sure exactly what to do in terms of playing their starters. Add to that the quarterback battle, and Denver's first two games have certainly been unique in terms playing time and more.
Drew Lock started the first preseason contest and lit the world on fire (against the Vikings backups). He clearly took the lead in the contest, even though Teddy Bridgewater (with the Broncos backup offense) played very well himself.
Fangio, at halftime and then after the first game, called the contest (even-Steven) and said, "I don't think any separation happened in this game, if anybody's looking for it. … I'm thrilled they both played well. I want it to be a hard decision."
At that point, it was Drew Lock's job to lose, even if Fangio kept his cards close to his chest.
In Week 2 of preseason, it was Bridgewater's chance to start the game, and he again played very well. Bridgewater went 9-of-11 for 105 yards and 1 touchdown, a 136.7 passer rating. Teddy B. did great in the check-down game, he dropped a dime to tight end Eric Saubert to the one yard line and the Broncos led 14-0 when he was pulled.
But maybe the most impressive thing he did was convert on a 4th-and-5 from the Seahawks' 40 yard line. After missing badly on 3rd-and-5 to KJ Hamler deep on the sideline — which looked like a miscommunication — Bridgewater stepped up into the pocket and away from pressure to deliver a beauty to Jerry Jeudy for 35 yards to the Seattle 5.
The Broncos ended that drive with a touchdown that set the tone for the game.
What was so wonderful was Fangio — who's rarely gone for it on 4th downs during his two years as Broncos head coach — going for it early and often on Saturday night. He showed trust and confidence in his quarterback, Teddy Bridgewater, as the team converted all three 4th down attempts with the first-team offense in the game.
That initial 4th down conversion was key. Then, Denver put together a spectacular 16-play, 87-yard drive which lasted nearly 10 minutes.
In that drive, Javonte Williams converted a fourth down and so did Bridgewater on the ground, with a sneak. Thanks to those key conversions, the offense kept chugging along down the field and Dalton Risner actually scored the touchdown after Williams fumbled.
During Fangio's tenure, the Broncos have gone 15-of-31 on 4th downs, or less than one attempt per game. But in Denver's preseason games this year, the team has gone 5-for-5 on 4th downs, which is a 2.5 times more frequency of attempts compared to the rest of Fangio's tenure.
Of course, preseason games mean a lot less than regular season games do. So the risk is less for Fangio to go for it now than when the games count. And, there's the added benefit of getting his quarterbacks (and other players) the experience of going for it under pressure of giving the ball away if they don't convert.
So, Fangio electing to go for it a lot more often this preseason compared to his tenure doesn't mean much if he doesn't continue to go for it in the regular season, too.
Simply, Fangio has been too conservative in terms of risking going for it on 4th downs to this point in his short head coaching career. And as elusive as it may be, momentum is a real thing in the world of the NFL.
The best coaches — like Bill Belichick — know when to ride the momentum and go for it on 4th down, which has seemed to work out well for him. On the far end of the spectrum, others believe teams should never punt the ball away and go for it on 4th down every time. They'd make even Bellichick look tame.
I'm not asking Fangio to go for it every time, but 2-3 times per game would be great, as long as the attempts make sense in terms of field position and other metrics of context.
Of course, the Broncos won't get every 4th down they go for, but we've seen how well it works when a head coach takes smart risks. Fangio has to keep it going.
Especially when his job is likely on the line this year, the first with George Paton as GM. If the Broncos flounder this amazing defense Paton has built, Fangio could be let go. If they make the playoffs for the first time in six years, he'll likely be kept on board. And it may be thanks to taking more risks.