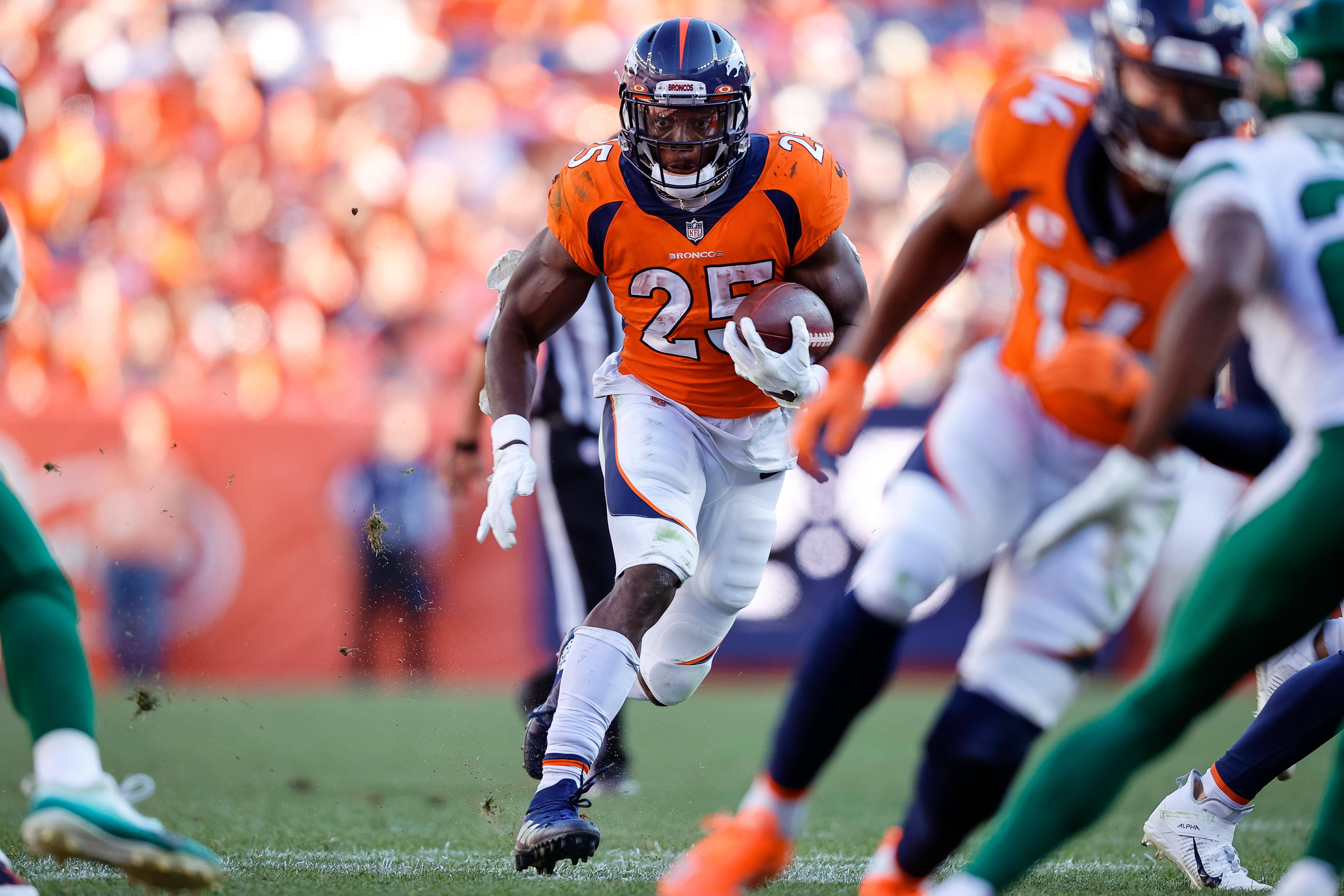 Following Sunday's 26-0 win over the New York Jets, Teddy Bridgewater revealed something about his team's mindset, an effort that will play a big role in the Broncos fortunes going forward.
In an interview on the 850 KOA postgame show, Bridgewater told Dave Logan that he and the rest of the team had pooled together enough dough to give each of the Broncos offensive linemen $3,000 – so long as the Broncos rushed for 150 yards or more.
The Broncos won the game convincingly, but the O-Line went home with empty pockets. On the day, Denver's ground game only produced 121 rushing yards (24 of which belonged to Bridgewater), 29 yards short of payday.
While everyone busily debates if the 3-0 Broncos are as good as their record might indicate, or if their perfect mark is more reflective of their less-than-daunting schedule thus far (the Broncos opponents through Week 3 are a combined 0-9), one thing is not up for debate: If the Broncos are to continue their winning ways, especially against the better teams on the schedule, they'll need to run the ball better. There's a reason the team, quite literally, has upped the ante for its own ground game.
Against the Giants – not including one 70-yard run courtesy of Melvin Gordon – the Broncos (would have) rushed for 95 yards on 27 carries, for an average of 3.5 yards per carry.
Against the Jaguars, Denver carried the ball 30 times for 96 yards (or, 3.2 yards per carry).
And against New York, their 37 rushing attempts certainly showed an increased emphasis on the ground game, but the 121 rushing yards kept them right in the same neighborhood – 3.3 yards per carry.
While that's certainly not bad, it might not cut it when going up against the likes of the Ravens, Steelers, Raiders or Browns – all of whom are "next up" on the Broncos schedule.
Teddy Bridgewater has been excellent – flawless in terms of avoiding big mistakes and tilting the time of possession in the Broncos favor – but his numbers aren't necessarily gawdy, throwing for 235, 328 and 264 yards and 0, 2 and 2 touchdowns in each of the first three games respectively. Sure, he's been much, much more than the "game manager" he was billed throughout the summer, but he's still not to be confused with Aaron Rodgers, Tom Brady or Patrick Mahomes. In other words, no matter how good the Broncos have been, they don't want to get into a habit of asking Bridgewater to lead an unbalanced offense, where heroics through the air are required. That's not Bridgewater's game, and it simply won't work out against teams with better defenses (than the Jets or Jags), or better offenses (like the Chiefs, Ravens or Raiders). As good as Bridgewater has been, the running game must get better.
It's not that a team can't win without a consistent running game; it's just that most great teams that don't have one have a quarterback who consistently throws for more than 300 yards. It also helps to have a top-tier defense – which the Broncos do appear to have.
Currently, the Broncos rank 8th in the NFL in rushing yards per game (at 127.3) – definitely not a ranking to be ashamed of. But, considering Denver's opponents, and the fact they've been playing with a lead all season, that ranking might be a bit misleading. And don't forget, if 70 yards are subtracted from their total (don't forget Gordon's long run in Week 1), the Broncos average would be 23 yards less (at 104) – which would put them somewhere in the neighborhood of 18-20th in terms of a rushing yards per game average.
Even better evidence that the Broncos need to run the ball effectively, is Pat Shurmur's personal history as an offensive coordinator or head coach. Shurmur has been either an offensive coordinator or head coach in 10 seasons prior to this one.
Of those 10 teams, only three had winning records. Perhaps not so coincidentally, the Shurmur-led offenses on those three teams boasted the three highest rushing yards per game average. Shurmur's 2013 Eagles ranked 1st in the NFL in rushing yards per game (at 160.4) and went 10-6. His 2014 Eagles rushed for 124.5 yards per game and also went 10-6. And in 2017, Shurmur's Viking offense rushed for 122.3 yards per game and finished at 13-3. Interestingly, the quarterbacks of those offenses were Nick Foles, Mark Sanchez and Case Keenum respectively. None are headed for Canton, and in many ways, can be reasonably compared to Bridgewater, at least historically – serviceable, but not necessarily noteworthy. It could also be said that each quarterback greatly benefited from a solid ground game. Should the Broncos continue at their current pace of 127 rushing yards per game, history suggests they'll post a playoff-worthy record.
Conversely, Shurmur has coached six teams that averaged less than 109 rushing yards per game (three of which failed to reach a 100-yard average). The combined record of those teams? A hideous 33-63 (for a typical record of 5-11 or 6-10). Shurmur's 2020 Broncos are somewhat of an outlier, as they rushed for 120 yards per game, but still finished 5-11; obviously, those Broncos had a multitude of other issues.
It's not entirely fair to define Shurmur's teams, or his performance as a coach or coordinator, by this single stat; there are obviously many factors that make a team good, bad or mediocre. At the same time, the stat is worthy of note. After all, offenses guided by Shurmur are not generally categorized as "high-flying"; rather, they're more often known for being – or an attempt at being – "balanced."
In short, it appears that when Shurmur's offenses run well, they win more than they lose.
This theory will be put to the test next week when the Broncos face the Ravens, whose defense currently ranks 9th in rushing yards allowed per game (at 79 yards). If the Broncos can run the ball well, control time of possession and avoid asking Bridgewater to do "too much," they'll likely have a good shot at winning.
But if the linemen go home empty handed once again, the Broncos could be logging their first loss of the season.
Run, Broncos, run. If you can, you'll win, Broncos, win.