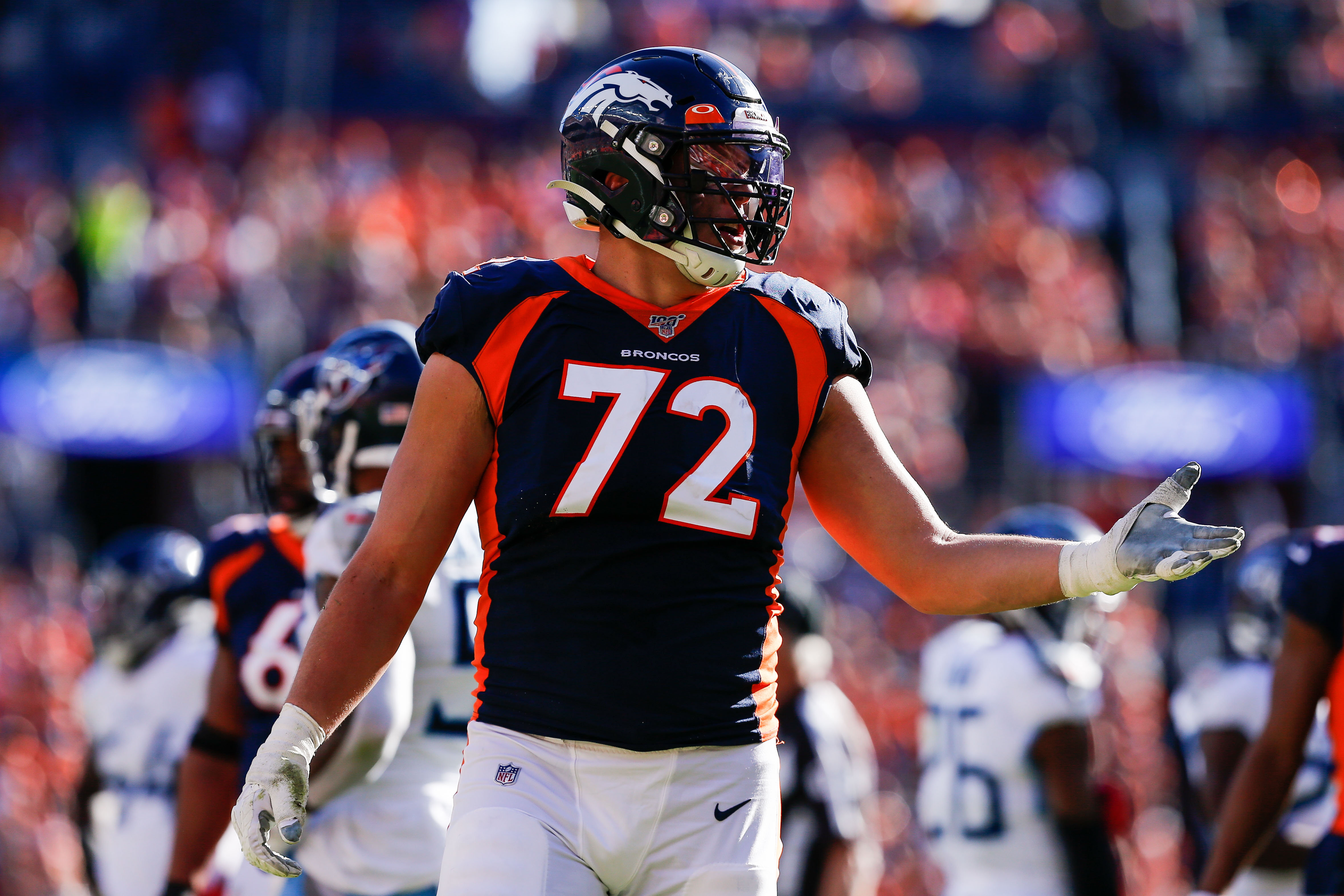 The 2021 season carries the weight of expectations as the Broncos intend to vault their way out of the NFL's basement as they battle to become relevant again. The offensive line is poised to be on the cusp of something special and Garett Bolles will be leading the charge into the bloody fray.
Battle-tested should be the first adjective on the lips of those who describe the hulking 6'6", 300-pound Broncos left tackle. The simple acknowledgment of the imperceptible scars left by the struggles that came before.
From a distance, his path to the NFL probably looks very typical. Being a first-round selection, picked by the Denver Broncos with pick No. 20 in the 2017 draft, the assumption was that he would be a plug-and-play starter for years to come, no questions asked.
Bolles has fulfilled his duties for the Denver Broncos admirably and today is considered one of the best players on the roster as well as a highly touted tackle in the NFL. The accolades have been slow to come but the numbers back the high level of play that Broncos Country should expect moving forward.
Of course, it didn't start this way.
From the bottom
Bolles' adolescent and teenage struggles are well documented, including his drug and alcohol use to his participation in gang activity, and even jail time. At one point, he was even kicked out of his childhood home and left homeless.
For any person, these choices could have been the ones destined to define him and who he would become but with help and love, he was able to transform from a troubled youth into one of the most highly recruited offensive linemen in the nation.
As a rookie, his talent flashed but he largely struggled with the speed of the game. Protecting the quarterback's blind side was his role and there was a fear that Bolles' inconsistencies would end up costing Denver in the long run.
In 2018 he was penalized 12 times, eight of those being offensive holding calls and the following season was even worse. In 2019 he accumulated 17 penalties, thirteen of which were offensive holding calls. These penalties hurt the team's offensive productivity and he began to develop a reputation that referees were aware of.
HOLDING … GARETT BOLLES … you lead the NFL (by far) in holding penalties. You lack competitive poise. I really like you as a guy … but I've heard you interviewed saying you refuse to change your game. But, you MUST change. Quickly. pic.twitter.com/Pk1BPcWyj1

— Paul Alexander (@CoachPaulAlex) October 18, 2019
Through the first three years of his career, he had the "bust" tag written all over him. John Elway publicly expressed his frustration with Bolles' play by declining the tackle's 5th-year team option, making the 2020 season his last guaranteed stint with the Broncos. Bolles himself even commented on his own play saying, "It's unacceptable the way I played. I take full responsibility of that."
Turning Point
2020 would have to be a career year for him if he wanted to remain in orange and blue another year longer.
Fortunately, it was just that.
Garett Bolles is a freaking beast this year! 💪👀#BroncosCountry pic.twitter.com/HyfnOTmr8V

— Broncos Outsider (@BroncosOutside) November 23, 2020
Weekly, Bolles put together clean rep after clean rep, solid play after solid play and he did so until everyone forgot. They forgot he was a liability on the blindside. They forgot he had 21 holding calls in two years. They forgot he was supposed to be on his way out of town.
Then, 11 games into the season, he was offered a 4-year $64 million contract extension.
It was a testament to the hard work and dedication he put forth week after week. It was proof that even though the odds had him down and out, he could defy them and become something great.
Bolles finished out the year and never missed another beat. Though the season ended with a lackluster 5-11 record, they had gained a stalwart, cornerstone to build upon.
His pass-blocking numbers were among the best in the league, allowing the second-fewest QB pressures and zero total sacks. The speed of the game is no longer a concern and against some of the league's strongest pass-rushers, he dominated in exciting fashion.
He has shown an ability to get set appropriately and anticipate to understand his opponent's moves and strengths and has been widely effective in shutting them down.
Fewest QB pressures allowed among T's (min. 400 snaps):
🔹 David Bakhtiari – 9
🔹 Garett Bolles – 13 pic.twitter.com/EXAGNmzf1L

— PFF (@PFF) February 2, 2021
Additionally, he was a statistically elite run-blocker with only a measly 1.2% blown-block percentage when running the ball. He showed savagery, attacking downhill against defenders and creating easy and effective rushing lanes for his backs.
Denver's run-blocking scheme requires their linemen to be athletic and get into space with quickness and strength. Bolles has always shown a propensity to accomplish this but is doing so now better than ever before.
Although he was a notable snub from the 2020 Pro Bowl, if he continues to play at this level he will easily earn a spot among the best in the game in 2021.
At just 1.2%, #Broncos OT Garett Bolles had the league's lowest blown-block percentage in run-blocking, according to SIS. pic.twitter.com/nd4ErVaaS0

— Pro Football Network (@PFN365) June 21, 2021
Now, with the 2021 season on the horizon, those expectations are looming large. Fans, players and pundits alike are tired of seeing losing football in the Mile High City and are hopeful to find a real competitor in the AFC West to challenge the Kansas City Chiefs for dominance. Denver may not be able to do that quite yet, but they are one soldier mightier with the blossoming of Bolles.
Doubt him at your own risk, but he has taken his lumps and gets up time and time again.
In that way, he is the perfect NFL prototype and in-the-trenches ally to lead Denver to a powerful resurgence.