The AFC West has the best group of quarterbacks in the NFL from a divisional standpoint.
Russell Wilson joins the Denver Broncos and the West which was already loaded with Patrick Mahomes, Justin Herbert and Derek Carr. Considering his resume, Wilson may be the best QB among them, though many will argue it's Mahomes' crown to wear.
As some have mentioned, that AFC Divisional game between Mahomes' Chiefs and Josh Allen's Bills a few months ago seemed to be a turning point when GMs further realized they must have a star QB in this league to win.
And as a response, the AFC West loaded up with star pass rushers this offseason.
The Chargers traded for Khalil Mack, who has 76.5 sacks in his eight seasons as a professional. It should be noted Mack missed 10 games last year due to a foot injury that needed surgery. Mack will now line up opposite of Joey Bosa, who in six years has 58 sacks and 73 tackles for a loss.
In Kansas City, the duo is Chris Jones and Frank Clark. Compared to the other three teams, the Chiefs' duo is lacking a bit of star power. But, they did combine for 13.5 sacks and 34 QB hits in 2021.
Las Vegas landed Chandler Jones, who was rumored to be a target of the Broncos' before they signed Randy Gregory instead, and Jones will be attacking quarterbacks opposite of Maxx Crosby. At 32 years old, Jones is the oldest player on this list, but he did have 10.5 sacks and 26 QB hits last year in Arizona in only 15 games. Meanwhile, Crosby has become a star and tallied 8 sacks and 30 QB hits in 2021.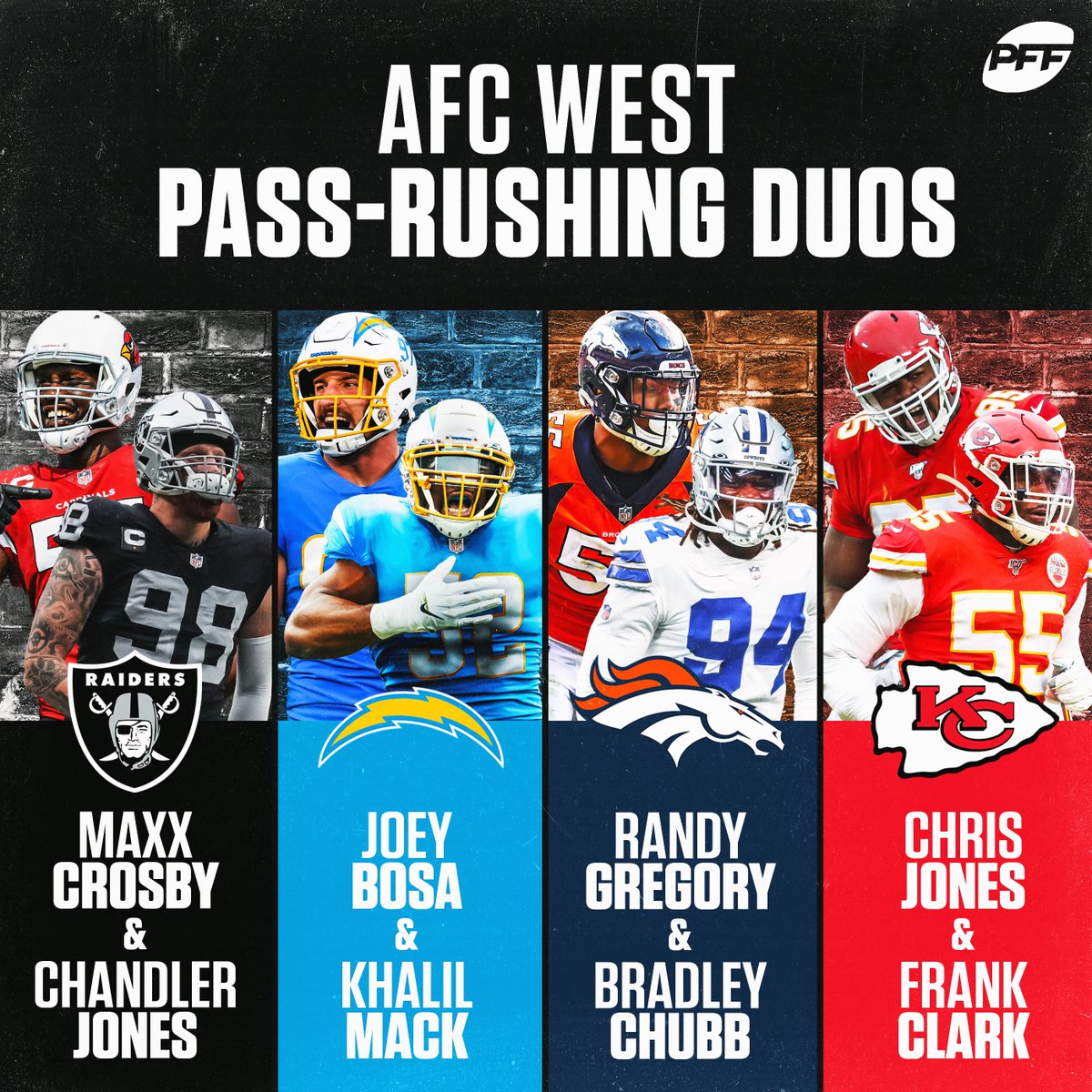 Finally, we get to the Broncos, who will be lining up Bradley Chubb on one side and Randy Gregory on the other. In Denver, the possible production could be a Mile High, but only if the two can stay healthy and out of trouble.
Chubb has been lamented by some since he was drafted with the No. 5 overall pick back in 2018. He's only played 41 total games in four years, missing most of the 2019 season with a torn ACL and playing in only seven games last year with an ankle injury.
During his two healthy seasons, Chubb has been a star. He totaled 12 sacks and 21 QB hits as a rookie, and then 7.5 sacks with 19 quarterback hits in 2020. But, Chubb must stay healthy to put up those respectable, offense-wrecking stats.
Unfortunately, the same can be said of Randy Gregory, the new sometimes-star who will replace Von Miller.
Gregory was drafted in 2015 but has only played in five seasons, and he's never played in a full 16 (or 17-game) season. He was suspended for 10 games of the 2016 season, and then the entire 2017 campaign for his third substance abuse violation. Most recently, he was enjoying his best season (6 sacks, 17 QB hits) before being placed on IR with left knee surgery.
Clearly, with all the elite quarterback play in the AFC West, having a way to disrupt those game-changers is key. That means upsetting the timing of passes, forcing a QB to move his release point and overall feel uncomfortable when he drops back to pass.
But, which team has the best duo of pass rushers in the AFC West? That is up for debate, and to help bolster arguments, here's last year's Pro Football Focus grades.
PFF Grades 2021
Chargers
Bosa 85.8, Mack 73.0
Raiders
Crosby 91.4(!), Jones 70.4
Chiefs
Clark 54.3, Jones 82.8
Broncos
Chubb 45.0, Gregory 78.6 (2020 grades: Chubb 70.7, Gregory 80.5)