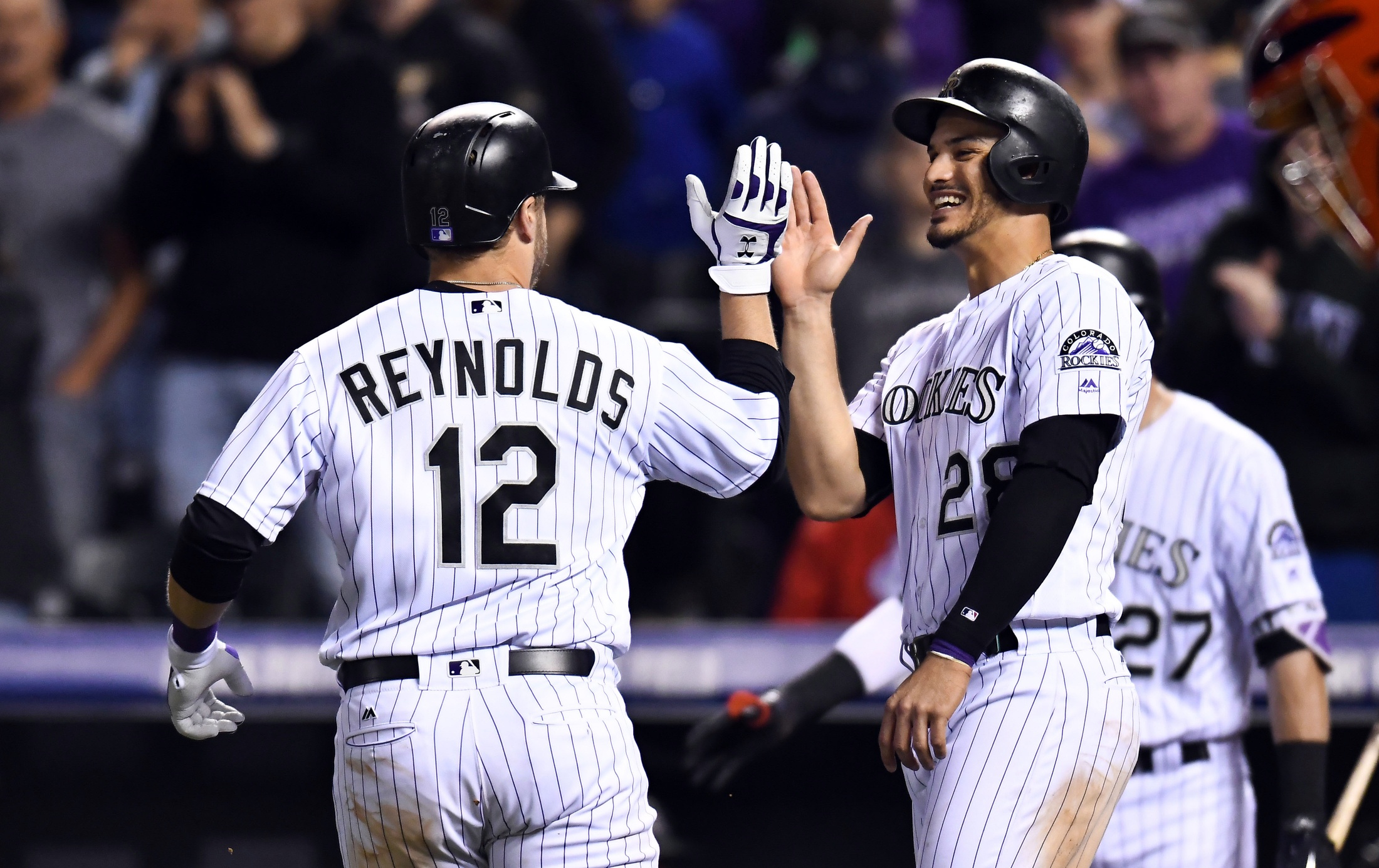 All season, the Colorado Rockies have been dominating largely thanks to their youthful, lethal pitching staff. Their offensive production, however, seems to have a special power to it this year that adds the extra zing to the devastating effect they have on the majority of their opponents.
"We have a really good offensive team," second baseman DJ LeMahieu said. "We're very deep, and the guys coming off the bench are really good players. We're not just filling spots there; those are really good players. We weren't the best the first couple weeks offensively, but I think it's kind of contagious, and we've been rolling for a little while now."
Aside from the Seattle Mariners, Washington Nationals and the first series against the San Diego Padres, the Rockies have been putting away the competition. They've either won or tied all but three of the series they've played in so far this season.
Sixty-four games in, they boast an NL-best 41-23 record and lead an extraordinarily competitive West division by 2.5 games thanks a recent seven-game win streak heading into Sunday's game at Wrigley Field. The only team in Major League Baseball better than the Rockies right now is the Houston Astros, who sit at 44-19.
Charlie Blackmon and Mark Reynolds are tied for second in the National League with 53 runs batted in, only three behind first-place Jake Lamb of Arizona. Blackmon, additionally, sits at fourth in the NL with a .338 average at the plate.
And while, yes, the pitching has been the main factor in that success, the offense, I believe, has been completely underrated in comparison – deceptively so.
In 25 years of existence, the Rockies have had some pretty great bombers out on Blake Street. You can reminisce all day about the glory years of Vinny Castilla, Larry Walker, Dante Bichette and Todd Helton all you want, but those guys have come and gone. Charlie Blackmon, Nolan Arenado, Mark Reynolds, Gerardo Parra and Ian Desmond are the future, and it looks bright.
Throughout their entire history, the Rockies have boasted 13 years of averaging five or more runs a game. Although we're not even halfway through the season yet, they're already averaging 5.27 scores per contest this year, good for the eighth-best offensive mark in franchise history.
While eighth-best may not tickle your fancy as far as the team's short history goes, remember this: The Rockies aren't just scoring incrementally like in past years, because they're seeing success on a much more rapid, much more gratifying scale this year.
Just look at Saturday's game at Wrigley Field. Going into the top of the ninth, the Rockies led just 4-1, which by all accounts seemed like a fine baseball score. Clearly, Arenado disagreed, because a bases-loaded double later, they went up 7-1 before a series of unfortunate events for the Cubbies ended the game at 9-1.
You could even look back on May 19 in Cincinnati, when Colorado pounded the Reds with an eight-run sixth inning fueled by an Alexi Amarista three-run bomb. The point is, the Rockies aren't just scoring big this season, they seem to be doing it in droves.
"I feel like we're scoring a lot of runs in games, like we're having a lot of big innings," Arenado said. "It doesn't feel like last year, where we just gradually score, but I don't know. Early on, everyone was saying how our offense was nowhere to be found, and now that we're hitting, everyone's like, 'Now you're hitting a lot better than you have in the past.' I don't know what it is. I think it's just a matter of we're having good, quality at-bats and hitting is very contagious. I think that's how it's going."
They say that offense is contagious. For the Rockies, it's downright malignant (for the other team).
For comparison, the last time a Colorado team averaged more runs than this year's team was in 2007, when they managed 5.28 runs a game and that carried them to their only World Series appearance.
That feedback loop of energy, Blackmon said, is crucial to the team's successes this year.
"I think it's just contagious," the center fielder said. "You see a couple of good at-bats and maybe you get the other team on their heels a little bit. It does seem like we've been able to snowball some innings. You get one or two here, and then you end up getting a really crooked number [of runs]."
Throughout the year so far, the Rockies have seemed to complement each other's efforts and downfalls in perfect sync. As one player gets hot, another one cools down.
"It's very rare when everyone clicks at the same time, and right now, it seems like Trevor's starting to hit homers. Getting him back from the DL has been huge. CarGo's obviously heating up," Reynolds said. "Nolan's been Nolan; Charlie's unbelievable. It's fun to be a part of this lineup. It seems like every time I hit, I have someone in the scoring position. I'm trying to come through more times with that.
"It's a good place to be right now. Our pitching's been unbelievable too," he added. "We're playing solid baseball."
Now, with the return of Trevor Story's bat and as Carlos Gonzalez finds his groove again, it looks like there's little in the way of this squad's road to October.
"I think the sky's the limit," Reynolds said. "We're one of the best teams in the National League, and we really believe that in here. There hasn't been too many games where we've been like, really not in it, in the game. I think belief goes a long way and confidence goes a long way, and I think it's starting to permeate through this clubhouse. We've been playing solid baseball—we catch it, we throw it, and get some timely hits. We can go as far as we want to go."