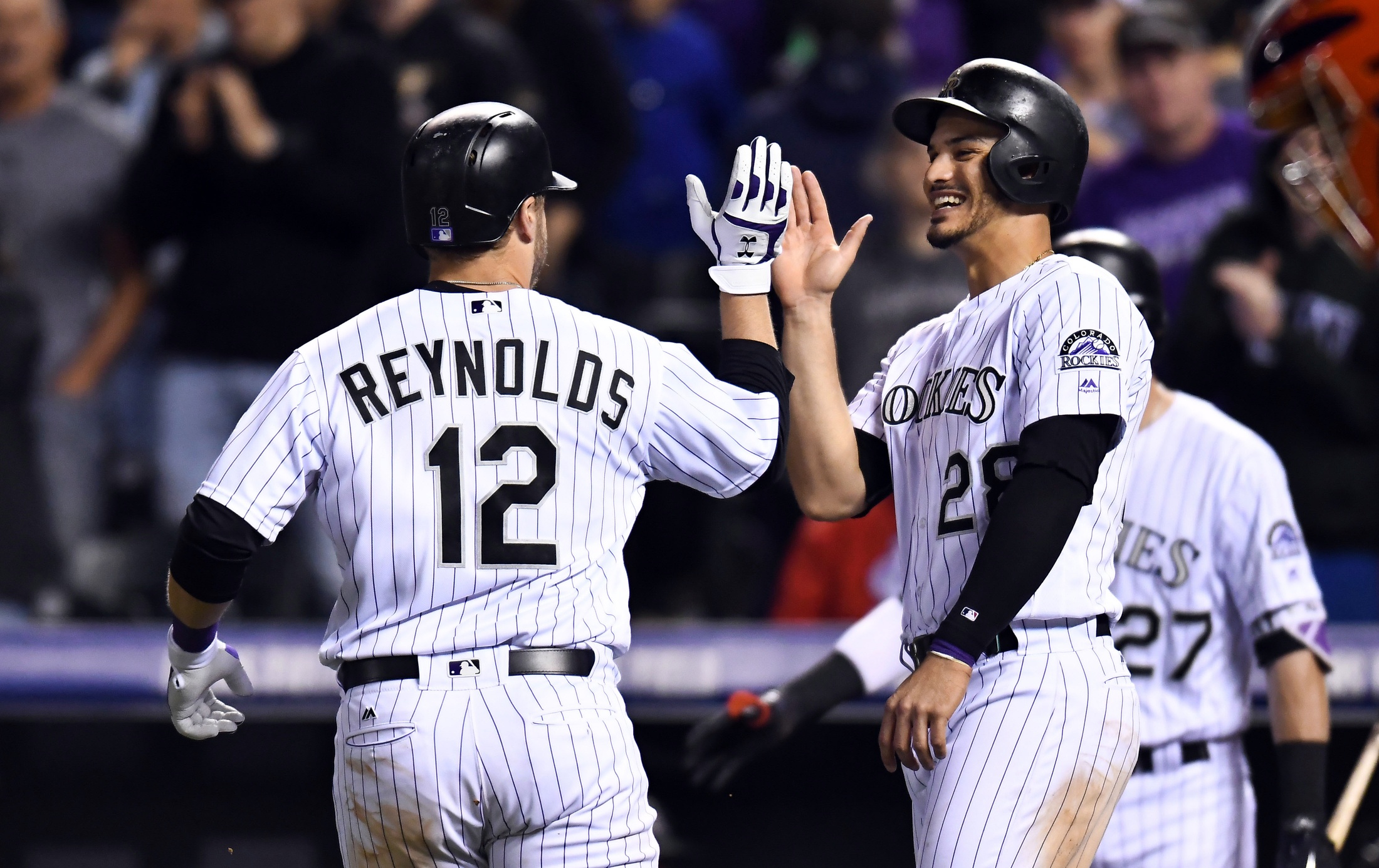 Correction: An earlier version of this story stated that Nolan Arenado recorded his first error of the season on May 21 against Cincinnati, during which he was hit in the eye with a ground ball that he tried to bare-hand. On May 31, that error was overturned by the MLB and scored as an infield single.
The Colorado Rockies are on pace for their best season in team history and are currently one of the best teams in the game right now. They show no signs of slowing down any time soon, either.
When you look at the stats, the Rockies sit top-10 in almost every category as a squad, and even boast a few individual stats leaders across Major League Baseball. With 33 wins, 20 losses and a 12-2-2 series record, it's clear that there's little the Rockies can't do this season.
On the offensive side, the Mile High men sit fourth overall, with 272 runs scored throughout their first 53 games. They trail only the mighty Washington Nationals in the runs category, as the Natties boast 277 runs in 50 games as of May 29. The Rockies rank fourth in team batting average at .267 behind the Nats, and slightly edged out by the Astros and Red Sox.
While it's not uncommon for the Rockies to produce well at the plate from year to year, this team seems to have upped its game even more. You can thank guys like centerfielder Charlie Blackmon and first baseman Mark Reynolds for that.
With 46 RBIs in all, Blackmon has set the mark for best of the best at the plate. Reynolds, who came into the season on a minor league contract to step in for an injured Ian Desmond, has been firing on all cylinders as well. He sits at third in the league 44 runs batted in.
Despite the uptick in run production all season long, their success should come as no surprise when they have guys like Nolan Arenado, Gerardo Parra, Tony Wolters and D.J. LeMahieu in the mix. Not only that, but the Rockies have had the habit of some players stepping up at the plate as others are struggling, and vice versa. It's almost as if they're coordinating their slumps to keep their offense as even-keeled as humanly possible.
But that's the funny thing – not everyone on this roster is human. In fact, it would appear that Clark Kent has taken on another alias, and his name is Nolan Arenado.
As a surprise to no one, Arenado leads the entire league in fielding percentage among third basemen with a .993 fielding percentage, thanks to 33 putouts and 109 assists in 463.1 innings. Just watch the man play; he's left many a fan and many an opponent with mouth agape and mind blown by what he can do at the five position.
His only almost-error was one he may not easily forget, because after failing to bare-hand a chopper on May 21 against Cincinnati, the ball ricocheted off his fingers and into his eye, giving him a nice shiner to remember it by. Although initially scored as an error, the MLB overturned the call 10 days later and ruled the hit an infield single.
He's also tied for second in wins above replacement with a 2.6 WAR with Arizona's Paul Goldschmidt, Washington's Bryce Harper and Atlanta's Freddie Freeman, behind Cincinnati's Zack Cozart. Thanks to him and a few select others, the Rocks sit at third in baseball in overall fielding productivity with a .989 percentage.
Hands down, the biggest difference this ball club has seen this year is on the mound and in the bullpen, where the Rockies sit a deceptive 12th in the majors with a combined 4.07 ERA.
Within those numbers sit a couple gems in Greg Holland and Antonio Senzatela. When the Rockies signed Holland after his return from Tommy John surgery, no one doubted his ability to stun the competition coming in. But even then, he's seemed to surpass the expectations with a Rockies franchise record of 19 saves in 19 attempts to start the season. No other closer in has even come close to touching that this year. The second-best closer in the game, Arizona's Fernando Rodney, has just 13.
On the starting rotation side, rookie Senzatela has been phenomenal all year long. With seven wins in this young career, he's tied for the best mark in the National League with the Los Angeles Dodgers' Clayton Kershaw, and is just one win shy of tying with the American League's best ace, Houston's Dallas Keuchel, to lead the pros.
With the Rockies owning each facet of the game and dominating in their series, it's time to set the haters and the doubters straight: The stats don't lie.