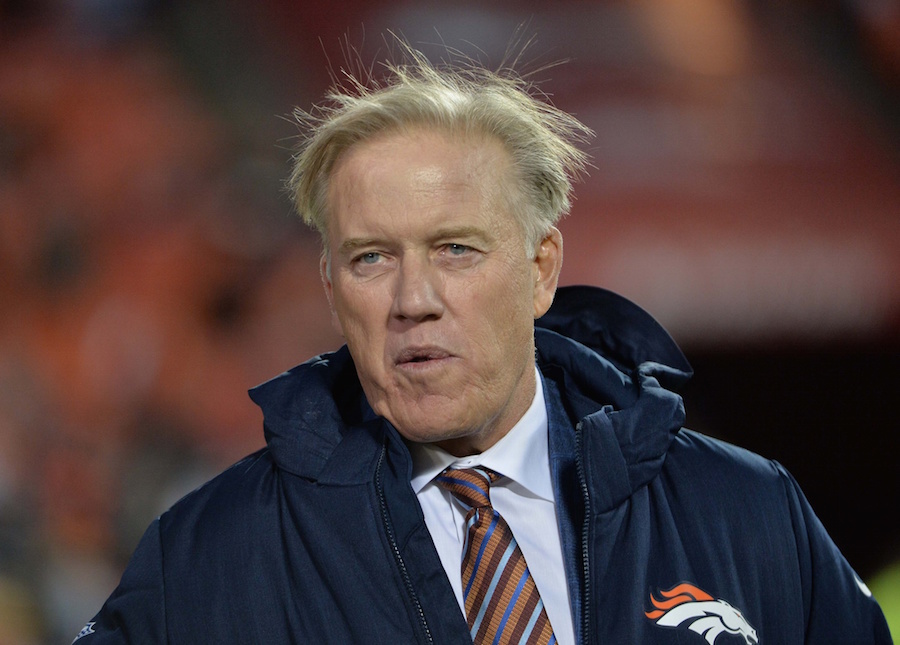 The Denver Broncos now sit at 3-7 with their playoff hopes practically gone, and after having failed to respond on the field to criticisms by general manager and vice president of football operations John Elway.
Earlier in the week, during a Ring of Fame ceremony for former coaches and players of the Broncos, Elway was asked about what had gone wrong this season.
"I will tell you [that] I think we got a little bit soft,'' Elway said. "To be dead honest with you, we got a little bit soft. We went 4-0 in the preseason, we started 3-1, we get a bye week — and if you exhale in this league? You're in trouble. And you know what? To be dead honest with you, I think we exhaled, and it's hard to recover from that. It will be a lesson that hopefully we all learned and can prevent it from happening in the future."
Players and coaches had a chance to respond to the comments in the locker room after their most recent loss to the Cincinnati Bengals.
Head coach Vance Joseph:
"John watched this team every day. He's watched every meeting. He's watched every practice. He watches every game. When he said that, I was initially offended. In some aspects, he's right. When you've lost that many games in a row, you have to do things in a tougher manner. If you're not winning, that's an issue in football. Football is a physical, tough sport. So when you're not winning, that word comes up. Again, I stepped back and thought about what he said. In some aspects, he's right."
On whether he addressed Elway's comments to the team:
"We had a meeting last night. What we said is obviously private; between me and the team."
Outside linebacker Von Miller:
"He's the head guy. His comments—he's the boss. That's what he said. He said it. I was kind of taken back by it, which you should be. If you have any type of emotion about you, if you play soft, your reaction should be, 'What? I'm not soft.' But if you take a look back at it, the truth is that's what we've been putting out there. That's the type of team that we've developed into. That's what we got. It's the truth. He's telling the truth."
Inside linebacker Brandon Marshall:
"We definitely didn't take kindly to those remarks. I understand this is his team and he put it together, so his name is on it, but it's our skin in the game. Nobody is soft on this team. We work our butt off and we work hard. We play hard and we go out there and give it 100 [percent] every game and every practice. We just fall short."
Cornerback Chris Harris Jr.:
"Everybody in this organization is accountable for how we are playing right now."
Nose tackle Domata Peko Sr.:
"I agree. Losing five in a row, that's soft. How many turnovers we've been giving away, that's soft. Dropping punt returns, that's softness. Letting people run on us last week and the week before, that's what coach [Vance Joseph] was telling us too, and he showed us that last night. I feel like today we were out there playing hard as hell. I didn't feel too soft today out there; I felt really good. That's just constructive criticism that, as a man, you've got to take it. It's starts at the top and rolls its way down. Coach [Joseph] said it best, he called us all that. We've just got to come out here and keep working hard and get through that."
Safety Darian Stewart:
"He's the boss. He made this team, and if he feels like it's soft, then that's what it is. Our play has shown it. We've dropped six, or five, I've lost count. This stuff is frustrating and we need to find a way to get it together. It's definitely motivating. As a man, you take pride, and anytime somebody calls you soft, you want to come out and prove you're not soft. We fell short today."
Wide receiver Demaryius Thomas:
"It was a big reaction. It felt like he was basically calling out everybody, the players, the coaches and everybody that has something to do with what's going on. [Head] Coach [Vance Joseph] mentioned it last night to remind everybody. I felt like everybody came out and fought hard, but we came up short."
On his reaction to Elway's comments:
"I just think he's telling the truth. He wouldn't have said it if he wasn't telling the truth. We've lost six in a row; I think there's a little softness in us somewhere and he's talking about everybody, including me. I try to make my game better every week. We just have to figure it out, like I say every week, and go from there. I really don't know what to say."
Defensive end Derek Wolfe:
"He's the boss. Whatever he says, goes. If that's how he feels, then we have to make sure he doesn't feel that way. The boss says it's not good enough, that means everybody is not doing good enough. I'm just trying to make sure we stay together. We have to stick together through times like this. I haven't been through something like this since I've been in the league. I went through this in college, and the next year we bounced back. This is very unacceptable. We're going out there, we start a good drive, boom, pick. It's a touchdown or blocked field goal. I don't know what else I can do. I'm playing as hard as I can possibly play. I'm doing everything I can to try to win. I'm trying to rip the ball out. I'm trying to get sacks. I'm trying to apply pressure. I'm trying to bat balls."