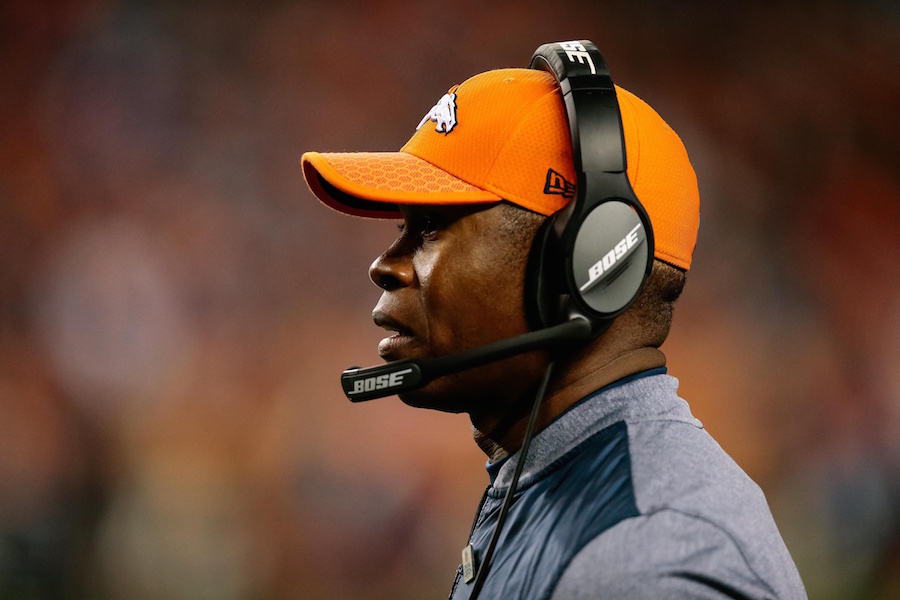 The Denver Broncos were served a big heaping of humble pie on Sunday night by the New York Giants in a 23-10 defeat at Sports Authority Field at Mile High. Coming off the bye week, the Broncos were 3-1, rested and healthy. The Giants, meanwhile, had lost five consecutive games to open the season and were with important playmakers on both the offensive and defensive side of the ball.
When the final whistle blew, Broncos quarterback Trevor Siemian had thrown a pair of interceptions (including a pick-six) and had been sacked four times. Denver lost right tackle Menelik Watson and wide receivers Emmanuel Sanders and Isaiah McKenzie to injury during the contest, and both Siemian and wide receiver Demaryius Thomas missed time during the game to be looked after by the training staff.
Beyond the injuries, the Broncos struggled to stop Giants running back Orleans Darkwa, whose 117 yards was more than double the average Denver had allowed as a team through the first four games. Additionally, kicker Brandon McManus was only 1-for-3 on field-goal attempts, including a miss from 35 yards on his first try of the game.
Postgame, head coach Vance Joseph offered his injury report, the preliminary prognosis on those injuries and some explanation for why his team struggled against a previously winless team. Here's what Joseph had to say, quotes courtesy of Denver Broncos media relations.
On injuries from the game                                                                                                       
"We had [QB] Trevor [Siemian] with the left shoulder. He returned to the game, so he's OK there. [T] Menelik Watson did not return with a right calf. [WR] Emmanuel Sanders had a right ankle and [WR] Isaiah McKenzie had a right ankle."
On the next steps for McKenzie and Sanders 
"The next step is going to be an MRI tomorrow morning. The initial X-rays were both negative. We're lucky there. They both looked like serious injuries, but the initial X-rays were negative. We'll know more tomorrow after the MRI results come in."
On whether he's concerned with Siemian's injury
"No, it's not his throwing shoulder. We're not sure how serious it is, but he returned and he was fine. We'll know more tomorrow about his left shoulder. Not his throwing shoulder."
Editor's note: Siemian suffered an AC joint sprain of his left shoulder that caused him to miss 2.5 games in 2016
On Siemian's play
"When you have three turnovers, it's hard to say you played well. Watching the film, I'll know more tomorrow. Turnovers are always tied to the quarterback and that's the key to success on offense—not turning the ball over. I would say with three turnovers, probably not good."
On WR Demaryius Thomas' performance while battling through an injury
"It took some guts to stay out there. He was actually nicked in and had an X-ray in the third quarter and came back to play. That takes guts to play. He had what, 10 catches? I'm not sure what he had for numbers, but he had some production tonight which he hadn't had in the last month."
On the thought process of playing G Billy Turner over T Donald Stephenson
"Well Billy has had great practices. So, we thought it was time for him to have a chance to be up. With Menelik going down, he had a chance to play tonight. I'm not sure how he played. I'll know more tomorrow. But, that was the discussion this week."
On K Brandon McManus
"He's our guy. He missed a short one. He got one blocked and he made one for us. Obviously that's been an issue. The first quarter, he missed three. He basically missed two tonight. We'll address it with him, but sitting here right now, he's our guy."