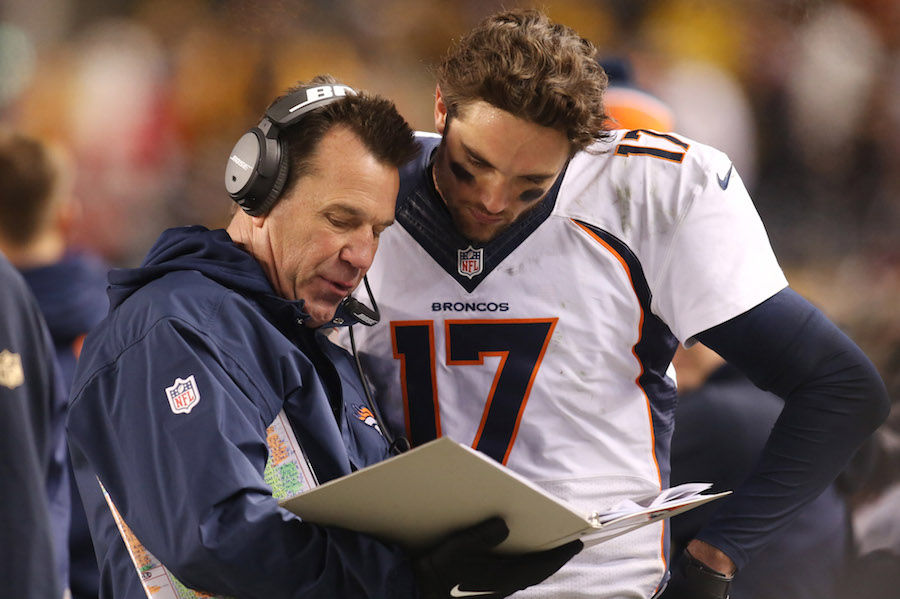 The Broncos losing to the Steelers isn't that much of a surprise; it's how they lost that has Broncos Country left stunned on Monday morning.
For the third straight week, the Denver Broncos offense failed to score a single point in the second half, and now the team is left scrambling for answers. Right now, it doesn't seem like they have any.
Versus the Chargers, Raiders and Steelers, the Broncos have now outscored their last three opponents by an impressive 40 points in first half; that means they've entered halftime with an average lead of over 13 points. In the second half, though, they've been outscored by 36 points — 36-0, to be exact.
Following the game last night, the team's second-half meltdown was obviously a topic of conversation, but it seemed like the Broncos were just as lost as the fans were.
Here's what they had to say:
Gary Kubiak on the drop of play in second halves:

As a team, we probably played as good at times as we could tonight and then not so good at times. This is a great football team we played. We needed to do it all night long, and we didn't. Offensively in the second half we didn't make any of the plays we made in the first half. We had some opportunities and didn't get it done. It's very disappointing. That's this business. You better be built for four quarters, not three.
Kubiak on why the team can't execute in the second half?
I agree with you. We walked out of the locker room and got a nice first down. After that I think we had four holding calls in the next nine plays. Nobody has a chance when you do that to yourself. It was penalties and lack of execution.
Kubiak on whether Brock Osweiler's inexperience played a role:
I have to go look at the film. I think there were some plays we should have made by a lot of people, not just the quarterback. I think that we executed really well in the first half – where to go, here or there. I just don't think we executed the same way in the second half. Obviously we ran the ball pretty well in the first half. The second half on two of our first three runs, we got holding penalties. Like I said, we hurt ourselves.
Kubiak on the defense getting tired in the second half:
I'm sure they did because in the first half offense was four-for-five. In the second half, we just weren't doing anything. So they just kept going back out there, and I'm sure they were worn out. We just couldn't put anything together.
Osweiler on what happened:
Until I see the tape, obviously I won't know what really happened in the second half. Obviously, as an offensive unit, you can feel you weren't moving the ball and you weren't in the rhythm. In the first half, Coach really preached to us all week long. Each individual guy do your job. Do your job and it is going to result in good things. That's what happened in the first half. Until I can see the tape, I won't know what happened in the second half. Obviously it needs to be better, it needs to be fixed and as a group we will get it fixed.
Osweiler on what was different in the second half:
Nothing really felt different. We just couldn't get into a rhythm for some reason. I think you have to give credit where credit is due. The Steelers and their coaching staff made some great halftime adjustments. Those guys on the field played a great second half for the Steelers.
Osweiler on what the team is doing at halftime:
Obviously, not the right things right now. That's something that we're very aware of as an offense. I'm sure we'll spend a lot of time tomorrow in meetings discussing how we can get that fixed and how we can get a fast start in the second half and score some points in the second half because that's something as an offensive unit you have to do. You play 60 minutes not 30 minutes. That is something that we will work on and we will fix.
I do not know. You can answer that. I do not have the answers to that. All I know is we have to continuously move on. We will get back into the lab starting on Wednesday at practice and try to improve. We have to figure out a way to carry the first half into the second half.
We were supposed to win this game, the offense did enough. They scored enough points in the first half. This is on the defense. We cannot let them come back, I cannot give up two touchdowns in a half. That's on me.