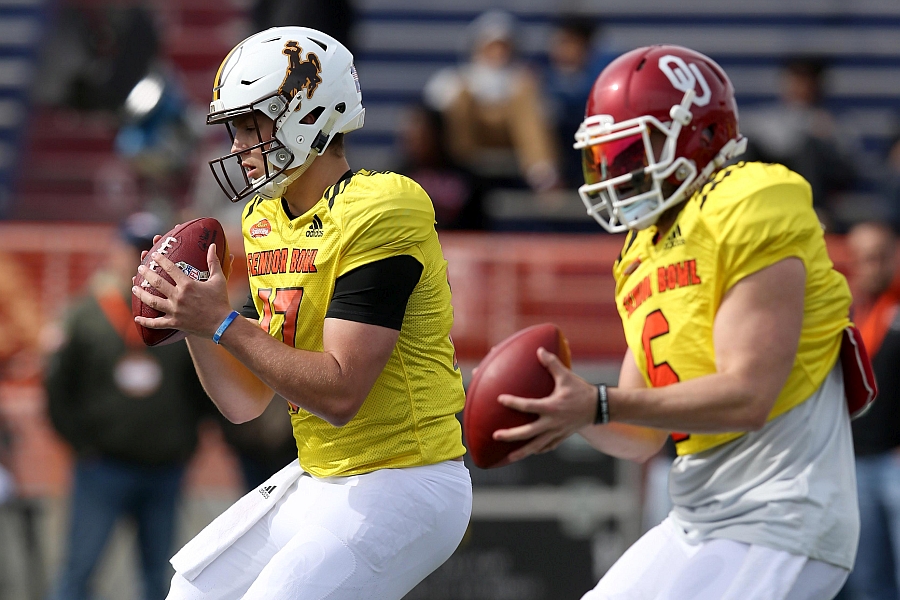 Every NFL team wants a superstar at quarterback; Hall-of-Famers in waiting like Tom Brady, Drew Brees or Peyton Manning that can all but assure a playoff appearance, season after season. Of course, those players are the rarest of breeds, and smart teams realize that grasping at straws usually leaves one empty-handed.
Traditionally, teams try to compensate by selecting the biggest, fastest and strongest quarterbacks they can find; a kind of natural selection process that usually works at other positions. Tall, strong-armed passers draw 'oohs' and 'ahhs' from fans, scouts and coaches alike, but in today's NFL, those players are all too often a mirage; a trick that fools teams into wandering even further into the league's harsh wastelands.
Everybody gets excited about the deep ball, but the NFL passing game is won and lost on intermediate throws. https://t.co/9T16x6i2FT

— Shawn Drotár (@sdrotar) January 24, 2018
Today's NFL demands a different type of quarterback. With tablet computers on the sideline; terabytes of analytic data at their fingertips, and footage of any play — from any angle — available on-demand, the battle at quarterback isn't about survival of the fittest anymore. The NFL may be more of a passers' league than it's ever been, but it's more complicated than that — today's NFL is a shallow passers' league. Speed beats strength, brain beats brawn, and teams that don't recognize that get left behind.
The Denver Broncos have been slow to realize it, but the writing on the wall suggests that they've gotten the lesson after two hard years; watching otherwise-talented teams waste away thanks to ineptitude at the quarterback position. There's a reason that Trevor Siemian has started most of the Broncos' games since Manning retired, despite the fact he's the least athletic, least renowned passer in the locker room: what he does is (comparatively, in this case) more successful in today's NFL than the backyard brand of football that Paxton Lynch or Brock Osweiler play. Gone are the days when Brett Favre or John Elway — who's been responsible for bringing those two pale imitations of himself into Denver via first- and second-round draft picks — when scrambling around and making things happen with pure physical talent was a viable way to win.
Today's NFL quarterback faces hellacious blitzers with regularity, bolstered by defensive coordinators that know enough tendencies to scheme offenses into submission, and thanks to college teams teaching less-physical blocking schemes, the offensive lines that protect those quarterbacks have never been less effective. It's wonderful that Lynch can throw the ball half the length of the field with ease; the problem is that he'll rarely have the time to do so. Quick reads, timing routes and tiny windows of opportunity means that quarterbacks need to rely on precision and smarts more than ever.
Which bring us to this year's critical evaluation process. Unless they can break the bank to sign Kirk Cousins away from Washington, the Broncos, burned twice by tall, strong quarterbacks that aren't accurate and apparently have study habits that leave something to be desired, may head into the draft looking to avoid strike three.
There are four quarterbacks that are universally expected to be selected early in first round: USC's Sam Darnold, UCLA's Josh Rosen, Oklahoma's Baker Mayfield and Wyoming's Josh Allen. Each of the four has been the top pick in major mock drafts, so separating them is obviously difficult. For the sake of argument, however, if either Darnold or Rosen — the two considered to be the most NFL-ready — happen to land in the Broncos' lap at pick No. 5, they're no-brainers… which is exactly why neither will probably be available for Denver.
That leads us to Mayfield and Allen; two quarterbacks with boom-or-bust potential. Pick the wrong one, and the Broncos' championship window most likely closes entirely on its current roster. Elway and the Broncos can't afford a mistake.
Lynch can throw it deep. Osweiler can throw it deep. Tebow could throw it deep. Everyone can throw dump-offs. The best quarterbacks (think Brady, Brees, Manning) tear you to shreds with timing, precision and consistency. Don't get starry-eyed by big arms like the Broncos have.

— Shawn Drotár (@sdrotar) January 24, 2018
While practicing at the Senior Bowl, Allen touted his backyard bona fides and doubled-down on them, saying that "stats are for losers". Forgive the impetuousness of youth; Allen will learn that they aren't. As a matter of fact, stats are what coaches like the Patriots' Bill Belichick use to shut you down on his way to getting fitted for another Super Bowl ring. The trick is using the right stats.
According to the NFL's Next Gen Stats initiative, out of the 25 NFL quarterbacks that attempted 400 or more passes last season, only three of them averaged more than 10 yards in the air per attempt: Tampa Bay's Jameis Winston (10.7), Philadelphia's Carson Wentz (10.2) and Seattle's Russell Wilson (10.1). Wilson, by the way, had the average longest time from snap to throw at 3.05 seconds. Only Wilson and Buffalo's Tyrod Taylor had as long as three seconds. Since even the fastest receivers in the league can cover barely more than 25 yards in three seconds — and that's only if they're running a straight-line, fly route — it's obvious to see why all those pretty long bombs are so rare in actual NFL games.
Most successful NFL passing plays have the ball in the air for fewer than eight yards. You read that right — eight. Again, out of passers with 400-plus attempts, Winston and Wentz led the way in 'air yards' per completion with 7.9. Wilson was third with 7.5. Those three are the league's deepest passers by any measurement — and they wouldn't even average a first down on their throws.
Brady, by the way, averaged 9.4 'air yards' per attempt; 7.1 per completion (5th). Brees? 7.1 and 5.8 (21st). Cousins averaged 8.2 and 6.1 (16th), respectively, sandwiched in between Taylor and Indianapolis' Jacoby Brissett.
It makes sense for Elway and the Broncos to pursue Cousins, and perhaps Taylor, for that matter. But if they'd prefer to save money, they'll need to find their quarterback in the draft. Allen, who physically resembles Wentz, is probably tempting — but they've gone the route of the elite athlete with the scattershot arm before. Mayfield's height concerns NFL scouts and front offices, even though he's led college football in QBR for the last two seasons. Perhaps for them, it's worth noting that Mayfield's slightly taller than Brees, and an inch taller than Wilson — and those two seem to have turned out all right.