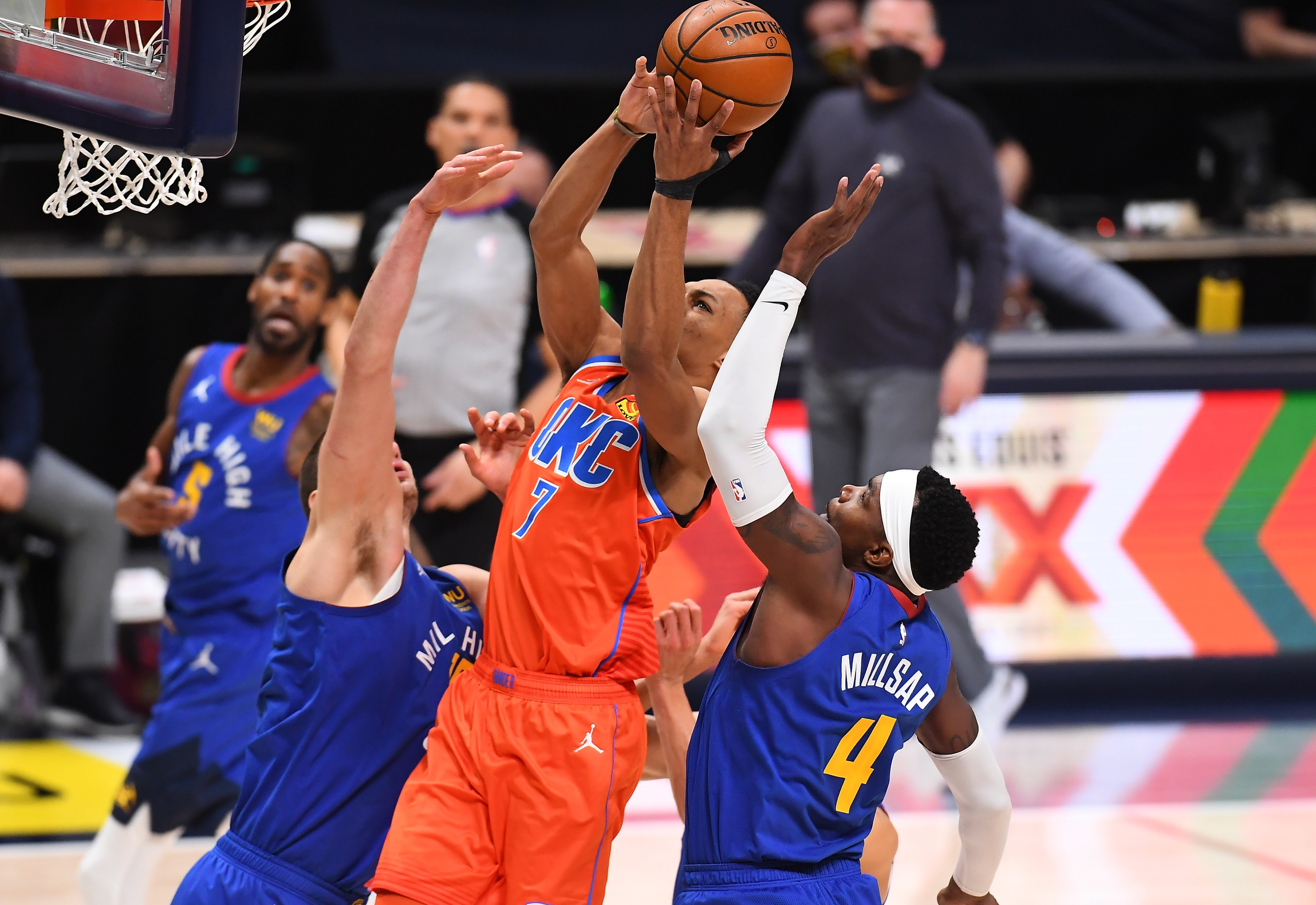 Defense wins games. That was clear in the Nuggets matchup against the Thunder on Friday night. Michael Malone has struggled finding answers for his teams' defensive woes especially when it comes to giving up big leads in the second half. The script was flipped against OKC and Denver was the one having to climb out of a hole with a 19-point deficit.
"It wasn't pretty," Malone said. "I thought at the start of the game we weren't ready to play. Our starters got us back in. Our bench was not ready to play in that first half. I challenged our guys at halftime and came out and won the third quarter."
That's two straight games the Nuggets have won the third quarter, which has been an area of emphasis for them. Malone showed his team they're numbers at halftime and told them that they were going to come back and win the game. It got them going.
"Coach read us some numbers about offensive rebounds and turnovers," Jamal Murray said. "We were just beating ourselves."
Murray continued reading off the stat sheet unimpressed with the teams' overall shooting performance. The Nuggets went 40-of-87 from the field and 10-of-40 from three-point range.
He was even more unimpressed with his numbers going 8-of-19 from the field and 3-of-11 from three point range. In his defense, he has been pretty banged up with injuries but he hasn't let that stop him from playing.
"What I loved about Jamal was even though his jumper has not been going, when that's going on you can't allow that to affect the rest of your game because if you do that you're a specialist," Malone said. "There are so many shooters and we all know Jamal Murray is much more than that."
Murray had some late fourth quarter buckets and assists that helped the Nuggets stay afloat. He finished the night with 22 points, 5 rebounds and 5 assists but credits the defense for holding the Thunder to just 16 points in the third quarter.
"I just think our communication," Murray said. "You can see it. Just sometimes on our switches we're a little lacks. When everybody is up and aggressive and our help is early and our rotations are tight you can see a difference in our defensive play."
Denver cut OKC's lead to nine early in the third, but found itself down by 15 points again. It wasn't until the final minutes of the game where the Nuggets were able to pull out a close one, taking their first lead with a midrange jumper from Nikola Jokić
Jokić added 22 points and 13 boards, finishing just one assist shy of a triple-double. That's 24 double doubles in 25 games for the big man and he did it so effortlessly.
"I think people overlook the way he dominates the game so easily like tonight," Murray said. "I still don't think he gets enough credit for what he does and the way plays and the way he sees the game."
Despite their shooting struggles, the Nuggets made shots when it mattered. Will Barton also hit two clutch three pointers down the stretch that ultimately sealed the win for them.
"It started in that third quarter I felt we played very well and we picked up even more in the fourth quarter," Barton said. "Our defense was outstanding. We made a couple shots and closed the game out on a big run."
Now, the Nuggets are focused on their matchup on Sunday against the Lakers, a team that dominated them at Staples Center 114-93 the last time the two met. They know defense is going to be key in shutting the Lakers down or at least keeping it close.
"We know we can get the stops," Murray said. "We just need to make sure we talk out there and that we're all on the same page."
Denver is 7th in the Western Conference standings with a 14-11 record and 5-1 in its division.