 Special Staki skis celebrate huge success on the American Kickstarter platform. In just their two weeks, the skis have already reached 100% of their funding goal.
Prague, April 11th – Ski Progress, the company that produces the atypical skis known as Stakis, has recently launched a campaign on the American crowdfunding platform, Kickstarter. In just its first week, the company has already reached 100% of their funding goal to produce a new model of downhill skis, which is to be named Staki Controls.
Small companies introducing new products to the market are slowly but surely starting to get used to crowdfunding platforms. Due to the size of their communities, crowdfunding platforms not only offer a suitable environment for growth, but also an opportunity for smaller companies to affordably test whether their new products will be successful in the future. Ski Progress is among such small companies and it has recently launched a campaign on the American Kickstarter platform. Its goal is to raise money for the production of special skis called Staki Controls. In just its two weeks on the crowdfunding platform, the company has already reached more than 100% of their $15,000 goal.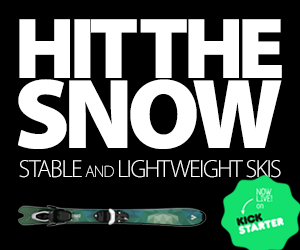 They're not just your average skis
The product that Ski Progress wants to introduce to the US market is Staki Controls, a new model from the special Staki skis series. What makes these skis so special in comparison to ordinary skis is the special end design (a stabilising foot) that provides a higher level of safety for lovers of downhill skiing. "The alloyed foot is fastened to the end of the ski and has a stabilising function," said promoter of safer skiing and executive of Ski Progress, David Rubek, in his description of this new invention. "Thanks to this unique design, the skier will not lean back or fall backwards, even whilst on rough or ungroomed ski trails. Instead, the skier will naturally return to a safe and stable position through the influence of inertia. Therefore, these skis are suitable not only for beginners, but also for experienced skiers who like to ride on ungroomed terrain."  According to David Rubek, Staki skis have one other great advantage besides increased stability, which can be appreciated by those who drive. The skis are less than one metre in length, which allows them to fit into the boot of a small car without any problems.
The Staki Team recently tested out the new Staki Controls model in Saalbach, Austria:
The Challenging Development Process for this New Model
Unlike its predecessors, the latest Staki Controls model has a new and improved stabilising foot. This is naturally attached to the skis, making them more functional and more aesthetically pleasing. The new skis also have a modern sliding safety binding that adapts to any ski boot size. According to David Rubek, creating the Staki Controls prototype took about two years. During this time, it underwent many modifications and tests, having most recently been tested in the Austrian Alps. "It was extremely challenging, both time-wise and, in particular, financially," explained Rubek. That's why the company decided to finance the production of the skis through a crowdfunding platform. "From our point of view, crowdfunding appears to be the most progressive way of bringing new innovations and amenities to the market," said David Rubek on his decision to launch on Kickstarter.
Future Plans
If the product proves to be a success in the US and Ski Progress reaches its fundraising goal to start production, the company plans to put Staki Controls up for sale on its very own e-shop. At present, only older Staki models are available. The new model, however, is now available on Kickstarter with a significant discount on the future retail price, and it's available everywhere. "The new Stakis can be bought by anyone worldwide from now until April 19th, and sales are in no way limited to just the United States," explained David Rubek. He further commented that this new model of Stakis has already been reserved by prospective buyers in Japan and Australia. In the future, the company would also like to offer the new Staki series as a special type of safety skis to be used by mountaineering services, who have already praised the company for its older Staki RX models.