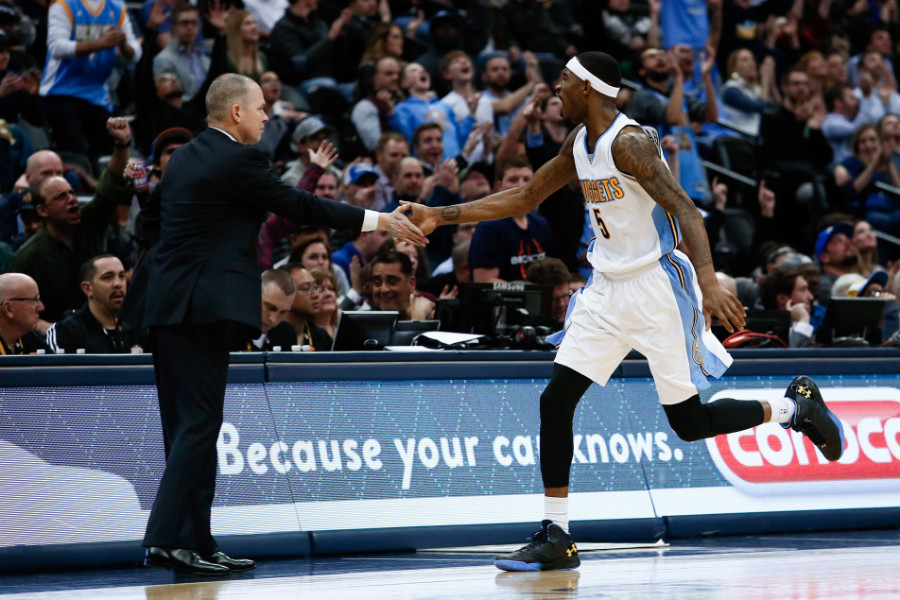 Since the All-Star break, everybody on the Denver Nuggets has been trending upwards. Well, almost everybody. Out of the gate, Nuggets guard Will Barton found himself in a funk, unable to generate any momentum or good play in recent time; however, in Denver's Monday night showdown against the Los Angeles Lakers Barton finally hit his stride.
Barton was far and away the Nuggets' most confident player on the court Monday, draining threes and getting to the rim; which ultimately helped lead his team to a 129-101 victory.
Barton tallied 22 points, six assists and two rebounds, his best stat line in a month. With that said, the skew of success did not just come overnight. Head coach Michael Malone opened up to the media prior to Monday's game about the conversation that could have revived Barton's season.
"I pulled him to the side, trying to see what's going on. 'How you feeling? What can I do to help you out?'" Malone explained. "I think sometimes he thinks he has to make the play, so I think he just has to kind of let the game come to him a little bit and I think he's pressing because he's thinking so much. Every shot he shoots he's like 'I got to make this to kind of break out of that slump.' And if he's putting that kind of pressure on himself, it's going to be that much harder to get out of that slump. So just relax, let the game come to him."
After his breakout, Barton opened up about the very conversation Malone spoke of, saying that it did indeed help him clear his head and get back on road.
"It [the conversation] helped me a lot because anytime I have trust in my coaching staff and they believe in me and tell me I'm a big part of this team they need me to play well it does a lot for my confidence," Barton explained. "I was overthinking a lot…Tonight I just wanted to come out and be aggressive.
"It felt real good. Most importantly it felt good to get a win. What we are trying to do is very important so we just keep winning."
Monday's game will hopefully be a turning point for Barton in the season. When Barton clicks, so do the Nuggets. His scoring ability and quickness help broaden Denver's style of play.
"We needed that, man," Malone said of Barton's outbreak. "Will Barton is a very important piece. Since the break he just hadn't found his groove … Hopefully, this can get him going because when Will is like that off the bench it gives us a whole other element. It was great to see."
Denver's win Monday night gives them a two-game lead on the Portland Trail Blazers for the Western Conferences final playoff. If the Nuggets want to snap their three-year playoff drought Will Barton's play off the bench will certainly be a deciding factor. Like Malone said, when Barton clicks, the Nuggets have a new element, an element that could very well dictate where Denver sits come season's end.