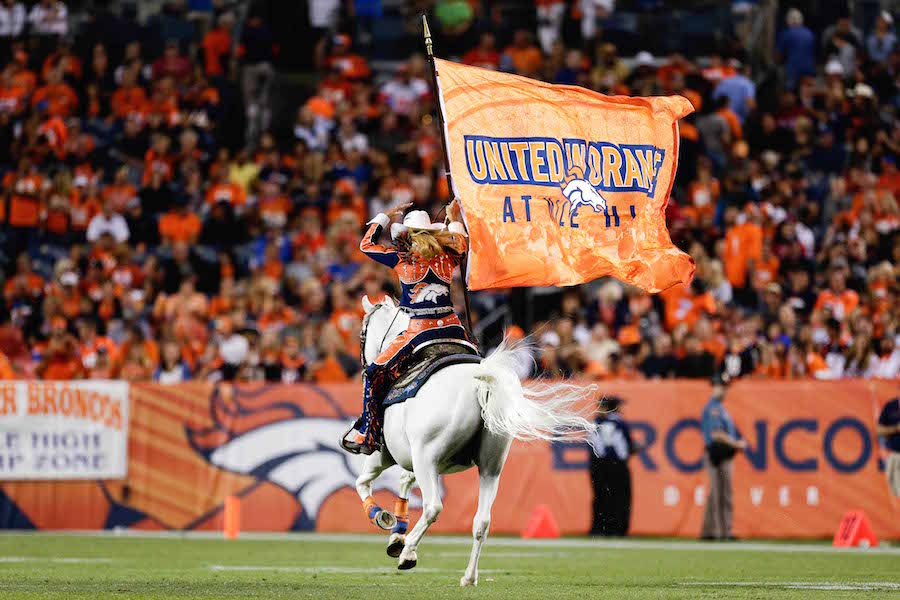 The NFL announced the Denver Broncos' 2018 schedule on Thursday, along with the full slate of games league-wide.
Here's a game-by-game look at the Broncos' 2018 schedule with background (some recent and some historical) on each opponent.
Week 1: Seattle Seahawks @ Denver Broncos
Sunday, Sept. 9, 2018 | 2:25 p.m MT | FOX
Denver and Seattle certainly have a history. The Seahawks blew out the Broncos in Super Bowl XLVIII by a final score of 43-8. The next season, the Broncos lost again to Seattle in overtime 26-20 at CenturyLink Field. It's safe to say Denver has something to prove this season at home when they welcome the Seahawks to open the season.
Week 2: Oakland Raiders @ Denver Broncos
Sunday, Sept. 16, 2018 | 2:25 p.m. MT | CBS
Quite possibly the biggest two-game series of the entire season, the Broncos have a lot to prove against a revamped Raiders team now coached by Jon Gruden. At home last year, the Broncos jumped out to an early lead and never looked back. Trevor Siemian threw for 179 yards and one touchdown and an unlikely receiver named A.J. Derby caught a touchdown to seal the deal. Both Siemian and Derby are long gone. Michael Crabtree is out of Oakland and many changes will be made under Gruden's regime. Considering the history between these ball clubs, expect this one to get heated.
Week 3: Denver Broncos @ Baltimore Ravens
Sunday, Sept. 23, 2018 | 11:00 a.m. MT | CBS
The last time these two AFC heavyweights played was the first game of the Broncos' latest Super Bowl season. They started off on the right foot, winning 19-13. With Peyton Manning struggling, Denver relied on quality special teams play and their patented "No Fly Zone" defense to secure the win. It should be an intriguing game as it's been almost three years since these teams have faced each other.
Week 4: Kansas City Chiefs @ Denver Broncos 
Monday, Oct. 1, 2018 | 6:15 p.m. MT | ESPN 
Denver lost both games to the Kansas City Chiefs last season. In the home game at the end of the season, Broncos quarterback Paxton Lynch led a fierce fourth-quarter comeback. Denver scored two touchdowns in the final period, but it wasn't enough as Kansas City went on to win 27-24 behind Patrick Mahomes making his first NFL start. With Alex Smith now in Washington, it will be up to Mahomes again to win in Denver.
Week 5: Denver Broncos @ New York Jets
Sunday, Oct. 7, 2018 | 11:00 a.m. MT | CBS
On a brisk December day last season, the Broncos shut out the Jets 23-0 at home behind a stout defensive effort and the brilliant play of Brock Osweiler and Demaryius Thomas on offense. Osweiler and Thomas combined for 293 total yards and two touchdowns. Denver is riding a three-game winning streak against the Jets
Week 6: Los Angeles Rams @ Denver Broncos
Sunday, Oct. 14, 2018 | 2:25 p.m. MT | FOX
The Rams game projects to be one of the best of the season. While Denver only plays them once at home, the stakes are high as Los Angeles acquired former Broncos All-Pro Aqib Talib in the offseason via trade. In addition, they added shutdown corner Marcus Peters to improve their defense. Pundits are picking Los Angeles to be a championship contender after adding lockdown defenders to complement an explosive offense. This year's 'No Fly Zone' may belong to the Rams. It will be up to new Broncos QB Case Keenum, in part, to disprove that.
Week 7: Denver Broncos @ Arizona Cardinals
Thursday, Oct. 18, 2018 | 6:20 p.m. MT | FOX/NFLN
This matchup has the most unknowns of any considering these two teams haven't played a regular season game since 2014 (they play every preseason, however). The Broncos won their last matchup 41-20, including a late game barrage that saw Denver score 17 points in the fourth quarter. Considering both teams have completely different rosters, the outcome is unpredictable to say the least.
Week 8: Denver Broncos @ Kansas City Chiefs
Sunday, Oct. 28, 2018 | 11:00 a.m. MT | CBS
Trevor Siemian struggled last season in Kansas City, throwing three picks. It's a big reason why he's now in Minnesota as a backup. Chiefs TE Travis Kelce came to play that day, though, catching seven passes for 133 yards and one touchdown. With Alex Smith in Washington the Chiefs have a different man throwing him the ball, but they're always dangerous in Arrowhead Stadium.
Week 9: Houston Texans @ Denver Broncos
Sunday, Nov. 4, 2018 | 2:05 p.m. MT | CBS
The Broncos played the Texans two seasons ago, winning 27-9 at Sports Authority Field. Denver's run game was stellar, including 190 yards and two rushing touchdowns between C.J. Anderson and Devontae Booker. Texans sophomore quarterback Deshaun Watson will be returning from a torn ACL, so it'll make for a compelling storyline. Who is running the ball for Denver, Booker or another back, could decide this one.
Week 10: Bye Week
Rest and recovery week is well-timed just past the midway point of the season.
Week 11: Denver Broncos @ Los Angeles Chargers
Sunday, Nov. 18, 2018 | 2:05 p.m. MT | CBS
Last season, Denver had a pathetic offensive showing in Los Angeles, putting up a doughnut at StubHub Center. Any sort of scoring from the offense or defense will be an improvement from last year's contest. Coming off the bye week should help the Broncos. The Chargers, meanwhile, will be fresh off a road game at division rival Oakland.
Week 12: Pittsburgh Steelers @ Denver Broncos
Sunday, Nov. 25, 2018 | 2:25 p.m. MT | CBS
The last time the Denver Broncos faced the Pittsburgh Steelers was also during their Super Bowl season. In an offensive shootout, the Steelers defeated the Broncos at Heinz Field behind Ben Roethlisberger's 40 completions for 380 yards and three touchdowns. The clock is ticking on an aging Big Ben and this time Denver gets to play host.
Week 13: Denver Broncos @ Cincinnati Bengals
Sunday, Dec. 2, 2018 | 11:00 a.m. MT | CBS
Last season the Bengals defeated the Broncos in Denver, 20-17, behind solid quarterback play from Andy Dalton. Dalton three touchdowns and no interceptions with balanced scoring in three of the four quarters. Denver will be looking to get revenge in Cincinnati this season.
Week 14: Denver Broncos @ San Francisco 49ers
Sunday, Dec. 9, 2018 | 2:05 p.m. MT | CBS
In another unpredictable game, the Broncos take on the 49ers for the first time since 2014. The Broncos have never played the Niners in Levi's Stadium. Denver will look to steal the show in their inaugural Santa Clara contest against QB Jimmy Garoppolo and the man who was in the running for Denver's last head coaching vacancy, Kyle Shanahan.
Week 15: Cleveland Browns @ Denver Broncos
Saturday, Dec. 15, 2018 | 2:30 p.m. OR 6:20 p.m. MT | NFLN
The Broncos haven't played the Cleveland Browns since their Super Bowl championship season in 2015. In Cleveland, Peyton Manning threw one touchdown to three interceptions, but Emmanuel Sanders picked up the slack, catching four passes for 109 yards and one touchdown. Regardless of who Cleveland drafts in a few weeks, Denver should blow them out.
Week 16: Denver Broncos @ Oakland Raiders
Monday, Dec. 24, 2018 | 6:15 p.m. MT | ESPN
Will Santa bring something back from Oakland for all the good boys and girls? This is arguably the biggest game of the season. Last year, Michael Crabtree and Aqib Talib squared off in the infamous chain-snatching altercation. However, both players involved are now on different rosters. While those players are gone, the rivalry remains strong. Denver must come ready to play in a game everyone hopes will have playoff implications.
Week 17: Los Angeles Chargers @ Denver Broncos
Sunday, Dec. 30, 2018 | 2:25 p.m. MT | CBS
The Broncos won their first game of the season 24-21 last year. Chargers quarterback Philip Rivers nearly completed a ferocious fourth-quarter comeback, but the Broncos remained strong and held on. Denver this year will try and close the season with a win over those same division rivals. The Chargers added former Broncos TE Virgil Green and Miami C Mike Pouncey in free agency to bulk up their offensive line, so Von Miller & Co. will have their hands full.