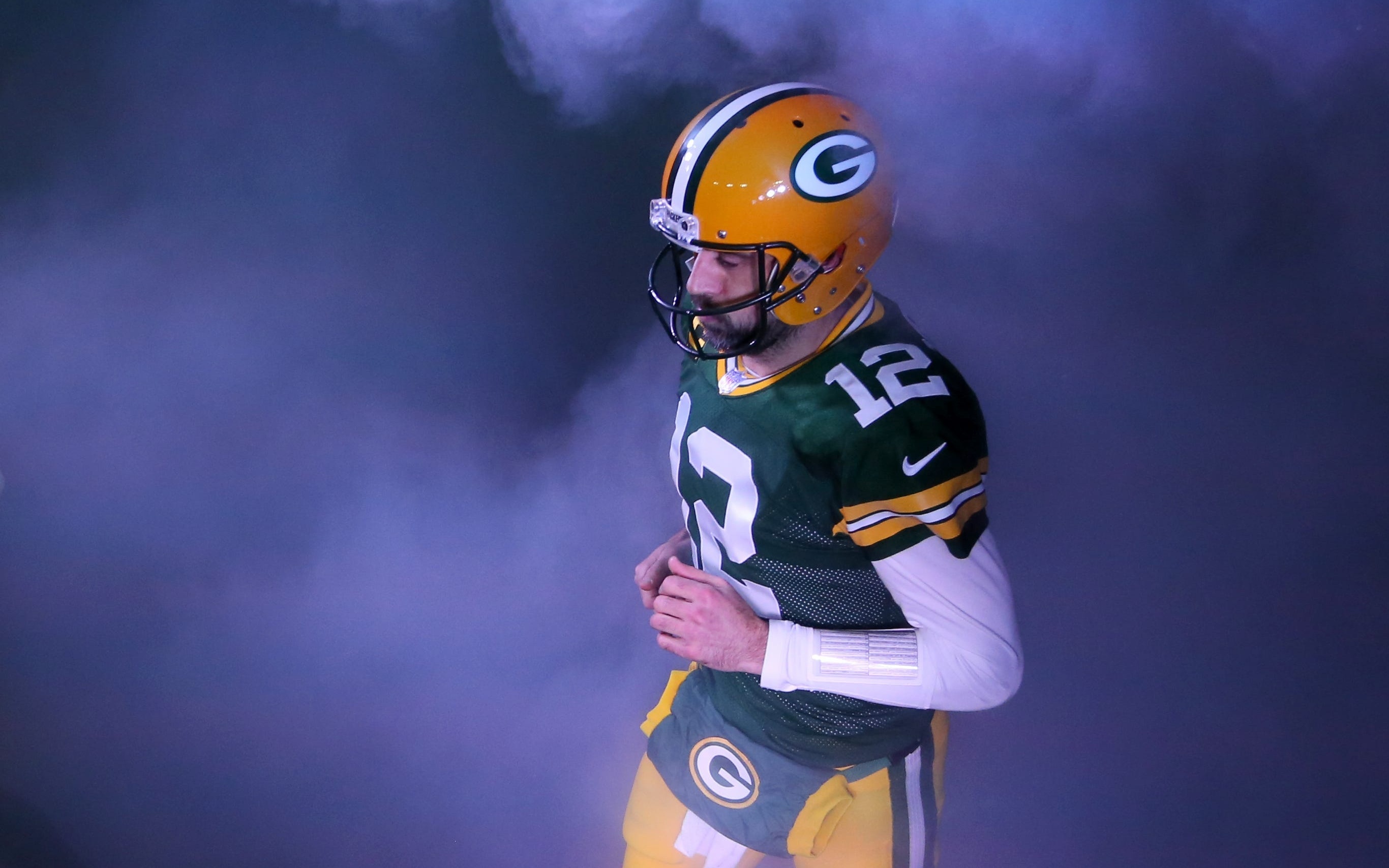 Nothing in life is guaranteed. Well, unless you're a superstar athlete, apparently.
Aaron Rodgers was the MVP of the NFL last season, leading the league in passing touchdowns (48), passer rating (121.5) and QBR (84.4) among many other stat categories. He was as dynamic as he's ever been, leading the Green Bay Packers to an NFC-best 13-3 record and to the NFC Championship Game where he was narrowly out-dueled by Tom Brady and the eventual Super Bowl champion Buccaneers.
As remarkable a season it was, it was made even more so because he was 37 years old. Rodgers' career is coming to an end sooner rather than later, and he wants to go out on top…of a pile of cash.
According to Pro Football Talk, a team (could be the Denver Broncos) that has or had interest in Rodgers says the superstar QB wants $45 million per year over the next two years, and he wants both years to be guaranteed. Currently, only Patrick Mahomes makes $45M per year, and both he and Rodgers are undoubtedly the best two-to-three (Brady?) quarterbacks in the game today.
But, is Rodgers worth that huge a gamble to a team?
Reportedly, Rodgers wants that two-year deal so his future is secured for at least two seasons. But giving him a check that massive when he's about to turn 38 years old is a gigantic risk.
Even the Denver Broncos, who have a second-most $28.8M in cap space currently according to Over the Cap, couldn't afford Rodgers without freeing up about $15 million. That money wouldn't come easy either because George Paton re-signed Von Miller for one year ($22M cap hit), and spent another $22.5M on various free agents.
Make no mistake, Paton did extremely well to keep players like Miller, Shelby Harris and Kareem Jackson on the team while and then adding to the secondary and effectively building a top-5 defense. But without Rodgers, this Broncos team is more likely to go 9-8 than find their way back to the playoffs.
That's because Drew Lock is still a complete project, as the worst quarterback in the NFL last year (whether that's in traditional stats or advanced metrics) and the Broncos brought in Teddy Bridgewater, a journeyman who's only likely a slight improvement on Lock.
As Pro Football Focus put it, "Sure, Teddy Bridgewater is a slight upgrade over the 2020 version of Drew Lock. He brings a little less volatility…This is a roster talented enough to contend in the AFC from top to bottom. It's just hard to see that happening with Lock or Bridgewater at QB."
Basically, Paton would have to decide to go all-in this year and next, his first two as a GM in the NFL, to trade for Aaron Rodgers. He'd have to leverage the future for right now, likely trading away a young star like Bradley Chubb or Courtland Sutton as part of the deal. And, Paton would have to be secure in Vic Fangio as the head coach and Pat Shurmur as the offensive coordinator who would lead Rodgers and the Broncos in their pursuit of a fourth Vince Lombardi Trophy.
Simply, the likelihood of Rodgers playing for the Broncos this year is small for many reasons.
The price tag alone is enough to scare away most possible suitors, the trade would cost a young star or two and Paton pulling the trigger on a move of that scale — a make-or-break trade — in his first year in the job probably isn't going to happen.
On the other hand, landing a superstar quarterback only happens about once in a generation. The Broncos landed John Elway in a trade with the Baltimore Colts, and then Elway as GM signed Peyton Manning in the waning years of his career.
In the most perfect of circumstances, Rodgers' end of his career would mimic Manning's in Denver, but the chances of that happening are about as likely as a typical NFL fan making $45 million in their lifetime, let alone one year.