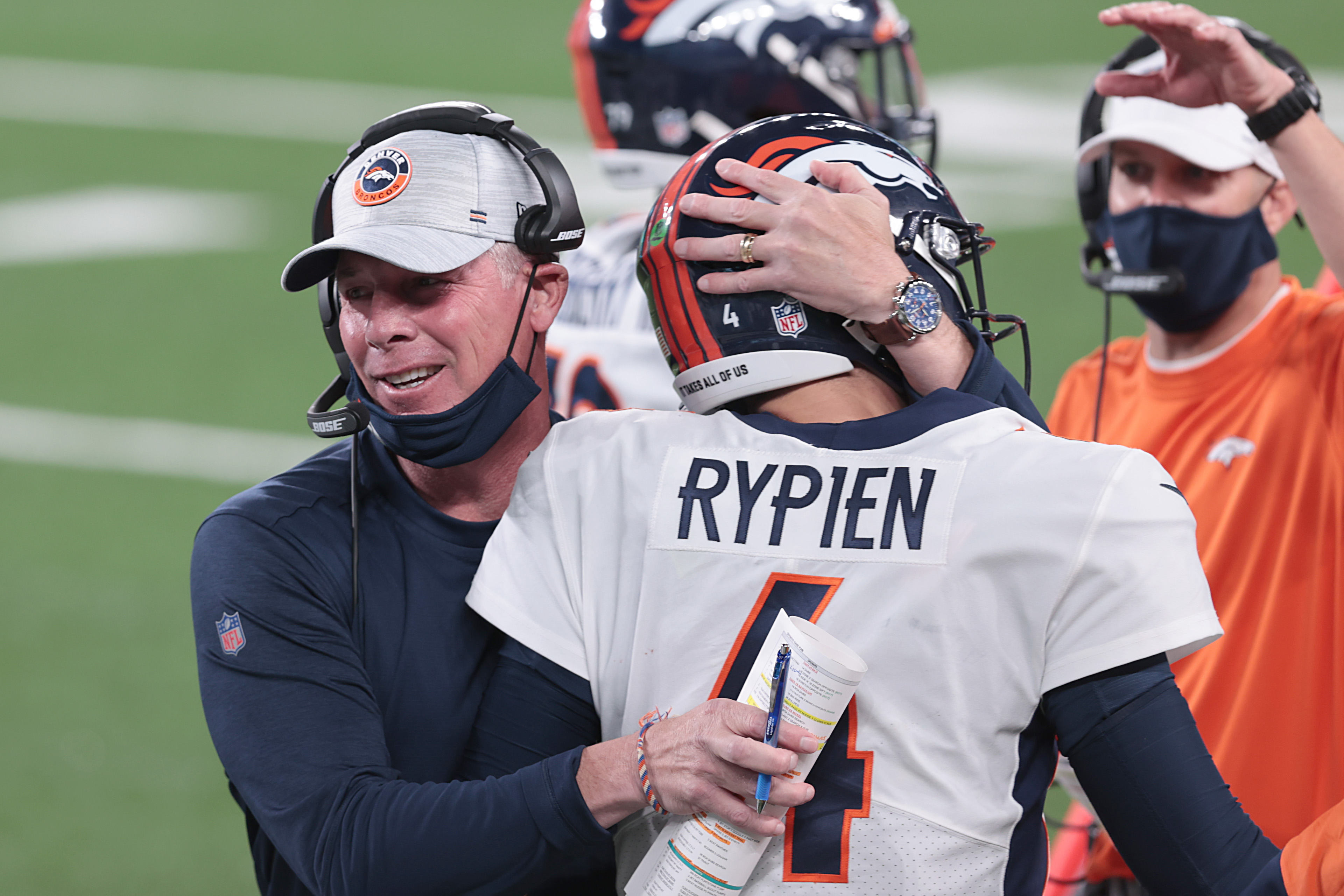 The Broncos loss to Falcons may have ended the team's playoff hopes, but that doesn't mean there isn't anything at stake. For starters, the Broncos will face the rival Raiders this week with bragging rights on the line, but more importantly, the Broncos still need to figure out the offense and determine what Drew Lock is.
Here's what our experts think the solutions to those problems are, as well as, how they think the game will go on Sunday.
What is the single biggest issue holding Denver's offense back?
Zach Segars: Let's be clear, the Broncos offense has several issues, each playing a major role in their offensive struggles, but which of those is the most problematic? The fact that they don't have a quarterback. I'm sorry, I know it hurts and we don't want to come to terms with it, but Drew Lock ain't it. Maybe he develops into "The Guy," but even that looks increasingly less likely with each week that passes.
Ronnie Kohrt: Lack of execution. Denver's been in place several times to finish drives, hit home run balls and score points. Execution is a big problem. This also includes execution from the coaching staff. Putting the right players in the right position, doing the right things hasn't been the best executed gameplan so far in the first half of the season.
Doug Ottewill: There no such thing as "just one" – there are so many variables that plague the Broncos offense. But for purposes of this question, I'll give you two. First, it's the offensive line. This is a broken record, but it's still a major reason the Broncos offense comes to a screeching halt at times. When a young quarterback has to run for his life on a regular basis, bad things happen. But second, I think you have to look at Pat Shurmur's ability – or inability, as has been the case – to be creative, or perhaps be more accommodating toward the strengths of Drew Lock. Shurmur must adjust to what works, not what's worked for other teams or other quarterbacks. Let your young guy play his game and build from there.
Which bad unit do you trust more? The Raiders' defense, or the Broncos' offense?
Zach Segars: On Paper? Denver's offense. Based on what they've put on tape over the past two weeks against a deeply disappointing Chargers defense, and a Falcons defense that is currently on pace to break the 2011 Packers' record for the most passing yards allowed per game.
What did Denver do against those defenses? Averaged 8 points through the first 3 quarters. A no-show on offense for 75% of the game is a good way to have the Raiders run you out of the building in this one.
Ronnie Kohrt: I haven't evaluated the Raiders defense to know enough, but I certainly don't trust the Broncos offense right now. They haven't given you a reason to.
Doug Ottewill: I think the Raiders are better than people think. I don't see Denver having a clear advantage in any aspect this weekend.
What is the biggest key to a Broncos victory this week?
Zach Segars: Stopping the Raiders' ground attack. I'm not worried about Denver's secondary being able to slow a horribly shallow Vegas aerial attack, but I am worried about the defense's ability to stop the Vegas ground attack powered by a great line and Josh Jacobs. If they can't stop the run, the Raiders are gonna put up 30 and I won't have faith the Broncos can get in a shootout until Lock puts at least 2 strong quarters together. Something he hasn't done in his past nine starts.
Y-I-K-E-S.
Ronnie Kohrt: Consistent quarterback play. Denver gets four quarters of the Drew Lock that's found the rhythm in the final quarter over the last two games and they'll beat the Raiders big.
Doug Ottewill: I guess you could call it a key, and ultimately I think it's the reason Denver loses, but it's HEALTH. Denver's defense is so dinged up with injuries and positive COVID tests, there's really no conceivable way they can be as good as they need to be. Sorry, that's just a fact, and it's not even their fault.
Who will be Denver's player of the game?
Zach Segars: How about A.J. Johnson? Without Shelby Harris, and Mike Purcell out, Johnson and Josey Jewell are the only two above-average run defenders in the middle of Denver's front seven. To stop Josh Jacobs, they'll have to play at a very high level, and I could see Johnson doing just that.
Ronnie Kohrt: I like another big game from Jerry Jeudy assuming he plays fully healthy Sunday
Doug Ottewill: If the Broncos have any shot at all, it's because Phillip Lindsay runs wild. I don't know why, but I've got a hunch that could happen this week.
What's your score prediction?
Zach Segars: 31-24 Raiders win
Ronnie Kohrt: 21-20 Broncos win
Doug Ottewill: 38-24 Raiders win