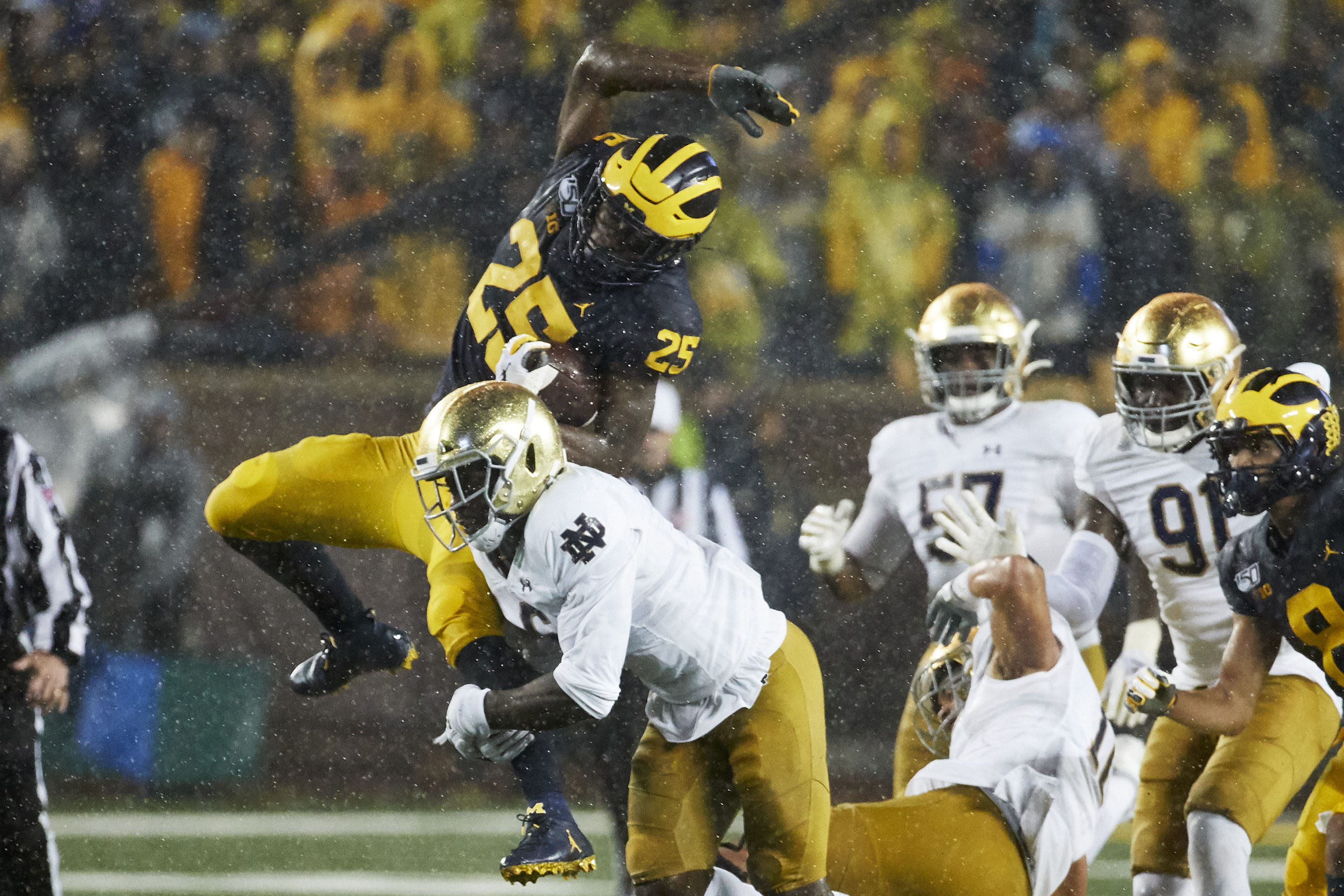 If you have ever hopped on Twitter or Facebook after any Broncos game — win or lose — and you have probably seen several posts in anguish over Denver's linebacker's inability to cover tight ends and wide receivers.
It's been a hole on the roster for the same amount of time the quarterback position has been, and this draft could see that void finally patched up with a player like Jeremiah Owusu-Koramoah available for a trade back in the first round.
The question is, is he worth a first-round pick and does he fit with the Broncos?
Positives
Owusu-Koramoah is a far cry from your standard college linebacker.
In Notre Dame's defensive system that plays out of their base package to a fault, Koramoah was listed as a linebacker but his duties almost more closely resembled that of a box safety or slot cornerback. When teams would line up in 11 personnel, Notre Dame often times kept three linebackers out on the field because Koramoah could handle the responsibilities of a linebacker in base personnel but then line up outside to shutdown a wide receiver or tight end, rather than the Irish subbing in an extra linebacker.
Rather than being a 'tweener' that isn't physical enough to play linebacker or athletic enough to play safety, Koramoah is a 'freak' with the athleticism of a safety and the physicality of a linebacker.
He also is incredibly refined in coverage, which when paired with athleticism, makes him a defensive swiss army knife. He can cover running backs out of the backfield, tight ends, slot receivers, and will give Travis Kelce and Darren Waller as much trouble as anyone else can.
In the run game he truly has sideline to sideline rnage, and also has an excellent sense of how to slice between two oncoming blockers to create penetration and blow the play up behind the line of scrimmage.
While his frame isn't ideal, Koramoah doesn't lack the ability to tackle or defend the run. He comes downhill with a vengence and will light up opposing running back with a hit whose crack will echo throughout Empower Field. He drops the hammer in a way reminiscent to some of the punishment dulled out by Kareem Jackson this past season.
The Browns 🙏 RT @PFF: Jeremiah Owusu-Koramoah plays like he's shot out of a cannon 💥💪

Who will land PFF's LB2? 📈 pic.twitter.com/tAOGIOEeKn

— Broadway Joe (@JoeInTippCity) April 28, 2021
He has the athleticism to be a master in coverage, he has the toughness and grit to be a fixture of the opponent's nightmates, and he's got all the intelligence and instincts to put it together. He has an excellent understanding of coverage technique and is unbelievably quick at diagnosing what the offense is doing before blowing it up for a massive play as we saw against Clemson earlier this year.
Jeremiah Owusu-Koramoah would be the ultimate chess piece for Don Martindale's defense pic.twitter.com/1OhafGURW6

— Kevin Oestreicher (@koestreicher34) April 28, 2021
Negatives
There are only two real negatives in regard to Koramoah's fit with the Broncos, the first of which is his size.
Koramoah is only 6-foot-1, 221 pounds — compared to his contemporaries who tend to weigh somewhere between 235 and 255 — and that does limit some of his abilities.
For example, when he's able to penetrate the backfield he can make a big play on the running back, but that penetration can be rare because he easily gets washed out by blocks. That frame makes it hard for him to disengage once an offensive lineman gets their hands on him, which limits his effectiveness against the run.
This lack of size might force him to transition to safety, which wouldn't be the end of the world considering the Broncos are in need of that as well, but would exacerbate the concerns about positional value.
The positional value of the linebacker position is poor, as is safety, and there are great players you can get to help at that position without investing a first round pick. Players like Baron Browning are likely to go a round later and –while they're in need of more development — don't have the same physical limitations that Koramoah might.
Verdict
Broncos Country would likely be very upset if this was Denver's first round draft pick on Thursday night, and with good reason, considering the positional value.
With that said, if your two biggest knocks on a player are that his position isn't the most valuable and that he doesn't have ideal size for the position and your two biggest positives are that he's an excellent fit for the modern style of football and would shore up your greatest defensive weakness, that's a pretty great selection.
As for the size, it should be noted his measurables are much more similar to multiple-time All-Pro linebacker Lavonte David (6-foot-1, 234 pounds) — who is an excellent run defender at the linebacker position — than they are to a box safety like Kareem Jackson (5-foot-10, 187 pounds).
Denver also has so many gifted run-stuffers in their front seven (Shelby Harris, Mike Purcell, Dre'Mont Jones, DeShawn Williams, Alexander Johnson, Josey Jewell, Bradley Chubb and Von Miller) that they can afford to get a little lighter up front to improve their pass coverage without sacrificing too much in terms of run defense.
Also, your pass coverage is so much more important than your run defense in the modern NFL that it's a worthwhile investment.
While it would be a very controversial move, trading back and selecting Jeremiah Owusu-Koramoah would be a fantastic first round for the Broncos.
Draft Projection: Top 20
MHS Big Board Ranking: 13th overall (1st among ILBs)