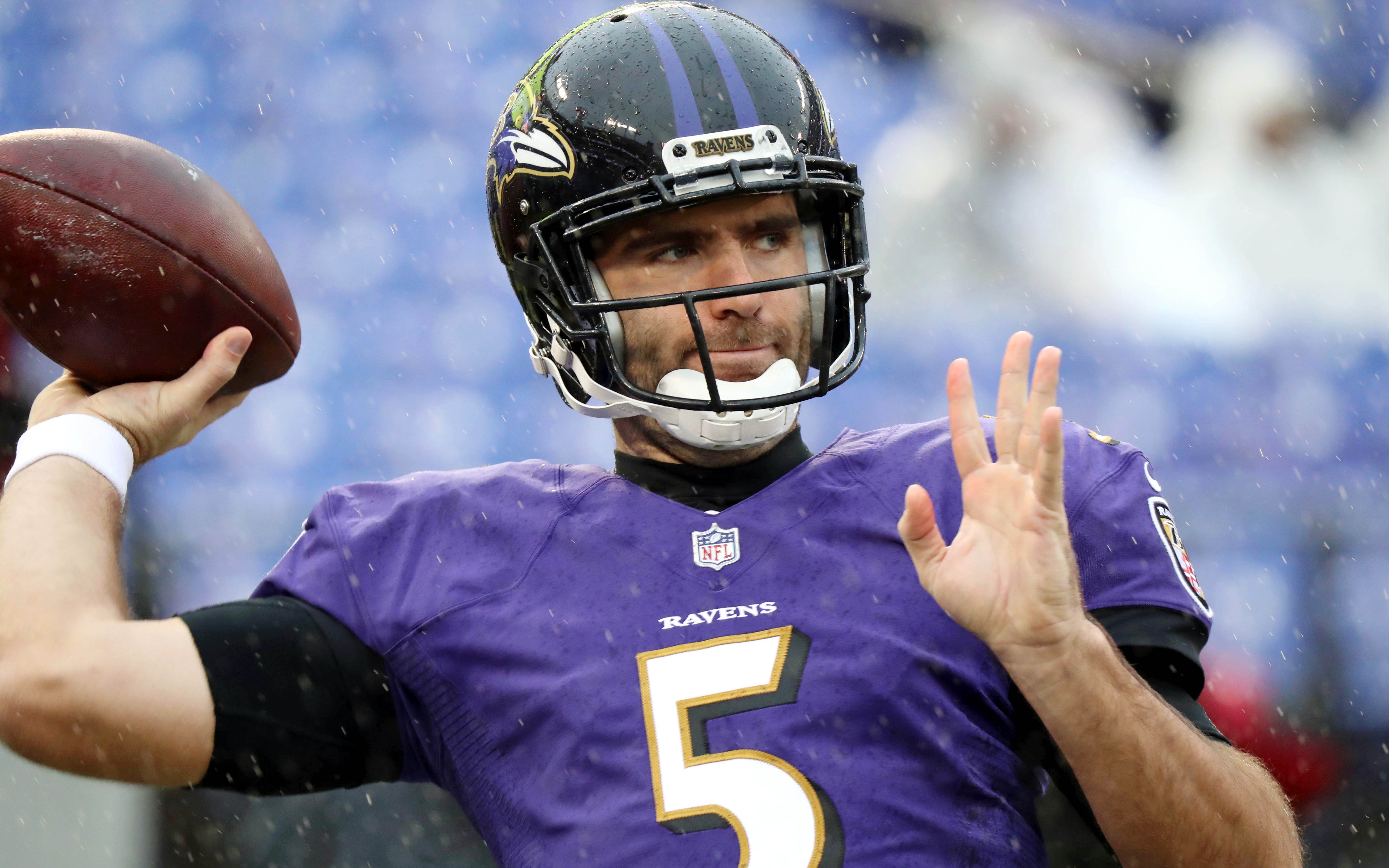 The Denver Broncos needed a franchise quarterback, so they went out and traded for Joe Flacco.
The deal for Flacco cannot be finalized until March 13, the start of the new league year, but the thinking is Denver will keep the QB on his current deal, meaning he'll have to prove himself in 2019 to be re-signed. If the Broncos decide to let Flacco go after one year, they'll owe him nothing because he doesn't have any guarantees going forward.
Flacco has been the face of the Baltimore Ravens franchise since 2008, leading them to a Super Bowl XLVII win over the San Francisco 49ers in the "Harbaugh Bowl." But, he's also 34 years old, in the twilight of his career and he might not even be a better quarterback than Case Keenum — who's now being shopped.
The numbers speak for themselves.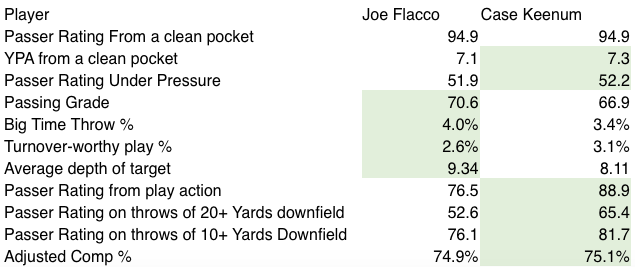 Broncos fans were hopeful they'd be getting a Keenum who was still riding the high of his career-best 2017 season. But in 2018, he regressed back to the same old quarterback he'd been most of his life.
Interestingly, Keenum's poor passer rating (81.2) is only slightly worse than Flacco's (84.2) in 2018. Keenum came in No. 34 out of 41 quarterbacks with 100 or more passes last year, while Flacco was 31st.
Of course, passer rating is only part of the tale, and Pro Football Focus' in-depth numbers above show Flacco was better than Keenum in his passing grade, big time throw percentage, turnover-worthy plays and average depth of target. However, Keenum was better in yards per attempt from a clean pocket and he was a better passer deep down field, too (among others).
Maybe the most significant of those stats, though, is the turnover-worthy plays.
The argument can be made, quite easily, that both Keenum and Flacco are safe, game-manager quarterbacks. Neither are superstar, hero-type QBs who will throw for 400 yards and five scores to win a game. And for game-managers with less than amazing athletic abilities, protecting the ball at all costs has to be a top priority.
In 2017, Keenum only turned the ball over eight times, allowing the Minnesota Vikings' superb defense to win the team games. But in 2018, Keenum's turnovers skyrocketed to 21, killing Broncos' drives and putting even more pressure on the Denver D.
Meanwhile — in nine games — Flacco turned the ball over eight total times last year. At that rate, over the course of a full season the veteran would've committed 14 total turnovers, which is low enough for a team with a solid defense to pull out close games.
Flacco and Keenum are incredibly similar quarterbacks when looking at nearly every statistic. Keenum was just better in yards per attempt (6.6-6.5) and his completion percentage was better (62.3-61.2), although Flacco took less sacks per game (1.78-2.13). Neither are all that mobile, neither have a rocket launcher for an arm and neither are going to put a team on their back to win a game.
Was trading for Flacco an smart move and an improvement over Keenum? After looking at all the numbers, the simple answer is "No."
However, that comes with one caveat.
Flacco has something Keenum doesn't; he's won a Super Bowl. Overall, he's 10-5 in the playoffs, with the Ravens going 9-0 in postseason games he doesn't throw an interception. And Flacco has run the west coast, Shanahan-style offense the Broncos will be utilizing in 2019, too. So, he should be able to hit the ground running with Rich Scangarello and the offense.
The trade for Flacco seems to be nothing more than a move for another stop-gap quarterback for 2019. It's a move that signals the Broncos think they can make the playoffs next year, but it's also telling of what they'll do next.
Denver will almost certainly draft a quarterback in April, and if it's Drew Lock at No. 10, the rookie could sit behind Flacco this year while preparing to take over as the QB of the future in 2020.