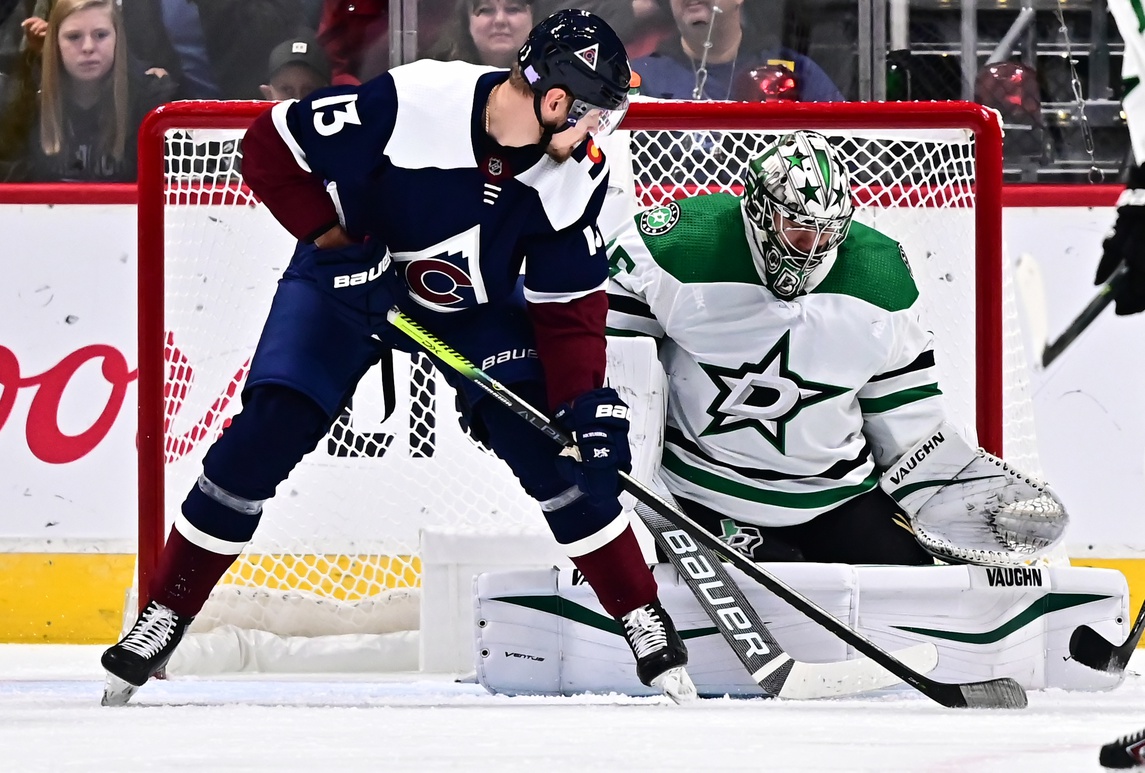 The Avalanche are currently riding a four-game losing streak, which includes three in regulation and a blown two-goal lead at home against the Florida Panthers that resulted in an overtime loss.
In the midst of its hot start, Colorado (8-4-2) has seen its forward core get decimated with injuries in short order. It started against the St. Louis Blues, when All-Star wing Mikko Rantanen went down with a lower-body injury after his skate hit a chip in the ice, twisting his foot entirely as he stumbled to the ice.
The Avalanche ended up dropping that game in St. Louis, their first regulation loss of the season. A week later, while hosting the Anaheim Ducks and sporting an 8-1-1 record, captain Gabe Landeskog was hurt, and announced out indefinitely the following day, as the Avs fell 5-2 against the Ducks. The Avalanche's string of bad luck continued as Colin Wilson was injured during practice that same day and has been out since.
The injuries have caused the Avs to recreate its third line, (now fourth line) with two healthy scratches in Vladislav Kamenev and Valeri Nichushkin and American Hockey League call-up Jayson Megna.
Megna, 29, was one of the last cuts from the Avalanche's training camp after boasting impressive offensive numbers during the preseason. His chance of making the team on opening night came to an end after Rantanen signed his contract on the last day of preseason play. Megna's promotion last week was a clear reward for his preseason play.
Nichushkin, 24, was a late free-agent signing made by GM Joe Sakic that comes with low risk and high reward. The former first-round draft pick was snake-bitten last year, going the entire season without a goal in 57 games with the Dallas Stars. That string of bad luck has continued in the early going of 2019-20, as he has dressed in 10 games with the Avs and recorded one assist.
Kamenev, 22, a piece of the blockbuster Matt Duchene trade nearly two years ago, is touted as an offensive weapon and a two-way center. Unfortunately, Kamenev has been unable to take advantage of opportunity due to injury, failing to grab a hold of a roster spot when given the chance. Kamenev, like Megna, is scoreless in three games since the Landeskog and Wilson injuries.
Colorado's offseason was highly regarded as a success because of the depth that Sakic added to the forward group. The depth, however, takes a large dip after the starting 12. And when dealing with injuries, Colorado does not have many solid options.
So while the three forwards that make up the new fourth line may continue to dress for the time being, it is mainly because of a lack of progression from others in the AHL.
AJ Greer
Once a highly-regarded Avalanche prospect, Greer has slipped down the depth chart with each passing season. He continues to fall out of favor due to his off-ice and on-ice antics. Greer is currently serving a six-game suspension for the Colorado Eagles of the AHL after illegally exiting the penalty box to fight an opposing player.
Greer has recorded zero points in five games in the AHL.
Martin Kaut
Colorado's 2018 first-round pick (16th overall) played his first full season in the AHL last season. He was looking to take a step forward this year, possibly earning some NHL time when injuries mount. But the native of Brno, Czech Republic has had a slow start to his sophomore campaign. Kaut has zero points in seven games thus far.
Shane Bowers
Another piece of the Duchene trade, Bowers is a former first-round pick from 2017 (28th overall) and a first-year pro after playing for Boston University the past two seasons. In 2018-19, Bowers recorded 10 goals and 11 assists to earn an entry-level deal with the Avalanche in March.
However, Bowers' first pro season has also been off to a slow start. Bowers has two assists in nine games with the Eagles.
Ty Lewis
An under-the-radar forward with high offensive pedigree, Lewis played four years of junior hockey for the Brandon Wheat Kings of the Western Hockey League. In 2017-18 he recorded 44 goals and 100 points, finishing in the top-10 in both categories. Upon signing with the Avalanche, Lewis scored eight goals and 19 points in 50 games with the Eagles last season. The 21-year-old is scoreless in six games this season.
Nick Henry
Henry was taken in the fourth round (94th overall) by the Avalanche in 2017. After recording 94 points in 69 games in the WHL last season, Henry has one goal and two assists in nine games with the Eagles.
Logan O'Connor
The former Denver University Pioneer appeared in five games for the Avalanche last season. With the Avalanche's offseason additions, O'Connor failed to make the opening night roster, starting in the AHL while being a familiar face for Bednar to use when needed.
O'Connor has also recorded just one goal and two assists in nine games after scoring 19 goals and 42 points in 64 games for the Eagles in 2018-19.
While the season is still young for both the Avalanche and the Eagles, Sakic, coach Jared Bednar, and company were looking for their young up-and-comers to take the next step in earning NHL time. But as far as the season has gone, neither of the young forwards have earned an opportunity, leaving Bednar with no choice but to use an AHL veteran in Megna, and Nichushkin, who was bought out by the Stars over the summer.
Has Colorado's depth seen improvements from last season? Absolutely. But as of right now, that depth is strong only among its top 12. And when dealing with injuries, Colorado may have to tread water until one of its young AHL forwards earns a call-up opportunity.
The Avalanche will close out their two-game road trip at 6:30 pm MST on Tuesday against the Stars, who defeated Colorado at the Pepsi Center on Wednesday.
As of right now Nichushkin, Megna and Kamenev are all expected to dress.