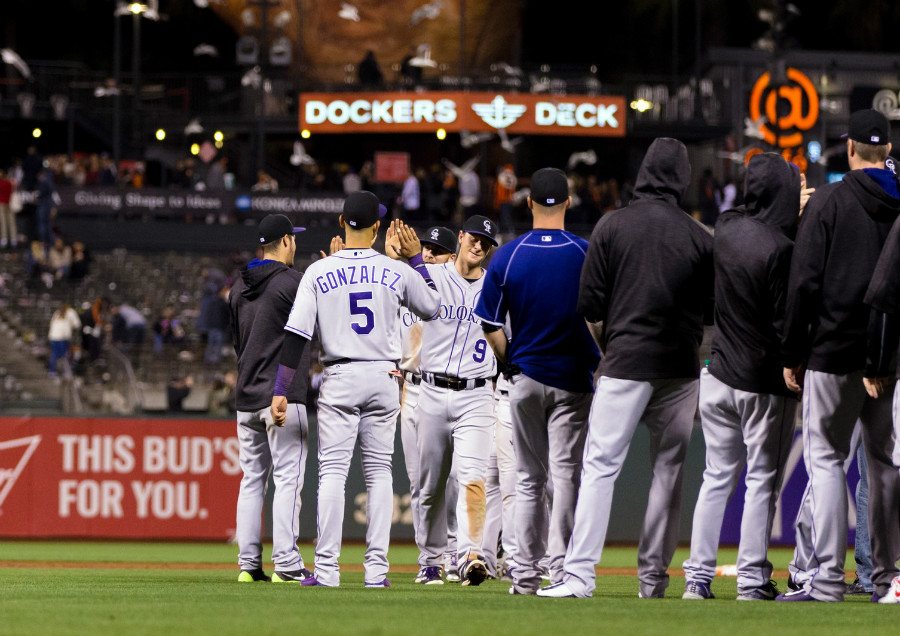 The Colorado Rockies, 15-16, currently sit a game back of the Los Angeles Dodgers for first place in the National League West, and they have their road play to thank.
The ability to win on the road (11-8 on the season) has been a pleasant surprise for the squad, as they seem more unified away from the Mile High City.
The Rockies pitchers own a combined ERA of 3.97 away from Coors Field, nearly four points lower than their ERA at Coors Field. They also limit their opponents to a combined batting average of .238, which is substantially better than the .304 batting average at home.
The team's batting average drops on the road; however, the run production goes up. The Rockies have hit more home runs and have more RBIs on the road compared to home; The Rockies' 87 road RBIs are 21 more than the 66 they have at home, and the 25 home runs hit away from altitude are eight more than they have in the thin air.
Granted, they have played six more games on the road, but the difference in the splits cannot be ignored.
The Rockies manged to win six of the 10 games they played on the road trip, and that was a positive (and a record) in the eyes of manager Walt Weiss.
"A really good road trip," manager Walt Weiss told Michael Wagman of The Associated Press. "The fact that all 10 games (were) in the division … and to come out with a winning record, it's a big step."
A big step indeed, as the Rockies have struggled on the road immensely in recent years.
The Rockies ability to win on the road is great, but not being able to win at home is disappointing.
The Rox are just 4-8 at Coors, which will need to turn around quickly if they plan on staying in the NL West race.
If the Rockies could somehow figure out a way to produce at home, especially on the mound, they could very well become a competitive ballclub for the entirety of the season.
For the time being, though, winning on the road is a positive step for the Rox.
It may just be May, but it is exciting. Let's hope they can keep the ball rolling and give Colorado baseball it's first exciting Fall in awhile.