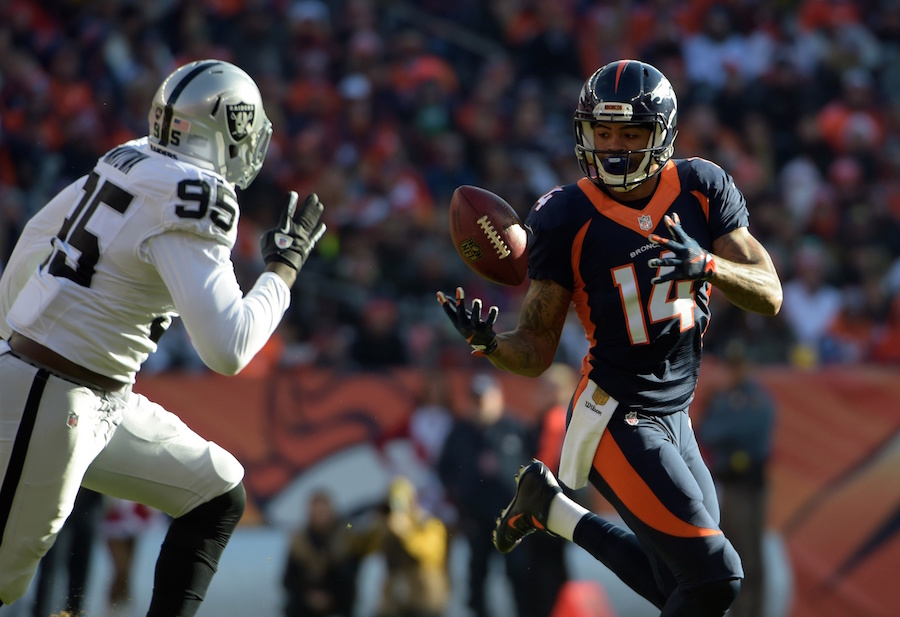 Cody Latimer was already going to be fighting for a job this season. Now, after TMZ Sports has released video (see below) of Latimer getting into an altercation outside an Ohio strip club back in February, the question must be asked: Is there any reason for the Broncos to keep him around?
Since being selected in the second round of the 2014 NFL Draft, Latimer has been unable to work his way into the No. 3 receiver role in Denver. Whether it was struggles with the playbook or just being outplayed by his competition, Latimer has never lived up to his draft status.
In the video released by TMZ early Sunday morning, Latimer can be seen slapping a bouncer before getting pepper sprayed.
TMZ reports that no charges were filed and Latimer was not arrested, but the incident still put the Broncos in the headlines for the wrong reasons.
According to the Denver Post, Latimer was transparent with the team about the incident and the NFL is aware. He posted a statement on Twitter on Sunday, tagged at a church no less, apologizing for the incident and saying his focus is solely on football.
While Latimer's incident is nowhere near the type of egregious act we've seen from NFL stars in the past (see Ray Rice), Latimer is far from a star.
For his career, Latimer has just 16 receptions and one touchdown. He's carved out a bit of a niche for himself on special teams as a kick returner and gunner, but second-round money is a high price to pay for someone who only contributes on special teams.
The Broncos obviously feel comfortable with the situation, as they didn't act on it prior to the incident became public knowledge and it appears Latimer will still be in competition for a roster spot this fall. Still, they invested three draft picks in players they think can compete for the WR3, returner and gunner positions.
Per Spotrac, Latimer carries a roughly quarter-million-dollar dead cap hit this season. The Broncos would reclaim just under $1 million if he is released.
Latimer's physical skills have never been in question. At 6-foot-3, 215 pounds and with multi-directional speed, the former Indiana Hoosier has always been a tantalizing prospect. Strong and physical, Latimer has the makings of a great slot receiver. Yet he's never been able to put it together on the field. Now, an off-field misstep error is bringing all that back to light and then some.
This year already had the look of a make-or-break training camp for Latimer. This is the last thing he needed just over a week out from the start of camp.
It's hard not to be down on Latimer right now. He has been an increasingly polarizing figure during his time in Denver. This latest news only amplifies that.
But this incident is by no means so bad that he deserves to be cut. Although it certainly doesn't help his case for making the roster this fall.
It's never good to drag your team into the headlines in a negative manner, but Latimer certainly deserves a chance for redemption – both on the field and off.