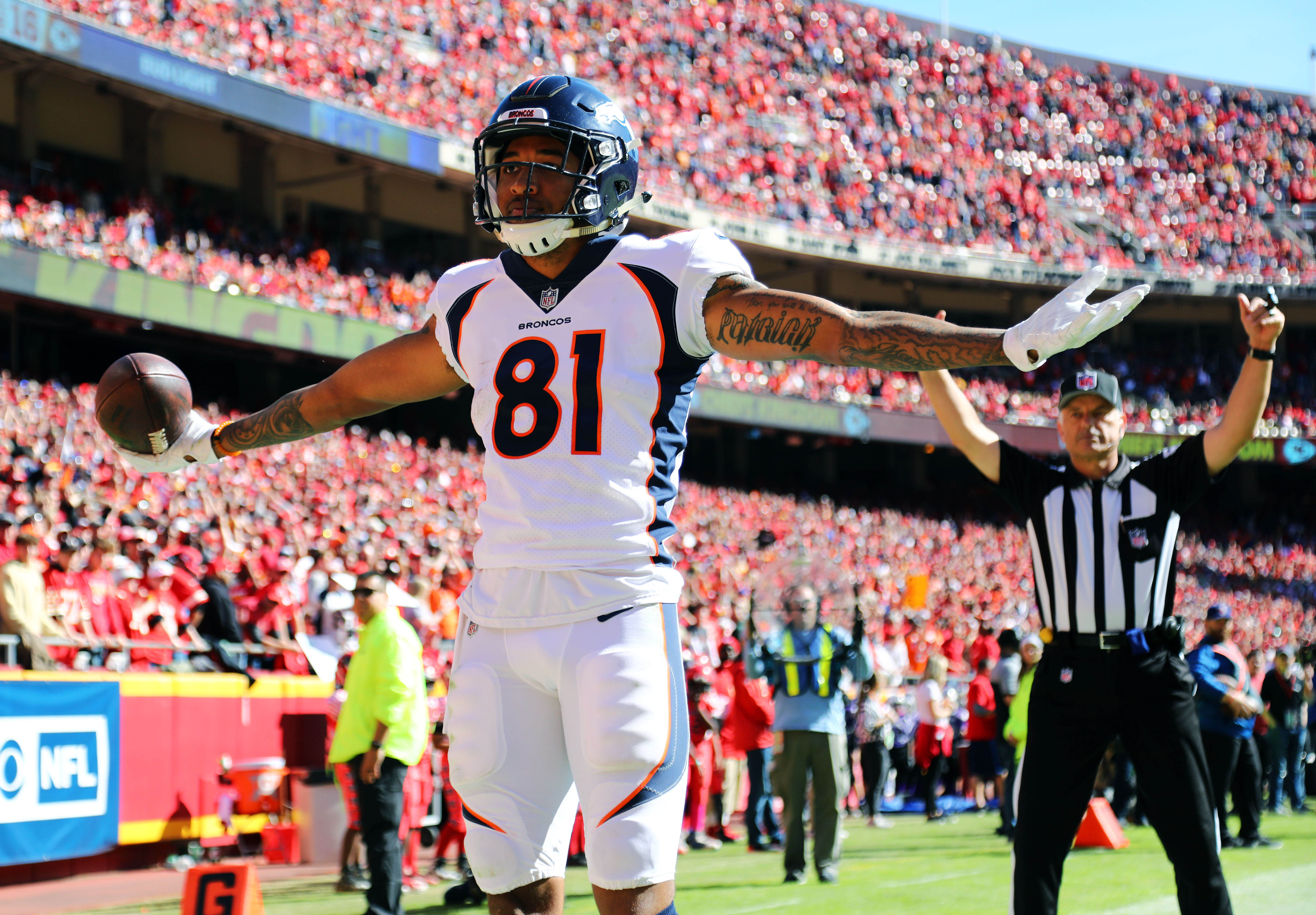 Every year there are numerous debates surrounding which players performed the best, what player is deserving of whatever accolade or superlative, and who underachieved. It is increasingly fascinating to see who emerges as the player, or players, that grab the spotlight for better or for worse.
What is often unspoken are the contributions of the guys who do not make a lot of noise; the guys who grind every day and every night for their chance to leave an imprint on an NFL team's legendary history.
Tim Patrick is one of the most overlooked and underrated Denver Broncos in the last five years, and it's about time we highlight him.
Patrick has been a sorely needed cornerstone player in a period for the Denver Broncos that has been far less than compelling and downright brutal and certainly exemplifies everything a team should desire for their club.
The Journey
Hailing from San Diego, California, Tim Patrick played his high school ball at University City High School. He was not highly recruited but eventually found his way to the University of Utah in 2014.
Patrick's collegiate career did not exactly go as planned. About midway through his freshman season with the Utes, he suffered a devastating compound fracture to his leg, sidelining him for the remainder of the season and the entirety of his sophomore campaign.
While recovering, Patrick was determined to find the field again and dedicated his time to watching film and honing his mind, preparing for that very chance.
Patrick played 10 games for the Utes in his final season and came down with 45 receptions for 711 yards and five touchdowns.
He then entered the NFL Draft, determined to take his talents to the next level and, unfortunately, ended up going undrafted.
Fortunately, he was able to catch on with the Baltimore Ravens as an undrafted free agent where he spent about 2 months before being waived. Then the San Francisco 49ers claimed him and waived him shortly thereafter.
Finally, he was claimed by the Broncos and added to their practice squad. He was then waived and soon reclaimed before finally signing a contract with the team in January of 2018.
Tim Patrick has overcome the odds to go from undrafted to a stud WR for the Broncos 🙌 @Tpstreets @Broncos pic.twitter.com/IyvUAE4GCK

— The Checkdown (@thecheckdown) April 7, 2021
Career with the Broncos so far
Tim Patrick's career with Denver has been no walk in the park either.
In 2018, Patrick remained healthy but was buried behind the likes of Demaryius Thomas, Emmanuel Sanders, Courtland Sutton, and DaeSean Hamilton.
With limited opportunity, he was still able to come away with 315 yards and a touchdown and he worked hard on the field with every opportunity he received.
He was poised to compete for meaningful playing time in 2019, but just eight snaps into the Broncos' Week 1 game against the Raiders, Patrick broke his hand, landing him on injured reserve and, again, robbing him of his greatest chance to see significant snaps.
Fighting back, he was able to return to play during the late regular season but was unable to put together significant or consistent numbers.
2020 was a career year for Tim and his ability to stay healthy was key. In 15 games he gathered career highs in targets (79), receptions (51), receiving yards (742), yards per reception (14.5), and touchdowns (six).
He also made his fair share of highlight-reel-worthy plays.
Put some respect on Tim Patrick's name! #BroncosCountry pic.twitter.com/s0iFUBLm5d

— Monkey Knife Fight 🐵🔪👊💰 (@mkf) December 7, 2020
When he finally got his shot, he was able to capitalize and was second on the team in receiving yards and led all receivers in touchdowns, outproducing high-profile draft picks, like Noah Fant, DaeSean Hamilton, and K.J. Hamler.
The present and the future
With his contract expiring there were questions as to whether Patrick would be back for the 2021 season but early in the off-season he was offered a second-round tender which he has since signed.
This contact is only through the 2021 season and if the Broncos front office were to cut him it would have no dead cap hit, but the chances of Patrick being cut as the eventual wide receiver No. 3 for Denver seems unlikely. Barring injury, he should be expected to be a huge contributor in this offense.
Tim Patrick caught 86% of his contested targets 20+ yards downfield in 2020

1st among all WRs (min. 5+ targets) pic.twitter.com/nseY9sXFIW

— PFF Fantasy Football (@PFF_Fantasy) May 11, 2021
The wide receiver position is simply stacked on this Broncos team so projecting what Patrick's role will be beyond this year, or if he will even be a part of this team, is difficult but it is no exaggeration to say he has worked as hard as any player in the NFL to get to where he is.
Whether he remains with the team or not, Patrick will find success and land on his feet, and Broncos Country should give him a standing ovation every step of the way.
Not every NFL career is a masterpiece, sometimes it is up to the artist to turn it into something museum-worthy and Patrick has done just that.